The Atlantic Politics & Policy Daily: President? McMulling It Over
Anti-Trump Republican Evan McMullin announced he's launching an independent presidential bid.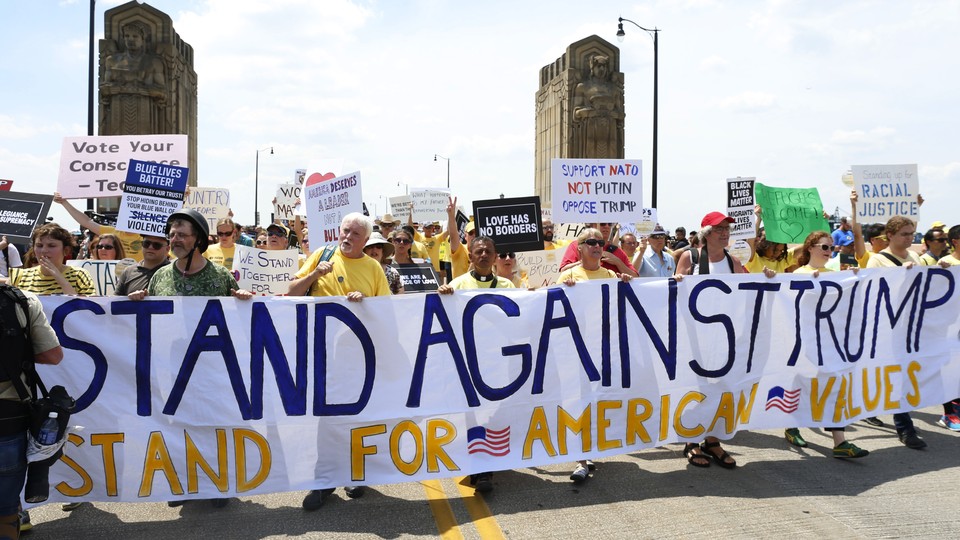 Today in 5 Lines
Evan McMullin, a former CIA officer, announced he's running as an independent for president in a last-ditch effort by anti-Trump Republicans to upend the nominee's campaign. Donald Trump outlined his goals for the economy, including lowering taxes and providing more affordable childcare, in a policy speech at the Detroit Economic Club. A former aide to President W. Bush announced plans to vote for Hillary Clinton, while Jeb Bush's son went against his father and called on Republicans to back Donald Trump. Jury selection in the trial of Pennsylvania Attorney General Kathleen Kane, who was charged with perjury and obstruction, began. The family of 14-year-old Ahmed Mohamed filed a lawsuit against his Texas school district nearly a year after he was arrested for taking a clock he made to school, which teachers thought was a bomb.
---
Today on The Atlantic
Obama's Last Shot at Immigration Reform: The administration is shifting its policy approach on Central American migrants, moving away from the country's longstanding deterrence policy and instead acknowledging the plight of those traveling to the southern U.S. border. (Priscilla Alvarez)

Beating the Virus: How can scientists help rid the world of Zika and Dengue? Release even more infected mosquitoes, says biological sciences expert Scott O'Neil. Here's why. (Ed Yong)

Playing the Blame Game: In the debate over proposed voting regulations, Republicans tend to get a bad reputation for their positions. But both major parties have their flaws and the GOP's attempts to challenge Democratic ideas should not be equated with trying to assault democracy. (Richard L. Hasen)
Follow stories throughout the day with our Politics & Policy portal.
---
Snapshot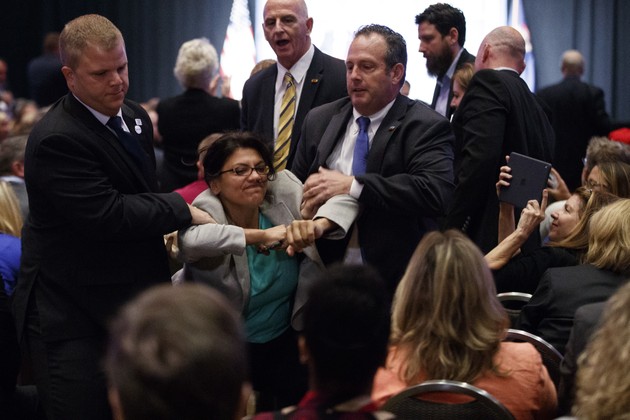 ---
What We're Reading
The Last Straw: White nationalists are unhappy with Donald Trump's decision to endorse House Speaker Paul Ryan, seeing it as another attempt to compromise with politicians they believe should be pushed out. Will they give up on the Republican nominee for good? (Gideon Resnick, The Daily Beast)
A New Reality: Trial by jury—an American right—appears to be fading away, contributing to the decline of criminal and civil trials and putting the criminal-justice system at risk. (Benjamin Weiser, The New York Times)
No Vote, No Problem: Undocumented immigrants in the United States can't vote, but their presence might still be felt at the ballot box. Why? Many are longtime residents who are active in their communities and promote issues they care about. (Michelle Chen, The Nation)
The GOP's Missing Women: The House of Representatives has 22 Republican women, three fewer than it had one decade ago. And this GOP gender disparity doesn't stop there—it's at every level of government. As the number of Democratic female representatives increases, the party will need to find a solution fast. (David S. Bernstein, Politico Magazine)
Paul Ryan's Big Day: The House Speaker will square off against his challenger in Wisconsin's congressional primary on Tuesday. A number of factors indicate Ryan has an advantage over his opponent, but even if he wins the election, he could still lose his fight to stay relevant in a divided GOP. (T.A. Frank, Vanity Fair)
---
Visualized
Casual: The Rio Olympics are underway and Katie Ledecky has proven to be an all-star for the U.S. swim team. This is how she became one of the world's most formidable swimmers, with 11 world records, by the age of 19. (The Washington Post)
---
Question of the Week
For two weeks, President Obama, Michelle Obama, and their two daughters will be vacationing at Martha's Vineyard, a usual spot for the first family. Obama's predecessor, President George W. Bush, preferred to holiday at his ranch in Crawford, Texas.
But where would President Trump or President Clinton chose to spend their down time? Submit your answer by Thursday afternoon for consideration.
-Written by Candice Norwood (@cjnorwoodwrites)