The Atlantic Politics & Policy Daily: Paul Ryan Isn't Mad at Trump, Just Disappointed
The House speaker is standing by his endorsement of the GOP nominee, albeit at a distance.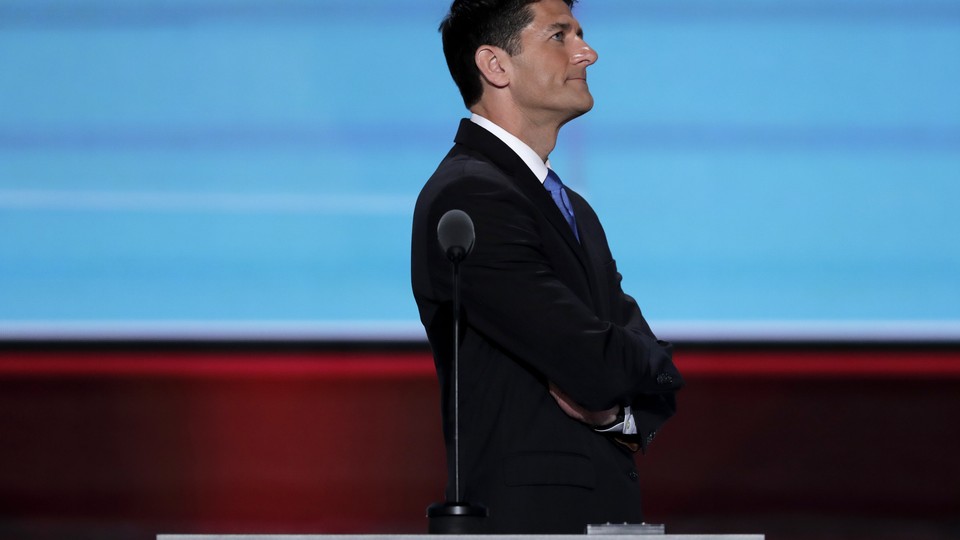 Today in 5 Lines
President Obama emphasized the United State's progress against ISIS in a speech at the Pentagon after meeting with his National Security Council. Media reports raised questions about Melania Trump's immigration status in her early years in the United States; she denied the claims. House Speaker Paul Ryan, who Donald Trump refused to endorse ahead of his upcoming primary election, called Trump's campaign "distressing," during a radio interview, but suggested he would continue to support him. Protesters holding pocket copies of the U.S. Constitution were thrown out of a Trump rally in Maine. Senate Democrats urged Republicans to return from their summer recess to vote on funding to combat the Zika virus, though it appears unlikely to happen.
---
Today on The Atlantic
Obamacare Has A Long Way to Go: A recent study found that the Affordable Care Act has benefitted both black and white patients, but has not narrowed the disparities between these groups for mental health treatment—white patients continue to benefit more. (Vann Newkirk II)

The Library of Twitter: Six years ago, the Library of Congress set out to archive every tweet ever posted—but they soon realized this is a massive undertaking. As the social media site continues to grow and evolve, will the library ever reach its goal? (Andrew McGill)

Hindsight's Always 20/20: American policy makers tend to repeat the mistakes of the past. What if the president had a Council of Historical Advisers to put the nation's challenges into perspective? (Graham Allison and Niall Ferguson)
Follow stories throughout the day with our Politics & Policy portal.
---
Snapshot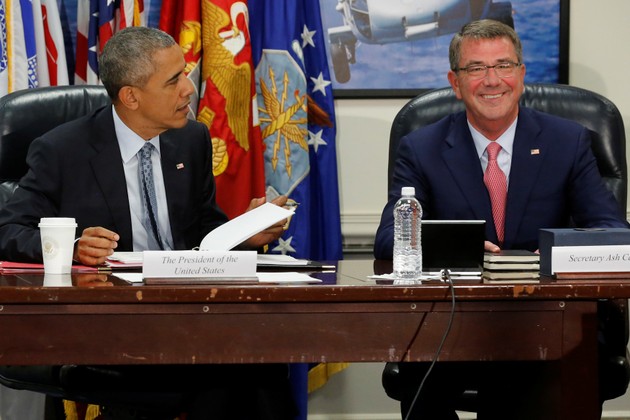 ---
What We're Reading
Vets March to Capitol Hill: The fallout from Donald Trump's remarks about Khizr and Ghazala Khan, whose son died in combat in 2004, continued Thursday: A group of veterans presented a petition with more than 100,000 signatures to Senator John McCain's office requesting that Republican leaders withdraw their endorsements of the GOP nominee. (David Smith and Tom Dart, The Guardian)
Republican Women Are With Her?: The GOP nominee's misogynistic comments have driven many Republican women away from his campaign, and several have found Hillary Clinton to be a much better alternative. (Tessa Stuart, Rolling Stone)
Trump's Lost Opportunity: There are fewer than 100 days until Election Day and Donald Trump has wasted a week of that time with controversies. In doing so, Michael Barone argues, he's only reinforcing what the Democrats have said all along: Trump is not equipped to be the next commander-in-chief. (Washington Examiner)
Ay, Caramba: The Trump campaign promised it would reach out to Latino voters in San Antonio and Miami, but that "engagement tour" still hasn't happened—and it might be too late. (Adrian Carrasquillo, BuzzFeed)
Why Do Americans Feel Trapped in a Rigged System?: The reason the political process seems broken is because it wasn't built to handle this much polarization, leaving politicians trapped in a "voter-driven vicious cycle." (David Wasserman, FiveThirtyEight)
---
Visualized
On the Road Again: How do everyday Americans feel about this year's election? Reporter Esme E. Deprez and photographer M. Scott Brauer decided to take a 3,000-mile bus ride from Philadelphia to Los Angeles to find out. (Bloomberg News)
---
Question of the Week
A recent poll released by Public Policy Polling shows that 5 percent of respondents would vote for Harambe, the gorilla who was shot at the Cincinnati Zoo in May after a child fell into his exhibit, over Donald Trump and Hillary Clinton for president. What other oddball candidates would you want to see throw their hat in the ring?
-Written by Elaine Godfrey (@elainejgodfrey) and Candice Norwood (@cjnorwoodwrites)