The Atlantic Politics & Policy Daily: Florida Man Struggles With Commitment
Senator Marco Rubio is up for reelection in his state, but he hesitated to commit to serving a six-year term.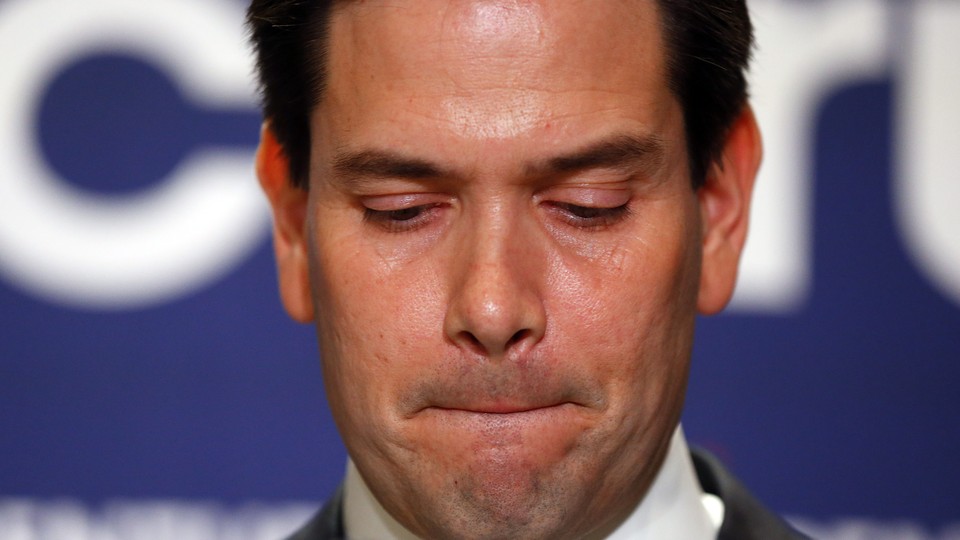 Today in 5 Lines
Voters in Arizona and Florida head to the polls to cast their ballots in congressional primaries, and Florida Senator Marco Rubio, who's up for reelection, refused to commit to serving a full six-year term if he wins. Maine Governor Paul LePage suggested in a radio interview that he might resign amid controversy over his recent racist comments, but he later walked back the idea in a Twitter post. President Obama granted clemency to 111 inmates, bringing the total number of sentences his administration has commuted to 673. Wired announced that Obama will "guest-edit" its November issue. ISIS's news agency Amaq reported that the group's spokesman, Abu Muhammad al-Adnani, was killed in Syria.
---
Today on The Atlantic
Unintended Consequences: Trigger warnings and safe spaces aim to protect marginalized communities from offensive statements they may encounter. But Alan Levinovitz writes that they can also ostracize religious students who may disagree with them.

Where Are the Female Police?: The U.S. Department of Justice found in an investigation of the Baltimore Police department that officers were negligent and hostile toward victims of sex crimes. One solution, research shows, is to hire more female officers, but this tactic is largely underused across the country. (Christina Asquith)

A Struggling Revolution: It looks likely that Tim Canova, the Sanders-backed challenger to congresswoman Debbie Wasserman Schultz, will lose Tuesday's Democratic primary race in Florida. Here's how Sanders's political revolution never came through for the Canova campaign. (Clare Foran)
Follow stories throughout the day with our Politics & Policy portal.
---
Snapshot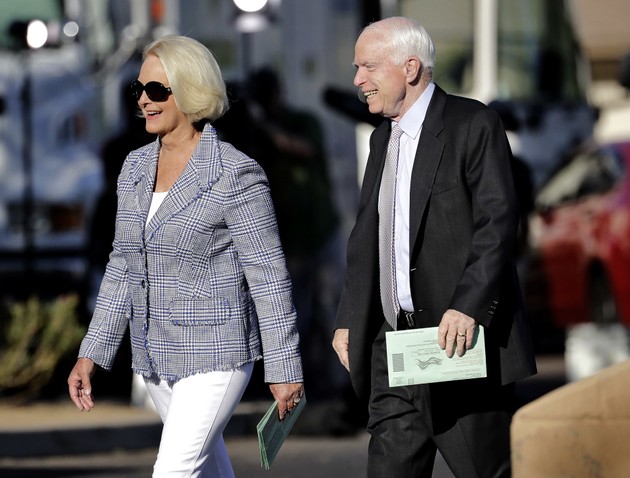 ---
What We're Reading
Guilty Until Proven Innocent?: When the former chair of the Joint Chiefs of Staff, Colin Powell, decided to launch a charity, no one thought to ask if his donors received special privileges. Why? Matthew Yglesias argues it was because Powell had a "presumption of innocence" that Hillary Clinton has never been granted. (Vox)
Welcome to Trump Model Management: Mother Jones reports that Donald Trump's modeling agency employed foreign models who came to the U.S. without valid work permits—and lived in sweatshop-like conditions. (James West)
The Next House Showdown: Congress returns from its summer recess next month, but tensions are already running high among House Republicans: Freedom Caucus members are proposing rule changes, and they aren't afraid to threaten Speaker Paul Ryan's position to get what they want. (Matt Fuller, The Huffington Post)
On the Fence: Since 1972, states have become more partisan, but this year, they appear more closely distributed, making it difficult to decipher which party each state supports. Check out this graphic to see how this change is taking shape. (Ritchie King)
The Problem With Trump's Minority Outreach: Donald Trump has shifted his focus to appealing to women and minority voters by trying to turn them against each other. Yet this tactic does not appear to be working with either group. (Jose A. DelReal, The Washington Post)
---
Visualized
On the Issues: Donald Trump is expected to give a speech on immigration during a campaign stop in Arizona on Wednesday. But just how does his position differ from Hillary Clinton's? Compare the two candidate's foreign policy agendas using this interactive graphic. (Andrew Van Dam, The Wall Street Journal)
---
Question of the Week
Donald Trump is preparing to face off against Hillary Clinton in a series of presidential debates this fall, and his campaign manager Kellyanne Conway has promised that, as an "unconventional" candidate, Trump will approach the debates in an unconventional way. Some reports suggest that conservative political commentator Laura Ingraham has been tapped as a stand-in for Clinton. But who do you think could best play Clinton in Trump's debate rehearsal?
Send your answers to hello@theatlantic.com or tweet us @TheAtlPolitics, and our favorites will be featured in Friday's Politics & Policy Daily.
-Written by Elaine Godfrey (@elainejgodfrey) and Candice Norwood (@cjnorwoodwrites)