The Atlantic Politics & Policy Daily: Don and Nigel's Brexcellent Adventure
Nigel Farage, a major proponent of the British Leave campaign, will join Trump at a rally in Jackson, Mississippi.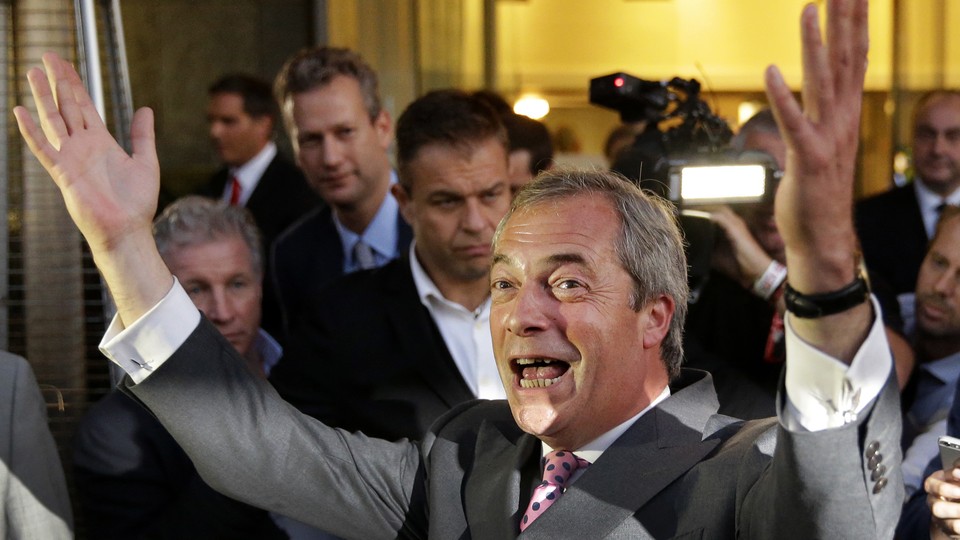 Today in 5 Lines
British politician Nigel Farage, a major proponent of Britain's campaign to leave the EU, is expected to join Donald Trump at a rally in Mississippi to tell "the Brexit story." Responding to the spread of the Zika virus, Hillary Clinton said she will set up a new federal fund to aggressively address public health crises if elected president. Scientists reported the discovery of a "potentially habitable" planet orbiting the star closest to our solar system. In a news conference in Ankara, Turkey, Vice President Joe Biden said Syrian Kurdish forces must stay east of the Euphrates River in Syria if they want to receive American support. And at least 120 people are dead and 368 injured after a 6.2-magnitude earthquake struck central Italy.
---
Today on The Atlantic
The Era of 'Illegal Wars'?: President Obama has warned the country about a Trump administration, but Bruce Ackerman argues that Obama has created a potentially darker reality by declaring war on ISIS without congressional approval and therefore enabling the next president to take such military action in the future.

The Challenge With School Funding: A 2013 California law sought to redistribute money to benefit low-income schools by allowing districts to decide what programs and services to spend on. But critics now argue the law is actually making things worse. Here's why. (Nadra Kareem Nittle)

Fighting Back Against Trump: American Muslim women have responded to Donald Trump's Islamophobic rhetoric by speaking out on social media and starting their own advocacy groups. Can these women harness their political power to bring about meaningful change? (Clare Foran)
Follow stories throughout the day with our Politics & Policy portal.
---
Snapshot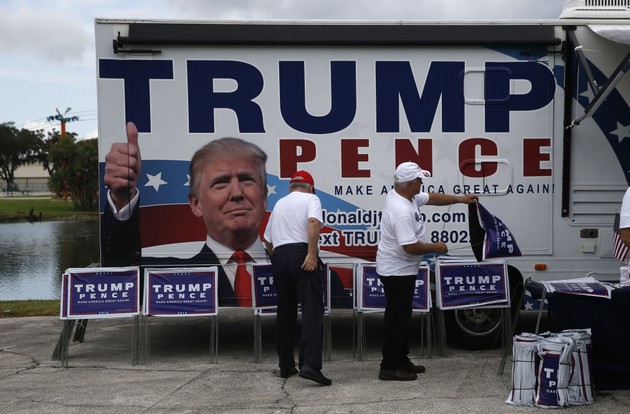 ---
What We're Reading
How Facebook Is Disrupting Politics: The 2016 election has become a social media war, with some political news outlets only publishing on Facebook. John Herrman offers a look inside the social network's massive media apparatus. (The New York Times)
Trump's Plan to Prove He Isn't Racist: Part of the Republican presidential candidate's new strategy to appeal to black voters is to attack Hillary Clinton for her support of the 1994 crime bill. New York Magazine's Jonathan Chait explains why that isn't likely to work.
Why the U.S. Defense Industry Is With Her: America's top defense contractors, like Lockheed Martin and General Dynamics, typically support Republican candidates. But this year, many are throwing their money behind Hillary Clinton, citing concerns with Donald Trump's national security expertise. (Austin Wright and Jeremy Herb, Politico)
The Correct Term Is 'People of Color': Good Morning America's Amy Robach landed in hot water Monday after referring to black people as "colored people." While that term is criticized as a racial slur, "people of color" is widely accepted. The controversy underscores the complicated nature of racial euphemisms. (John H. McWhorter, Slate)
Hillary's Earworm: Rachel Platten's "Fight Song" has been played at all of Clinton's rallies, and some listeners—including members of her own presidential campaign—are getting sick and tired of it. (Hunter Walker, Yahoo News)
---
Visualized
What's It Like on the Other Side?: A New York Times report on Facebook shed light on the influence the social network has on the 2016 election. Check out this interactive graphic to view side-by-side conversations on liberal and conservative news feeds. (Jon Keegan, The Wall Street Journal)
---
Question of the Week
Hillary Clinton is reportedly struggling to find a Donald Trump stand-in to prepare for the upcoming presidential debates. Strategist James Carville, Virginia Governor Terry McAuliffe, and even billionaire Mark Cuban have been suggested as possible sparring partners. But who do you think could artfully play Trump in a debate rehearsal?
Send your answers to hello@theatlantic.com or tweet us @TheAtlPolitics, and our favorites will be featured in Friday's Politics & Policy Daily.
-Written by Elaine Godfrey (@elainejgodfrey) and Candice Norwood (@cjnorwoodwrites)