How Much Does the NRA Actually Like Donald Trump?
The gun-rights organization is attacking Hillary Clinton, but it's not clear how enthusiastically they support the Republican nominee.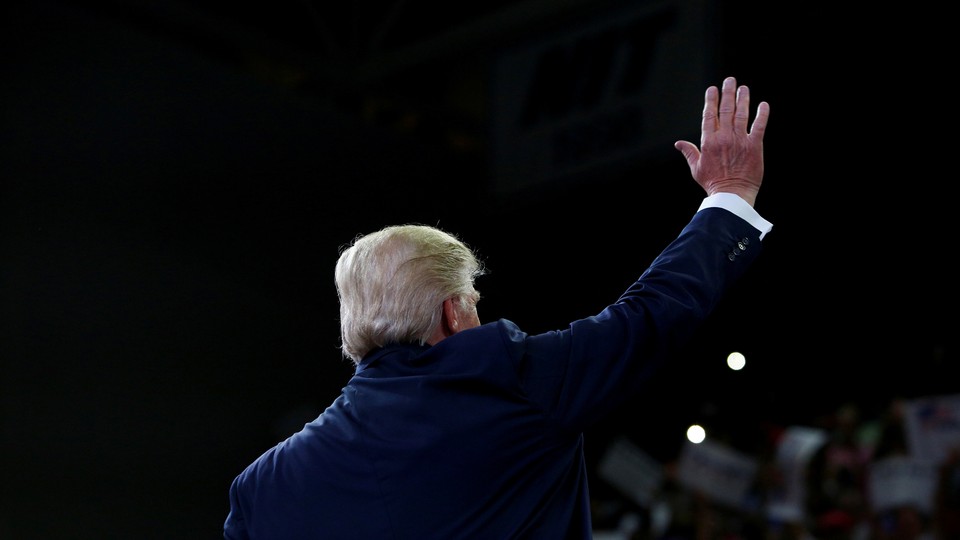 As Donald Trump drops in the polls and alienates would-be allies, the National Rifle Association is standing by the Republican presidential nominee. The organization rushed to Trump's defense after the candidate wondered aloud at a rally on Tuesday whether "Second Amendment people" could do anything to stop Hillary Clinton getting "to pick her judges"—a comment widely interpreted as a thinly-veiled call for Clinton's assassination.
In response, the NRA tweeted that Trump "is right," noting that if Clinton gets to appoint Supreme Court justices "there's nothing we can do." The NRA added in a second tweet: "But there IS something we will do on #ElectionDay: Show up and vote." The tweet ended with the hashtag #NeverHillary. The gun-rights group echoed the explanation sent out by the Trump campaign, which suggested that his remarks referred to the "political power" of Second Amendment supporters, who "will be voting in record numbers."
That's not all the NRA is doing to show that it wants to see Clinton defeated. The organization's political-victory fund launched a roughly $3 million anti-Clinton ad buy calling the former secretary of state "an out-of-touch hypocrite" who would "leave you defenselessness." Citing an NRA spokesperson, CNN reported that "it's the most expensive pro-Trump ad buy to date."
At a time when many prominent Republicans are attempting to distance themselves from Trump or are outright defecting to Clinton, the NRA's apparent loyalty is striking. Not everyone has been so quick to defend Trump's latest controversial remarks. House Speaker Paul Ryan told reporters that Trump's Second Amendment remarks sounded like "a joke gone bad," adding, "You should never joke about that. I hope he clears it up quickly."
But how much does the NRA—or other gun-rights supporters—actually like Trump? Data compiled by the Center for Responsive Politics suggests that, as of June 2016, Trump was far from the favorite Republican presidential candidate among gun-rights supporters. This group spent more money in support of Republican presidential candidates Ted Cruz, Rand Paul, Marco Rubio, Ben Carson, and others than they did for Trump—a figure which includes spending by the NRA. For the organization, as for many Republicans, it's possible that Trump may be a candidate of last resort.
It can be difficult to determine where Trump actually stands on most policy issues, and guns are no exception. As The Intercept pointed out in January: "Republican presidential frontrunner Donald Trump has campaigned as an ardent advocate of expanding gun rights, but in the past he called for banning assault weapons and a longer waiting period for gun purchases."
Politico reported that after Trump's Second Amendment comments, Bob Owens, the editor of the website BearingArms.com, tweeted that "Trump's words were 'neither nuanced nor clever' but 'a threat of violence. As a REAL supporter of the #2A it's appalling to me.'" The article notes, however, that "after a reporter asked the NRA about his tweet, he deleted that post, and wrote an editorial titled, 'No, Donald Trump Did Not Just Suggest Hillary Clinton Should Be Assassinated.'" Back in February, Owens bylined an article on the site declaring: "Donald Trump Will Be the Death of the Second Amendment."
This isn't the first time the NRA has worked to help Trump. The NRA endorsed Trump in May. Its political arm launched a $2 million ad buy in support of Trump at the end of June featuring a survivor of the Benghazi attacks. The ad, though, explicitly acknowledges that Trump may not be a first choice  for many voters. "A lot of people say they're not going to vote this November 'cause their candidate didn't win," the ad says. Text appears on screen that reads "Stop. Hillary. Now." before flashing to: "Trump 2016."
So why would reluctant gun rights advocates back Trump? There's lot more at stake in November than just the White House, including the future make-up of the Supreme Court. As the NRA said in a Tweet responding to the controversy on Tuesday:
It's not just supporters of gun rights: Republicans all across the country will have to ask themselves in November whether it's worth voting for a candidate who has so often strayed from their particular orthodoxy. Plenty of voters will ultimately opt to stand with the Republican nominee. But that doesn't mean they'll do it without reservation.