The First Republican Member of Congress to Back Hillary Clinton
Richard Hanna said Trump is "unfit to serve our party and cannot lead this country."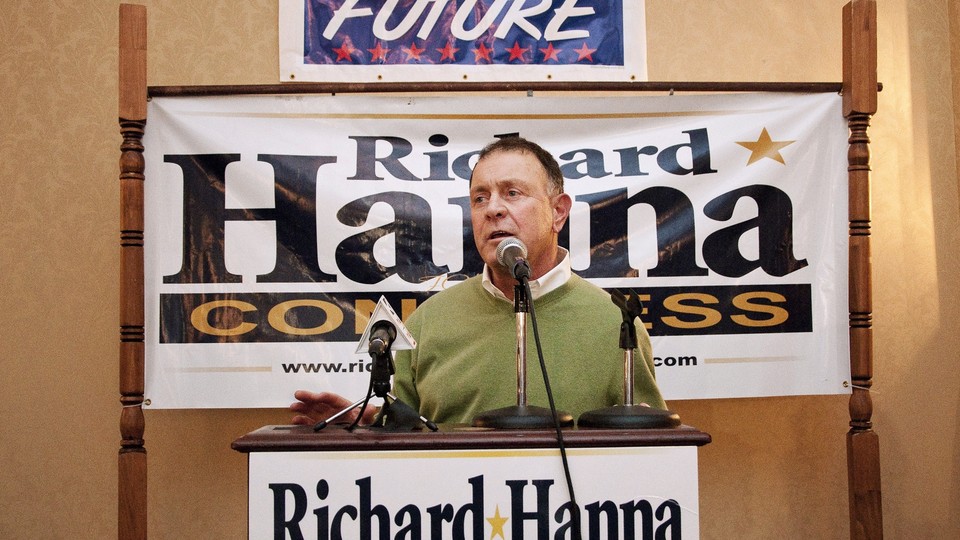 NEWS BRIEF The GOP has its first defector in Congress: On Tuesday, New York Representative Richard Hanna announced he will vote for Hillary Clinton in an editorial, saying Trump is "deeply flawed in endless ways."
In the editorial published on Syracuse.com, Hanna, a three-term member of Congress, wrote:
I have long held the belief that the Republican Party is becoming increasingly less capable of nominating a person who is electable as president. The primary process is so geared toward the party's political base, which ignores the fact that we have largely alienated women, Hispanics, the LGBT community, young voters, and many others in general.
He added: "While I disagree with her on many issues, I will vote for Mrs. Clinton. I will be hopeful and resolute in my belief that being a good American who loves his country is far more important than parties or winning and losing."
Hanna hails from New York, where Clinton served as senator. In the past, he said he would not support Trump but refrained from saying he would back Clinton. In doing so on Tuesday, he became the first Republican member of Congress to support the Democratic nominee. Trump's recent remarks about the parents of a fallen Muslim soldier may have pushed Hanna to make his decision. He reacted to the comments in an interview: "I saw that and felt incensed," he said. "I think Trump is a national embarrassment. Is he really the guy you want to have the nuclear codes?"
A score of lawmakers have vented frustrations about Trump in recent days but have not withdrawn their support. House Speaker Paul Ryan and Senate Majority Leader Mitch McConnell, for example, denounced Trump's remarks, although they did not mention him by name. Meanwhile, some Republicans have long said they would not support Trump or would abstain from the election altogether.
Hanna has been at odds with the Republican party in the past. As Syracuse.com notes, "He has frequently split with his GOP colleagues on social issues such as abortion and same-sex marriage, and is among only 13 Republican House members to acknowledge that humans have contributed to climate change." Hanna also plans to retire when his term ends, so he doesn't face concerns about reelection as other lawmakers might.
Still, his open support for Clinton could start a trend among other GOP lawmakers—and it's already been a bad week for the Republican nominee.