Republican Billionaires Break for Clinton
Meg Whitman and Seth Klarman join onetime GOP Mayor Michael Bloomberg in trashing Trump and offering their voice—and their cash—to the Democratic nominee.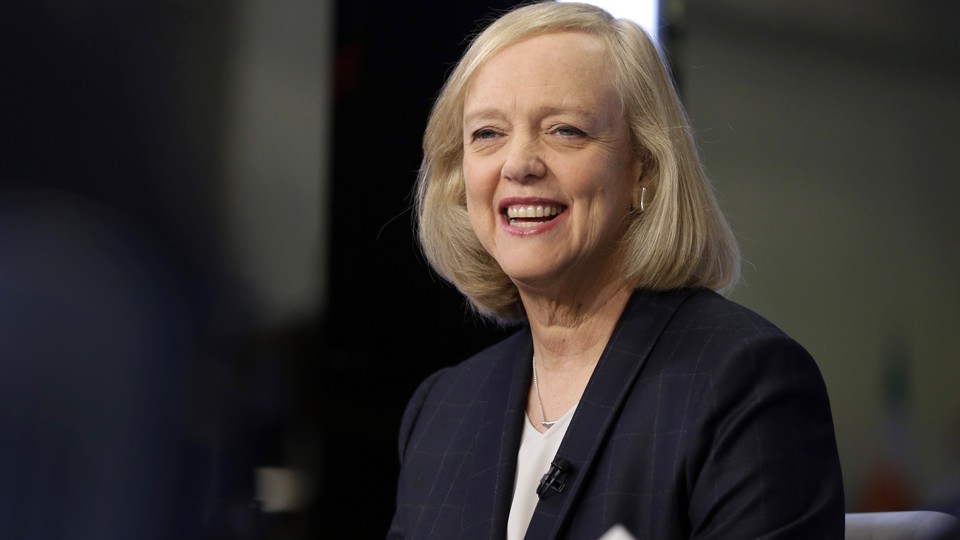 Donald Trump is hemorrhaging support among the people that should understand him best: billionaires.
In the last several days, two wealthy Republican donors, one former GOP mayor, and the nation's second-richest person have all thrown in their lot with Hillary Clinton. The defections not only deprive Trump of millions in potential campaign donations; they give Clinton more powerful surrogates to attack Trump's most prized strength—his business success.
Seth Klarman became the latest member of the Billionaires for Clinton club on Wednesday, telling Reuters that he'd work to see her elected because the prospect of a Trump presidency was "unthinkable."
His words and actions over the last several days are so shockingly unacceptable in our diverse and democratic society that it is simply unthinkable that Donald Trump could become our president.
Klarman, who is president and CEO of The Baupost Group, a hedge fund, is a registered independent but has given far more to Republicans over the years, including former presidential hopefuls Chris Christie, Marco Rubio, and Jeb Bush. Like many businessmen (including Trump), he has also contributed to Democratic candidates and donated to Clinton's campaign in 2007 and again this year, Reuters reported.
His statement against Trump came a day after Meg Whitman announced her endorsement of Clinton and warned that Trump's "demagoguery has undermined the fabric of our national character." Whitman, the CEO of Hewlett-Packard and the GOP gubernatorial nominee in California in 2010, said she would also raise money for Clinton. Last week, former New York Mayor Michael Bloomberg—a Democrat-turned-Republican-turned-independent—delivered a stinging rebuke of Trump at the Democratic National Convention. Mark Cuban, the Dallas Mavericks owner and "Shark Tank" star, went all-in for Clinton after earlier offering himself up as a running mate to either candidate. And on Monday, Clinton campaigned in Nebraska with Warren Buffett, the "Oracle of Omaha" who has long supported progressive tax policies.
Support from billionaires can, of course, come with its own headaches, especially in a campaign where both candidates are striking populist themes. Trump has already tried to tag Clinton as the candidate of Wall Street and the special interests, and her alliances with wealthy financiers of either party fits right in with that rhetoric.
But Clinton is actively courting the support of Republican donors for a reason: They can help ensure that she maintains her large fundraising advantage over Trump even as he sees success in winning lots of small-dollar donations. Trump nearly caught up with Clinton in July, raising $64 million for his campaign and a total of $80 million in conjunction with the Republican National Committee. Deep-pocketed donors, however, can make a bigger difference late in the campaign by writing big last-minute checks to super PACs and raising similar amounts from their wealthy networks of friends. Clinton has already won a victory of sorts when the Koch brothers announced they would not be supporting Trump financially this year and would use their virtually unlimited reserves only to help Republicans in down-ballot races.
The risk for Clinton is that her coziness with the billionaire class will reignite the ire of liberals and Bernie Sanders supporters who campaigned so aggressively against Wall Street and money in politics. She got some help on that front from Elizabeth Warren, who told Bloomberg Businessweek that she thought the support Clinton was getting from the financial industry was more about "supporting sanity" than securing commitments on policy. "The financial-services people, as much as many of them would like to see more deregulation, are also deeply frightened by the prospect of a Trump presidency," Warren said. "Nuclear war is bad for business."
If that message takes hold among those on the left, Clinton will have hit the trifecta in the battle for the billionaires—winning their money and their public blessing, without the political blowback that often comes with it.