Is There Still Time for Obama to Make Good on His Clemency Promises?
A last-ditch attempt to accelerate the president's initiative shows why commutations for federal offenders are so hard to procure.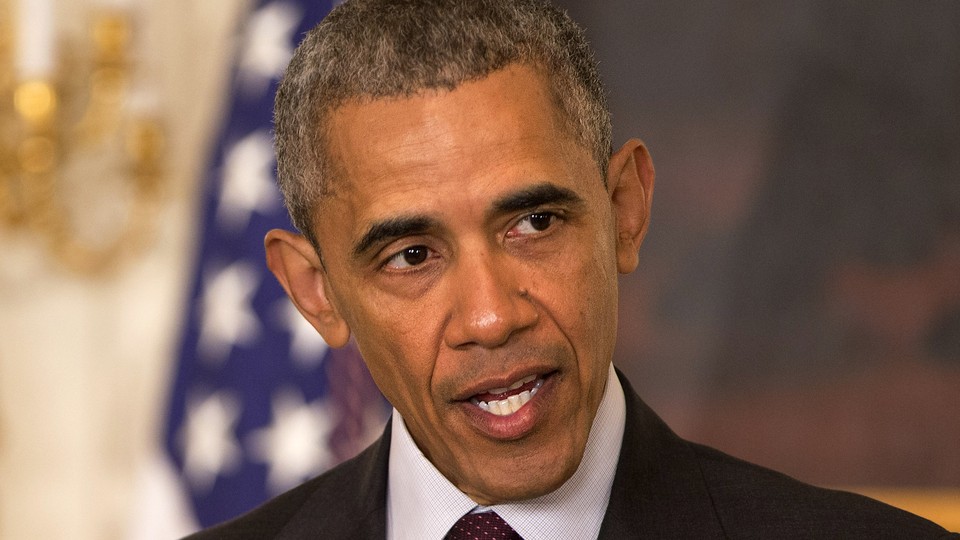 Earlier this month, President Obama made history by commuting the sentences of 214 people in federal prisons. That action, one of the largest exercises of presidential clemency powers since Gerald R. Ford granted pardons to Vietnam draft dodgers and deserters facing prison in 1974, has been hailed by the White House as a sign of Obama's commitment to clemency.
The White House's contention that Obama's 562 commutations are more than the previous nine presidents combined only holds if Ford's pardons aren't included in the tally, because they didn't necessarily reduce sentences. But the benchmark of the last nine presidents is arbitrary, especially in light of statistics showing that presidential clemency was much more common before the Cold War. Woodrow Wilson granted 1,366 commutations and 1,087 pardons. Calvin Coolidge quietly granted 773 commutations and Harding commuted 386 sentences in only two years. Pardons and commutations have dropped precipitously in the past three decades for presidents in both parties. Why?
One organization asking that question is the Dream Corps, a self-described "social justice accelerator" that has spawned the #cut50 initiative to reduce the national incarcerated population by 50 percent over 10 years. Part of that initiative is its new #ClemencyNOW campaign, which aims to persuade the president to issue commutations for thousands of nonviolent drug offenders. Dream Corps president Van Jones told me that the campaign "is our effort to convince the White House they're either gonna have to triple down—not double-down but triple-down—on the resources that they're putting into the clemency process internally or change the process in very significant way to meet their own goals."
The administration's own clemency initiative has committed it to issue clemency for certain federal offenders. The current criteria for the 2,000 or so eligible offenders are strict: They have to be convicted of nonviolent drug offenses, to have served a significant amount of time, and to have sentences that would be significantly shorter under current law. Although these offenders have now been identified and can be fast-tracked through the petition process, #ClemencyNOW argues that red tape and a lack of resources are impeding the initiative's progress. "Externally, there are not enough lawyers that are teeing up these clemency petitions," Jones told me. "We probably need maybe as many as a thousand lawyers just to get involved. And then internally with the administration, with the present pace and staffing, there's going to be thousands of people who might have been able to come home safely that are just going to miss out because of bureaucratic inertia."
Currently, the "bureaucratic inertia" is formidable. According to Mark Osler, a legal scholar, professor at the University of St. Thomas, and former federal prosecutor, any petition for clemency by a federal prisoner under the clemency initiative involves as many as 12 often-redundant steps before the president can even see it. That includes being scrutinized by two review committees, the federal Pardon Attorney, the staff of the deputy attorney general, the deputy attorney general, the White House counsel's staff, and the White House counsel. The pure bureaucratic burden alone might doom the project with only five months left to go in Obama's final term, and experts, including Jones's campaign and Osler, have called on the president to expedite the process.
Osler notes that it's not only bureaucratic inefficiency that hamstrings the federal clemency process, but an inherent conflict of interest in the current system. "Up until the end of the Carter Administration, there was a very different model, which was that the Pardon Attorney made a recommendation and it went to the president through the Attorney General," Osler told me. "But we saw the numbers really dropping off severely once the process changed. And it's not surprising when you look at that process."
The clemency petition process now involves veto points by the Deputy Attorney General and staff of that office. To many, including Osler and Jones, the involvement of the Office of the Deputy Attorney General is an inherent conflict of interest, as that office supervises the federal prosecutors who put people in federal prison in the first place. As Osler says, "I know that instinct that if you have made the argument in court that someone deserves a certain sentence, you meant it. And it's difficult to come out later and say: 'We were wrong.'"
The shift in the clemency process, and the accompanying drop in accepted petitions, came at the peak of crime-wave-hysteria and the beginning of Reagan's War on Drugs. That's indicative of a problem deeper than bureaucracy. There isn't a real legal or constitutional reason why any president couldn't just change the system to accommodate more requests, less red tape, and fewer conflicts of interests. Osler said that around Reagan's presidency, "we had a shift in cultural norms about that times in terms of becoming more retributionist."
Rachel Barkow, a law professor at NYU, argues that the politics of crime make elected officials loathe to rely on discretionary decisions at all levels of criminal justice, including parole, furloughs, and gubernatorial and presidential clemency. "There was a rise in violent crime in the 60s and 70s and just a huge change in the media coverage of it," Barkow says. "That dynamic of the public being very worried about disorder and crime because of what they see in the media creates a political climate where politicians know the public is concerned about this and they want to be on the side of safety and law and order. And it really did start in the 1960s—Barry Goldwater runs a kind of law and order type campaign, the media is focused on that, and there is an increase in violent crime at the same time. And that kind of starts this cycle where it becomes a really important electoral issue for politicians."
Few politicians—Democrat or Republican—are likely to risk the dreaded "soft on crime" label that damaged Democrat Michael Dukakis during his 1988 run for president against George H.W. Bush. Following the infamous Willie Horton ad—and regardless of its actual effect on the race—both parties have positioned themselves as tough on crime and embracing the kind of racial bias that stood out as the subtext in the Willie Horton ad. The elder Bush established a record consistent with the fears fomented in that ad; his 74 total pardons and three total commutations rank among the lowest ever for a president who lived through a term. The political calculus of Willie Horton still shows up today. Almost on cue Donald Trump last week attacked President Obama for his existing commutation efforts, warning supporters to "sleep tight" after the recent clemency order released what he characterized as "bad dudes."
For Barkow, the inherent conflicts of interest in the clemency process that Osler identified make it "particularly ill-suited to fight the politics" of crime that discourage action on clemency. But #ClemencyNOW is using public pressure and legal aid to encourage action, facilitate petitions, and get past barriers for current prisoners, as well as to encourage Obama to remove them altogether. According to its campaign manager, Brittany Byrd, "the #ClemencyNOW initiative's direct ask of the president is to triple the resources dedicated to his clemency initiative, as well as either issue an executive order that places the Office of the Pardon Attorney in the White House reporting directly to him—which eliminates the multi-level bureaucratic review—or shift his strategy to a categorical approach to clemency." Those last two options are powers that both the experts cited here believe the president clearly possesses—as evidenced by Reagan's change in policy and Ford's categorical clemency—and has thus far chosen not to exercise despite organizing a campaign around clemency.
One of the Obama administration's defenses of its own cautious approach—that true reform is in the hands of an ineffectual and gridlocked Congress—is not invalid. Further, federal prisons only form a fraction of the criminal-justice system, and eliminating mass incarceration will involve an incredible effort at all levels of government, of which the president is only one part. Despite real momentum, the War on Drugs has not yet been brought to a close. It operates on a kind of autopilot that still continues to imprison people of color at higher rates despite mounting public opposition. Beyond that, the very specific portion of nonviolent drug offenders affected by this clemency initiative are an even tinier sliver of a group including violent offenders and people found guilty of property crimes who are still targeted at disproportionate rates.
But as in past examples, federal policies and actions are important both as indicators of public opinion and as symbols to emulate among states. And for thousands of people caught on mandatory minimums and life sentences for drugs in federal prisons with no parole option, Obama is a final hope, especially as they face the uncertainty of perhaps electing a president who wants to tighten clemency restrictions even further. As Byrd puts it, "you have people serving these living death sentences, and that kind of punishment is unconscionable. Without President Obama, they're going to die in prison."