'Policing the Teenage Brain'
One organization's approach focuses on the adults, not the kids.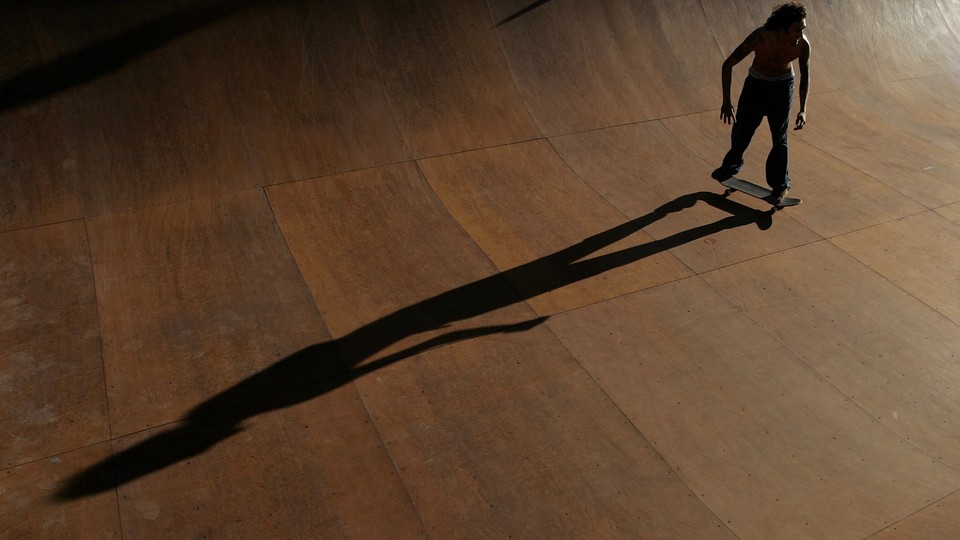 Strategies for Youth has spent five years essentially going door to door to convince police officers they can dramatically lower the number of youth arrests, recidivism rates, and minor offenses that can lead young people to repeated encounters with the law.
One important area of focus for SFY has been mental health. The organization's  founder and executive director, Lisa Thurau, works with Jeff Bostic, the director of school psychiatry at Massachusetts General Hospital, who specializes in adolescent mental health, to teach law-enforcement agents how to better engage with young people. Prior to SFY, Thurau worked at the Juvenile Justice Center at Suffolk University Law School, first as public-policy specialist and then as managing director. An edited version of our conversation follows.
Juleyka Lantigua-Williams: Why was it necessary to start the work you do?
Lisa Thurau: In December 1999, I read about a kid getting arrested when his fare card didn't work in the Mass Bay Transit Authority subway system. It seemed incredibly unfair that he would get arrested for the malfunction of his subway card. I started questioning it, and we started questioning arrests by the MBTA Transit Police. They are the transit police in Massachusetts in Boston. We started noting trends of arrests of juveniles.
[Years later,] the new chief that took over said "ally" when I asked him if he wanted to be an enemy or an ally. We worked together very well. He said, "Yes, let's train all my officers." He was a black officer, a chief named Joseph Carter, who's a brilliant man, and understood first hand what it's like to be discriminated against by Boston cops. He helped me raise the money. We trained all his officers. Within nine years, we went from about 649 kids being arrested in 1999, to in 2009, 84 being arrested. This was a tremendous decrease of 84 percent, it affected the disproportionate-minority contact rate.
We just started training everywhere. We said, "You … cannot treat kids like adults. It's not helpful to criminalize their behavior, as is being pushed by many policies. We need to stop this, understand these are young people."
What our training did was not only explain the psychology of the teen experience, we also linked officers to youth-serving community-based organizations to use in lieu of arrests. Some officers will go to a family over and over because there's mental-health issues, or because the family does not have the resources it needs to address its problems. What we did was partner them at these trainings and say, "Look, this is right near where you work, why don't you bring families to these services, instead of making arrests." Luckily, the arrest of a kid is a very paper-intensive effort, and they don't like to do it.
Lantigua-Williams: How did you develop the framework for training?
Thurau: Since 2005, the Supreme Court has directed every juvenile justice system stakeholder, from the legislature to the officer, from probation and judges to a facility, to treat youth differently, to adopt a developmental approach. Training is not being offered to police anywhere in the United States. Here we are in 2016, I cannot identify for you a single curriculum in America that uses a developmentally informed, trauma informed appropriate approach for training officers to be equipped to deal with youth. There's no evidence-based study of any training that does exist.
Lantigua-Williams: Can we differentiate? I'm always weary of the term trauma-informed. I want you to spell that out and also talk about status offenses. Sometimes teenagers are just being teenagers. In your training, how do you help officers differentiate between those two things?
Thurau: We break down the training: Day one, we make it about "nature." What was going on in the teen brain? Part one is the normative development of a teen brain, which shows how they perceive, process, and respond differently. The second component that day is looking at mental-health issues of juveniles. We call it the "compromise development." We focus on the top five mental-health issues of youth: depression, OCD, autism, ADHD, and dysregulation.
We ask officers what are they seeing, and they all say "psychotic" or whatever. We say, "No, this is depression. No, this is a PTSD response."
The last component of the day focuses on kids who have been trauma-exposed. How to understand their responses to law enforcement. How the brain is different, that the fact that the brain is different affects the psyche. That the psyche is different affects the behavior. We use a lot of visual methods to explain that, as well as the films we made with real young people imitating those mental-health issues. That's day one.
Day two focuses on "nurture," the environmental factors that influence youth's behaviors, that explain some of their responses to police, how do they perceive authority. What are the demographic factors that destabilize kids? We do this for a lot of reasons, including wanting officers to remember how compromised so many youths are. Now, 57 million of the nation's 74 million youth are on free and reduced lunch, meaning they're living close to the poverty level, meaning they're living in a state of anxiety that escalates their responses to everything. We want officers to be helpful. We recommend they carry food in their patrol car, and have food in their school resource officer's office.
Lantigua-Williams: What did you learn initially about officers' approaches to dealing with youth?
Thurau: We do an assessment before we do a training. We want to understand the nature of police-youth interactions, how well they're going, whether or not arrest is a first or a last resort. How do youth perceive the officers? How do officers perceive the youth? Who are champions for the youth in the community? What kind of vision does the police chief have? Basically, are police viewing kids as the problem or as a priority? It's the exception, not the rule, that kids are viewed as a priority. Typically, they're viewed solely as a problem.
We have different ways of evaluating that. Looking at the arrest data is probably the best way. When you see many contempt-of-cop arrests, which would be disorderly conduct, resisting arrest, you know you're in a place where the interactions between police and youth are not informed by good approaches, or an understanding of best practices for police youth interaction. Based on that, we customize our training to reflect what we see in the assessment.
Lantigua-Williams: Have you seen similar results, or are you on trend to see similar results, elsewhere?
Thurau: In Cambridge, we saw 65 percent decline in juvenile arrests and an 80 percent decline in runaways, which in some ways is just fantastic. Cambridge remains our star witness in this because they matched a very thoughtful approach to policing with a robust array of services. In Indiana, we've really worked hard to collect data, because it's well organized. [One county saw a] 31.7 percent decrease in juvenile arrests. We've worked in 13 counties in Indiana, because they hired us to help them implement the Juvenile Detention Alternative Initiative statewide. We're seeing decreases.
Lantigua-Williams: What diversionary alternatives do you suggest to avoid bringing young people into the justice system?
Thurau: We always strongly encourage the development of diversion programs, because diversion for minor offenses leads to one-seventh the likelihood of recidivism. Plain and simple. We strongly recommend restorative justice approaches, especially in schools. We strongly recommend not arresting, plain and simple. Developing relationships in lieu of arrests is much more effective than an arrest. We join with many police officers' frustration with juvenile courts; we say, "What does it get you?" The juvenile court system is not developmentally appropriate, or necessarily trauma informed, and therefore, not well matched or suited to the needs of youth.
We have this mnemonic device for police officers to consider when they work with kids, which is BLT, behavior, language, and timing. We say, look at how the juvenile court takes a response to a kid's behavior. Let's say you punch me in the face and kick me, or slice me with a knife. The first thing is, if I'm not detained, I'm going to wait six to eight weeks at least before I have my first hearing. That's a long time.
When I go there, the language is focused on what happened to the victim, on the punishment I will receive. It's just not well matched to the needs of kids. It's often all about punishment, and it's not about changing their behavior. We understand they have to be accountable. We understand there are consequences. We agree with police that the court systems don't always respond in a way that is likely to get kids to behave differently. We say to many officers, "You have no idea how powerful you can be as mentors, male and female, with young people."
When we survey youth, they often say, "We wish police would act more like parents." Police are always astonished to hear that. It starts awakening them. We were just in a site, and an officer first came in very proudly saying, "I'm responsible for all the arrests in the school system." Everyone said, at the end of it, he was changing his tune and feeling embarrassed, which is exactly what we want: to make them rethink the value of doing that.