Why Aren't U.S. Police Departments Recruiting More Women?
This simple tactic for reducing violent incidents with officers, addressing sexual assault, and more is rarely used in America.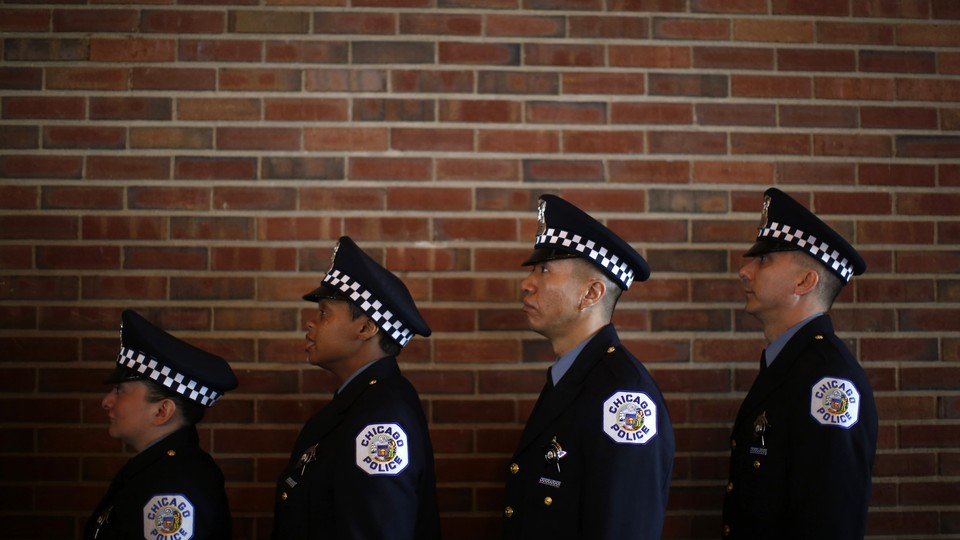 The message is chillingly clear: If you're raped or sexually assaulted in Baltimore these days, don't expect much from the police.
Earlier this month, a Department of Justice investigation found the Baltimore Police department has been shockingly negligent in responding to sex crimes, including leaving the majority of rape kits untested and ignoring evidence. It described a culture of hostility towards victims, including officers who called women "whores" who are trying to "mess up guys' lives," according to the report. The inquiry  follows a 2010 investigation by The Baltimore Sun detailing how police dismissed as "unfounded" one in three rape and sexual assault reports, the highest in the nation.
Research shows that in the United States and abroad, the "negligence" described in the Justice Department report could be alleviated if law-enforcement agencies recruited more women officers. In total, 400 women officers serve on the police force in Baltimore, out of 2535 sworn members—that's just 15.8 percent. Despite the criticisms in the report, James Handley, the director of recruitment of the Baltimore Police Department, said he was not changing his recruitment strategy to bring in more women. "That's higher than the national average," he said. "We're doing pretty good."
But many leading women police officers disagree. Deborah Friedl has 30 years with the Lowell Police Department in Massachusetts, and she is now deputy superintendent of police there, the first woman to hold that job. For at least a decade, she and an international cadre of women police leaders, including The National Center for Women and Policing in the U.S. have been promoting research showing that the best way to reduce rates of violence against women, sexual assault, rape, and homicide is to hire more women officers.
They've gotten almost no attention. "I'm so discouraged at this stage of my career," said Friedl, who is also vice president of the International Association of Women Police Officers. "There's no energy about doing anything to recruit women or show any effort to do your best to recruit women."
The same goes for Carmit Segal, a professor at the University of Zurich, who has led research into the impact of women police officers on crime reduction, and specifically crimes against women. She read the Department of Justice report "out of curiosity" to see if it made recommendations to hire more officers. It did not.
"I'm amazed there was no mention of gender," said Segal. "Some of these statements, like, 'Did you enjoy yourself?' to a woman who was raped … I don't see how a woman police officer could make that statement." She wrote a research report in 2014 with Amalia Miller of the University of Virginia that studied the integration of women in U.S. policing between the late 1970s and early 1990s on violent crime reporting and domestic violence escalation and found that female officers improved police quality. They also used crime-victimization data and found that as female representation increases among officers in an area, violent crime against women in that area, especially domestic violence, was reported to police at significantly higher rates.
It was mostly ignored by policymakers.
"I don't know why more women officers is not being suggested as a policy," she said.
In the wake of the Black Lives Matter movement calling much-needed attention to police brutality, law-enforcement leaders have acknowledged the need to diversify their departments to reflect the communities they  serve. But "diversification" usually means adding more officers of color, not adding more women, even though women make up 50 percent of the American population, but less than 13 percent of most police departments. The percentage of women in the police force in the U.S. has not changed in almost two decades.
The Department of Justice report on Baltimore makes no mention of increasing female officers as an effective strategy to address the problems it identified. And President Obama's 2015 "Final Report on the President's Task Force on 21st Century Policing," released last year called for police departments to hire more minorities—but not more women. In fact, in its 10 pages of recommendations for improving police forces, the word "woman" appeared only once, in a recommendation that police not use physical-control techniques against vulnerable people, such as pregnant women.
This, despite the fact that research into the specific impact of women police officers is clear: Women officers are less likely to use excessive force or pull their weapon. They are defendants in lawsuits far less often than men, saving municipalities millions in legal fees. Their greatest potential impact is in addressing violence against women and sex crimes, which are not small in number. A third of women murdered in the U.S. are killed by intimate partners. Domestic violence accounts for half of all violent crimes reported to the police each year. Two to 3 million women in the U.S. are assaulted by their partners each year. Many of them are stalked.
Working in units that handle sex crimes and domestic violence is tough, and despite the Justice Department's criticisms, Friedl said, many male police officers do an outstanding job. However, research suggests that women victims are more likely to report domestic violence to a woman officer. Female members of police forces are also more likely to take such reports seriously and to follow up on them to prevent repeated acts of violence. Within police departments, harassment of women officers decreased when there were more of them, an additional study found. A 2003 study The Feminist Majority and The National Center for Women and Policing found women police officers use a style of policing that relies more on communication than force, and that they "could respond more effectively to violence against women." Another study in Washington, D.C., found that women officers were less likely than male officers to dismiss or ignore  victims who had made repeated calls to the police over months or even years.
International studies have also found comparatively positive outcomes in police forces with more women officers. The United Nations has found the greater the number of women police officers in an area, the "more protection from violence women and children received following conflicts" because "women sometimes fear turning to male uniformed personnel for assistance," according to Ann-Marie Orler of the Department of Peacekeeping Operations at the United Nations.
The fact that fewer than 13 percent of police officers in the U.S. are women is "frankly pitiful."
A 2003 report from the National Centre for Women in Policing in the U.K. also studied the response of male and female officers to domestic-violence calls. It found that male officers were less likely than female officers to write a police report when responding to the second domestic-violence call at a residence. Australia and Canada have seen similar trends. In Canada, almost half of all violent-crime calls to police are for domestic violence. There, one study found that female officers demonstrate more concern, patience, and understanding than their male colleagues when responding to calls about domestic violence, and female victims of domestic violence rated female police officers as more helpful than male police officers.
For Jane Townsend, who is chief inspector for the British Transport Police, the fact that fewer than 13 percent of police officers in the U.S. are women is "frankly pitiful for a country that is looked up to lead the world," she said. The U.K.'s average percentage of women on police forces is 28 percent, she said.
Despite all of this evidence, few policymakers or police leaders are including the recruitment of women in their calls for greater diversification, which have been more frequent in recent years in response to protests over police misconduct. troubled policing."My recruiting strategy has not changed since the Department of Justice report," said Handley. He said the department  "always want to hire a diverse workforce, including hiring women," but he didn't consider recruiting women a priority, and definitely not for the sex-crimes unit, which he used to lead. He declined to say how many officers in that specific unit are women.
Yet, the department has not necessarily taken full advantage of opportunities to recruit women. Earlier this year, retired women police officers in the city hosted an annual fundraiser. While the department "did put advertisement in the brochure" Handley said, no one from his recruitment team actually attended.
The Baltimore Police Department does invest in the recruitment of other specific groups. For example, 11 officers flew to Puerto Rico this summer to identify more Hispanic candidates. (Women leaders in law-enforcement are certainly not saying that the recruitment, training, and hiring of minorities is somehow less important. They simply want to be considered as a group that should also be actively recruited, trained, and hired. )
Handley is not the only official ignoring calls by a handful of women police leaders to increase the number of women in police ranks to better reflect the community they serve––as mentioned above, the White House report on 21st-century policing leaves women officers out.
These days, advocates like Friedl—who came into law enforcement in the 1980s, as the numbers of women officers were jumping from 1 percent to 12 and 13 percent—now feel discouraged. The International Association of Women Police and the U.S. Feminist Majority Foundation's National Centre for Women and Policing still do some lobbying, but not much. And the National Center for Women and Policing has closed due to lack of funding.
Even U.S. advocates aren't that interested in increasing women officers. The landmark Violence Against Women Act of 1994 authorized $1.4 billion in spending––but made no mention of increasing the number of female police officers. When the act was renewed in 2014, there was still no call for more women officers.
Kim Gandy, the president and CEO of the National Network to End Domestic Violence, wasn't sure how domestic-violence organizations could advocate effectively for more women officers. "More women police officers is extremely important in terms of dealing with sexual violence and domestic violence as well as reducing violence within the police department," she said. "It's something worth thinking about."
The Department of Justice report on Baltimore's police is a chilling read.
But she said she has read that past efforts to increase women in police and fire departments have been unsuccessful, and she wasn't totally convinced that there is hard evidence of women officers' greater  effectiveness in reducing violence. "I believe it's true. But to put out a national call with nothing more than anecdotal evidence would not be effective, and we don't have the funding to do the research and come up with something more effective. We're a small organization and we're dealing with other things," she said.
Friedl dismissed the idea that women aren't choosing policing as a career. The majority of those studying criminal justice are women now, she said. However recruitment practices can make it difficult for them to get policing jobs. When there are openings, military veterans tend to get first preference, and they are overwhelmingly men, she said. "They're last on the list," Friedl said.
The mix of disinterest and outward hostility to the notion of increasing the ranks of women police officers indicates that nothing is likely to change soon. And that's a scary thought for people living in Baltimore.
The Department of Justice report on the city's police is a chilling read. Example after example describes women raped in bars, women raped by cab drivers, and prostitutes raped at gunpoint—their cases left open, witnesses not interviewed and evidence ignored. Even chances to catch serial rapists have been missed, it said.
With such grave consequences at stake, it's no longer acceptable to ignore an obvious solution.