The Republican Ticket Splits on Paul Ryan Endorsement
Mike Pence endorsed his former House colleague, even though Donald Trump won't.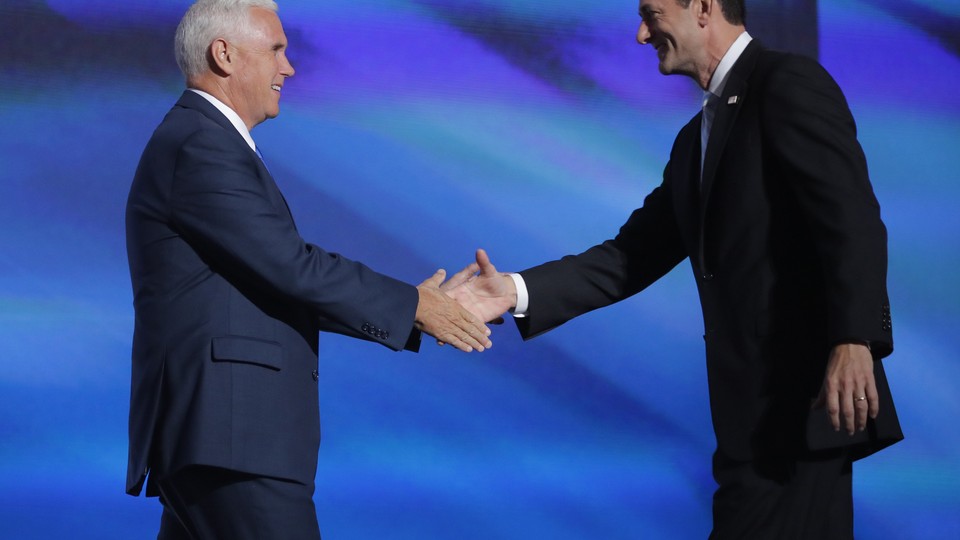 NEWS BRIEF Going into his primary election day next week, House Speaker Paul Ryan will have the support of at least one-half of the Republican presidential ticket: Indiana Governor Mike Pence.
Pence offered his endorsement Wednesday in an interview with Fox News, less than 24 hours after Donald Trump told The Washington Post he wasn't ready to back Ryan, who'd engaged in some very public hand-wringing over Trump in the spring. The GOP nominee's comments—combined with his refusal to endorse Arizona Senator John McCain, and other controversial remarks he's made in recent days—have reportedly freaked out his allies, including Republican National Committee chair Reince Priebus. Trump orbiters are reportedly planning to stage an intervention to bring the campaign under control.
Pence, in the meantime, is on Trump clean-up duty, as my colleague Priscilla Alvarez recently put it. First, he had a meeting with McCain, wherein Pence likely tried to alleviate any tensions. Then Wednesday afternoon, the governor told Fox News he's backing Ryan, who introduced Pence—glowingly—at the Republican National Convention last month.
"I strongly support Paul Ryan, strongly endorse his reelection. He's a long-time friend, he's a strong conservative leader," said Pence, who worked with Ryan for over a decade in Congress. "I believe we need Paul Ryan in leadership in the Congress of the United States to rebuild our military, to strengthen our economy, and to ensure that we have the kind of leadership in this country that will make America great again."
Trump's comments on Ryan Tuesday seemed like a direct response to the speaker's own earlier this year. Where Ryan told CNN in May he wasn't "ready" to endorse "right now," Trump told the Post he's "not quite there yet" with Ryan, whom he vaguely suggested isn't a strong enough leader. Pence's characterization of Ryan as a "strong conservative leader" reads like a rebuttal of Trump.
That said, according to Pence, Trump is a-okay with his running mate's decision: "I talked to Donald Trump this morning about my support for Paul Ryan and our long-time friendship. He strongly encouraged me to endorse Paul Ryan in next Tuesday's primary and I'm pleased to do it." He chalked up Trump's refusal to back his friend as a product of this year's divisive Republican primary, which, it should be noted, ended in early May. "Look, this is all part of a process of bringing a party together after … a very competitive primary process," Pence said.