Mike Pence Stands By His Running Mate
In Raleigh, North Carolina, the Republican vice-presidential nominee insists the ticket and the party are unified.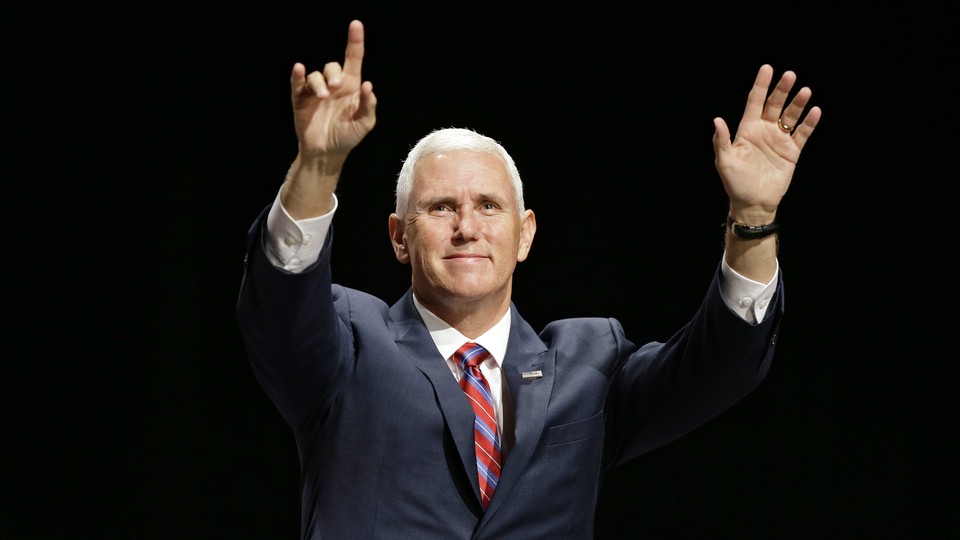 RALEIGH, N.C.—In the midst of an often-childish presidential campaign, sometimes it's children who say the most insightful things.
During a town-hall-style rally near the North Carolina state capitol Thursday morning, 11-year-old Matthew Schricker took the microphone and calmly asked Governor Mike Pence what, precisely, he was doing on the ticket.
"I've been watching the news lately, and I've been noticing that you've been kind of softening up on Mr. Trump's policies and words," Schricker asked. "Is this gonna be your role in the administration?"
It was a timely question. The last few days have been perhaps the most chaotic of the Trump campaign, and Pence has increasingly been the man called in to tamp down the fuss—with varying degrees of success. There he was issuing the tempered, respectful story about the Khan family, the one Trump should have issued before moving on but didn't. There he was expressing his strong support for Paul Ryan, a day after Trump said he wasn't ready to endorse the House speaker for reelection.
After chuckling and praising Schricker's astuteness on Thursday, Pence delivered a carefully calibrated answer, quietly admitting Trump was sometimes impolitic while declaring his strong support for his "new boss."
"I couldn't be more proud to stand with Donald Trump, and we are shoulder to shoulder in this contest. And sometimes what I've learned, Matthew, and you'll learn when you're governor of North Carolina, is sometimes things don't always come out like you mean," Pence said. "Donald Trump and I are absolutely determined to work together. We have different styles, you might have noticed that … But differences in style should never be confused with differences in conviction."
Trump's ability to survive the current stretch will depend in part on the ability of Pence to keep going out with a brave face and reassuring Republicans who are wavering on Trump. That's just what he did Thursday, and if he sounded a little bit defensive, it was hard to blame him. "Up until just a short time ago it looked like he was out there all alone but now this party is united, this movement is united, and we're going to make Donald Trump the next president of the United States," he said.
The Republican vice-presidential nominee demonstrated the differences in style and the overlap in substance during a nearly 30-minute speech, before taking a half-dozen questions from a crowd of about 400. It was far calmer than the boisterous atmosphere at most rallies featuring the name atop the ticket. Donald Trump likes to play Puccini at his rallies; Pence's was in an opera house, and the music was soft and twangy. Trump wings it; Pence spoke fluently, but stuck close to a familiar template and carefully crafted lines. Trump likes to assail the media; Pence did so, too, but he approached the matter with humor rather than ire.
"The party in power seems helpless to figure out our nominee," Pence said. "And of course I'm referring to the media." He added, "The media and the Democrats, they have the same problem. They all keep telling each other the usual methods are going to work against him. They keep thinking they've done him in. And then they turn on the television the next morning and Donald Trump is still standing and fighting, and he will make America great again!"
There's no doubt that Trump is still fighting, but just how tall he's standing is another question. A series of recent polls have shown his standing plummeting, and a growing drumbeat of Republicans are either abandoning their support for the ticket or edging that way with increasingly sharp criticisms. The rocky week didn't shake the Trump-Pence supporters I talked to. They, too, tended to blame the press for overhyping or misrepresenting things. "I have no doubt we're going to win, but it still bothers me," said Cherie Gift, who driven 45 minutes from the town of Nashville to be at the rally. (That was nothing—Jack Snyder told me he'd driven three hours from Emerald Isle to attend.) Her friend Becky Bost, from Edgecombe County, was thrilled by Pence's presence. "He's like mayonnaise on a ham sandwich!" she said. "Donald is the ham. Pence complements him."
Pence seemed more irked by President Obama, who called Trump unfit for the office this week and "woefully unprepared." Pence quipped, "Allow me to stipulate that Barack Obama knows a lot about being woefully unprepared to be president of the United States. The thing that really bothered me was what he said about judgment. He said that Donald Trump lacked basic knowledge of critical issues and that he lacked judgment to sit in the highest office in the land."
From there, the Indiana governor unspooled a list of foreign-policy failures, from Benghazi to ISIS, from "feigning reset with Russia" to this week's revelation that the U.S. government secretly sent $400 million in cash to Iran in a prisoner exchange. Like a Trump speech, it was more diagnosis than prescription. Pence's insistence that a Trump-Pence foreign policy would restore "strength" sat uneasily with Trump's suggestion that the U.S. concede Russian control of Crimea. (So did the rhetorical question from Senator Thom Tillis, one of Pence's warm-up acts: "Do you think a nation that allows Russia, after winning the Cold War, to emerge as a global power is America at its greatest?") Pence defended Trump's Republican National Convention, too, saying that if it sounded dark, that's because Americans want an honest read on the status quo.
The event showcased some of the diversity of the Trump coalition—and of the GOP in North Carolina, which has lately emerged as a crucial swing state in November. Democrats have only won the state at the presidential level once in recent years, in 2008, but they believe that demographic changes offer an opening. Since Obama won, Republicans have captured the state legislature, the governorship, and the second of two U.S. Senate seats. Governor Pat McCrory and Senator Richard Burr, both Republicans, face tough reelection contests in November, raising the stakes even higher. On Wednesday, Democratic vice-presidential hopeful Tim Kaine stumped in Greensboro.
Compared to other Trump events I've covered in the state, the crowd in Raleigh was a little more Southern Tides and a little less Bass Pro, apparel-wise, and even though Pence only answered a few questions, they covered a wide range. The first question came from Dallas Woodhouse, the executive director of the state GOP, who served Pence up a chance to criticize last week's ruling by federal judges that nullified as racially discriminatory the central elements of a tough voting law Republicans passed in 2013. A few moments later, Jean Reaves got up and told Pence she was a veteran, the wife of a Marine veteran, and the mother of soldiers who served in Iraq and Afghanistan.
"I have a concern that I don't feel like I hear anybody talking about. I don't think in any way, shape, or form that we need to be talking about about privatizing the VA. The VA health care is, bar none, the best in this nation," she said. She wore a neck brace as she recuperated from a surgery she'd had at the VA hospital in Durham. "Across this whole nation we have a health-care crisis, so how are you gonna put 25 million veterans back on top of what is already a health-care crisis? Don't let anyone convince you that that's even remotely a part of the answer."
Pence stepped carefully in replying. "The only thing that you said that I would gently correct is what's available at the VA are not benefits—they are what you earned in the uniform of the United States," he said. He asked staffers to get Reaves's information so he could send her Donald Trump's speech to the Veterans of Foreign Wars last month. Pence praised VA hospitals, "but we all know the stories, across the country… We're going to make sure that VA hospitals are there and they work … but if for any reason our VA hospitals can't meet the needs of a veteran, we are going to make it possible for the veteran to go across the street and get that care in a timely manner."
When I spoke with Reaves after the rally, she seemed to represent a particular kind of Trump Republican, one who was concerned about social issues and control of the Supreme Court, was attracted by Trump's business record, but also didn't want to see government services curtailed or sent off to the private sector. In fact, she had nothing but positive things to say about Obama's VA secretary, Robert McDonald.
"I personally believe that Secretary McDonald is currently doing a great job," she said. "Like Donald Trump, he has a business mind. He understands business concepts. He understands large organizations. We need that. That's part of the kind of leadership that we need, is that understanding." Reaves said she was encouraged by Pence's answer.
So was Matthew Schricker. Wags on Twitter who saw Schricker's question quickly dismissed his precocity as parent-instilled, but when I caught up to him afterwards, it wasn't so clear. His mother stood to the side, holding her son's drink and letting him do the talking. He wore a Trump T-shirt with a Trump sticker and orange-soda stains on the corners of his mouth, his main concession to his age.
Schricker explained that he'd come up with the question by tracking the race in recent days. His question wasn't intended to embarrass Pence so much as to enforce ideological rigor: He was a little concerned the Republicans might be going soft.
"A few weeks ago I remember Mr. Trump saying something and it seemed like Mr. Pence got a little—he kind of softened up about the Khan family, I think, and the Muslim ban, and I didn't know if this is all part of their plan, and if Trump said, 'Ok, I got a little wild there, try to balance me out,'" he said. "I wanted to know if that was Pence, and if Mr. Trump was disappointed in him. I wanted to see if Pence was totally into the Trump campaign and if he was absolutely full-on engaged."
He said Pence's answer persuaded him that the good cop-bad cop act wasn't a sign of hesitation and that, as he put it, "they were just doing it for the votes." That was good news for Pence—one less Republican he had to reassure, even if this particular Republican wasn't going to be able to vote in November.