Paul Ryan's Big Day in Wisconsin
The U.S. House speaker faces the businessman Paul Nehlen in a contest that has shown the tension within the GOP.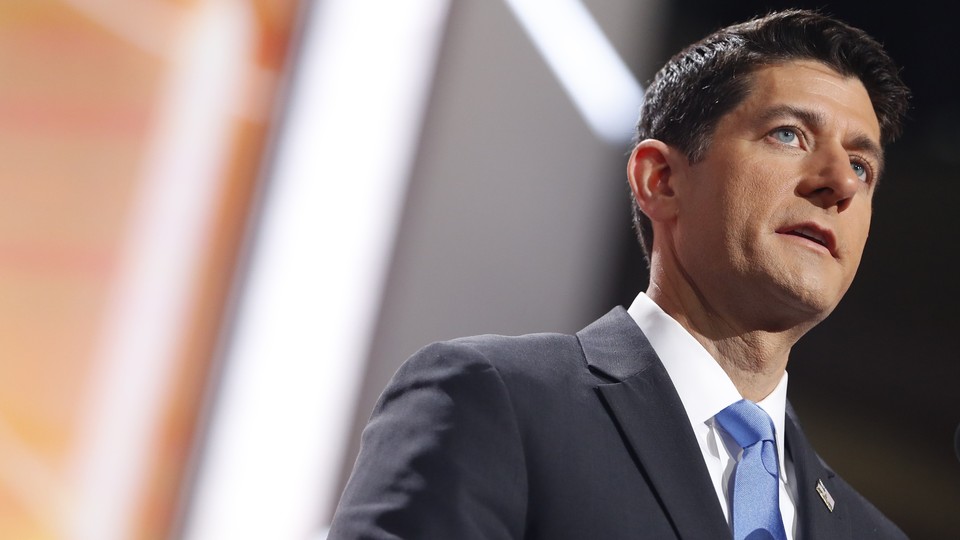 NEWS BRIEF It's been a bumpy ride for U.S. House Speaker Paul Ryan coming into Wisconsin's primary election on Tuesday.
Ryan's reelection race picked up attention earlier this month when Donald Trump refused to endorse Ryan, saying he wasn't "quite there yet." His decision to withhold his support for the House speaker ahead of his upcoming primary shocked the GOP. Mike Pence split from his running mate and backed Ryan. The Republican National Committee chair Reince Priebus, a long-time friend of Ryan's, also jumped to his side. Days later, Trump, too, endorsed Ryan. "We will have disagreements, but we will disagree as friends and never stop working together toward victory. And very importantly, toward real change," he said.
Ryan is running against the businessman Paul Nehlen in Wisconsin's first congressional district on Tuesday. Nehlen had gained little national attention until a recent Twitter exchange with Trump. He used Trump's hesitation to endorse Ryan as fodder to attack Ryan. Last week, he denounced the House speaker for betraying the GOP nominee: "Paul Ryan has shown more passion in attacking Trump than he has ever shown in defending Americans." Ryan, though, has seemingly remained confident. "I feel very good where I am," he said in a radio interview last Thursday.
The race in Wisconsin has put the deep tensions within the Republican Party on display, weeks after the party sought to show unity at its nominating convention. For his part, Ryan has given little indication that he's even running for reelection. The Los Angeles Times reports that during a gathering with manufacturing workers, Ryan didn't mention the contest.
That may be because Nehlen is significantly trailing Ryan. Still, Nehlen shows no signs of backing down, urging people to come out and vote in a campaign video:
With your one vote, you can give to those who will never have enough money to attend one of Ryan's wealthy donor dinners, but who are Americans entitled to equal representation and protection under the law … One vote to save Wisconsin, one vote to save America.
In Connecticut, Minnesota, and Vermont, voters will also be casting their ballots.