Paul Ryan Is Standing By Donald Trump—at a Distance
The House speaker isn't withdrawing his support of the Republican nominee, but conceded Thursday that "he's had a pretty strange run since the convention."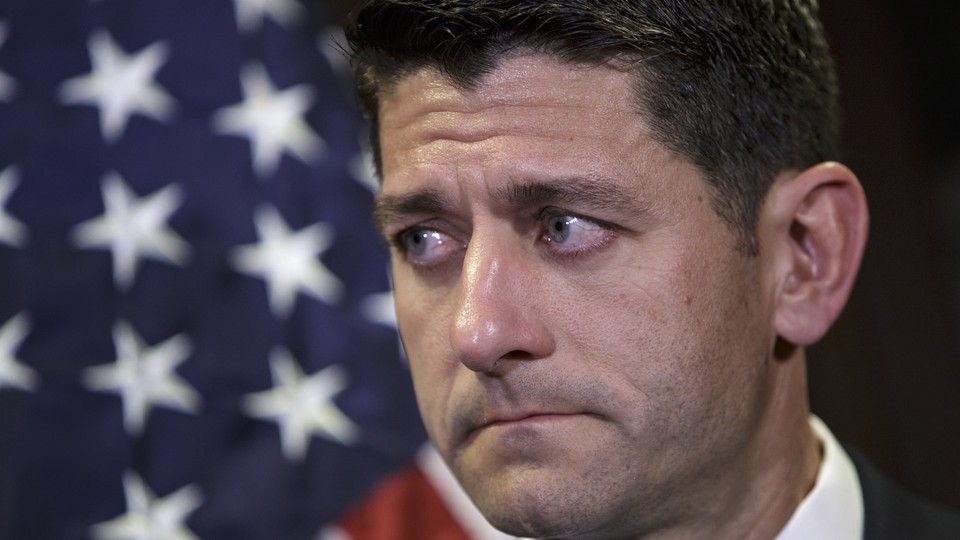 NEWS BRIEF Days before his primary election, House Speaker Paul Ryan is keeping Donald Trump at arms length.
"He's had a pretty strange run since the convention," Ryan said in a radio interview on Thursday. "You would think that we want to be focusing on Hillary Clinton, on all of her deficiencies. She is such a weak candidate that one would think that we would be on offense against Hillary Clinton, and it is distressing that that's not what we're talking about these days."
Ryan was perhaps alluding to a series of controversies that have rocked the Republican nominee's campaign recently—like Trump's reckless remarks about Khizr and Ghazala Khan, who lost their son in combat in 2004, and Trump's decision not to endorse Ryan. Altogether, it's made for a turbulent few days for the House speaker ahead of his primary election in Wisconsin next week.
In an interview with The Washington Post on Tuesday, Trump, who Ryan backed in June, refused to return the favor: "I like Paul, but these are horrible times for our country. We need very strong leadership. We need very, very strong leadership. And I'm just not quite there yet. I'm not quite there yet," he said. Zack Roday, a Ryan campaign spokesman, said that the campaign had not asked for Trump's endorsement and was "confident in a victory next week regardless."
Then, contra Trump, Republican vice-presidential nominee Mike Pence did endorse his former House colleague, saying:
I strongly support Paul Ryan, strongly endorse his reelection. He's a long-time friend; he's a strong conservative leader. I believe we need Paul Ryan in leadership in the Congress of the United States to rebuild our military, to strengthen our economy, and to ensure that we have the kind of leadership in this country that will make America great again.
Still, Trump's decision to withhold an endorsement infuriated Republican Party leaders, chief among them Republican National Committee Chair Reince Priebus.
Throughout the primary season, Ryan has kept his distance from Trump. In the spring, he said he wasn't yet ready to back the Republican candidate but ultimately endorsed him in June. Ryan also delivered remarks at the Republican National Convention—a display of unity at a time when the fractures within the GOP were clear.
On Thursday, Ryan stood by the party and the voters' choice of nominee. "We are a grassroots party; we aren't a superdelegate party," he told radio-show host Jerry Bader. "We are a party where the grassroots Republican primary voter selects the nominee. There's something to be said for those voters."
Next Tuesday, Ryan will come up against businessman Paul Nehlen, who was thrown into the national spotlight after engaging with Trump on Twitter. On Wednesday, Nehlen delivered a strong rebuke of Ryan and lauded Trump's policies. For his part, Ryan didn't seem too concerned about his primary challenger, saying, "I feel very good where I am."