Ohio's 'Golden Week' of Early Voting Is Dead, Again
A federal court overturned a lower-court judge's ruling, allowing the U.S. state to reduce a stretch in which citizens could register and cast ballots.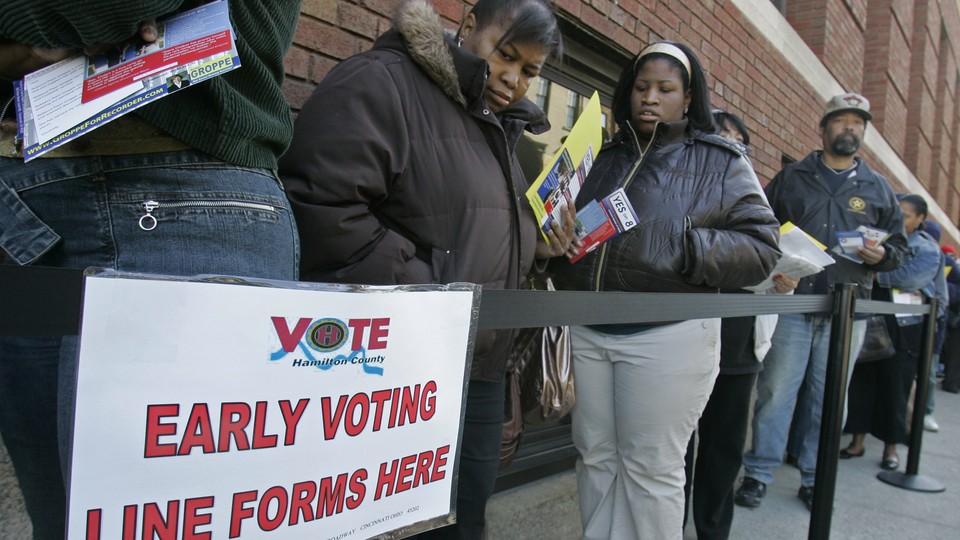 A federal court ruled Tuesday that Ohio was within its rights to eliminate "Golden Week," a period during which voters could both register and vote early.
The decision by the Sixth Circuit Court of Appeals upheld a state law passed in 2014, and overturns a district-court decision striking the law down. In May, Judge Michael Watson found the law had a disparate effect on minority voters, and therefore violated both the 14th Amendment and Section 2 of the Voting Rights Act.
But Judge David McKeague, writing for 2-1 majority of a three-judge panel, rejected the lower court's ruling:
Ohio is a national leader when it comes to early voting opportunities. The state election regulation at issue allows early in-person voting for 29 days before Election Day. This is really quite generous. The law is facially neutral; it offers early voting to everyone…. Yet, plaintiffs complain that allowance of 29 days of early voting does not suffice under federal law. They insist that Ohio's prior accommodation—35 days of early voting, which also created a six-day "Golden Week" opportunity for same-day registration and voting—established a federal floor that Ohio may add to but never subtract from. This is an astonishing proposition.
The dispute in Ohio is one of many cases around the nation where state governments, generally led by Republicans, have attempted to institute stricter voting laws. Among the changes are requiring voters to show photo ID, eliminating same-day registration, and shortening the early-voting period. Advocates for stricter laws typically argue that these rules are necessary for reducing fraud, though there is little evidence of widespread voter fraud. Opponents note the laws tend to eliminate means of voting popular among minorities, and they argue voter-ID laws are discriminatory because poor and black voters are most likely to not have the requisite photo IDs.
The majority in the Sixth Circuit decision ruled that given the still-generous early-voting period under the new law, the challenge was invalid. "It's as if plaintiffs disregard the Constitution's clear mandate that the states (and not the courts) establish election protocols, instead reading the document to require all states to maximize voting convenience," McKeague, a George W. Bush appointee, wrote.
Rick Hasen, a law professor at the University of California, Irvine, and a voting-law expert, notes on his blog that the challenge in Ohio—spearheaded by Democratic lawyer Marc Elias, general counsel to the Clinton campaign—has been controversial within the voting-rights community:
While I might support Golden Week as good policy, I worry when courts are used in this way to prevent every cutback in voting, especially after voting rights proponents had settled a suit with Ohio on favorable terms (very favorable given that the legal theory advanced, especially under Equal Protection, seemed rather weak). I also have worried, and worry, that cases like this make bad law when there are more serious voting cutbacks, although this opinion is written in such a way that major damage appears to have been avoided.
It's not yet clear whether the plaintiffs will appeal the decision. Early voting is scheduled to begin in Ohio in mid-October. As usual, the state is an important battleground in the presidential election. Current polling shows Democratic Hillary Clinton with a lead of several points over Republican Donald Trump. But control of the Senate could also hinge in part on Ohio, where GOP Senator Rob Portman holds a lead over his Democratic challenger, Ted Strickland.