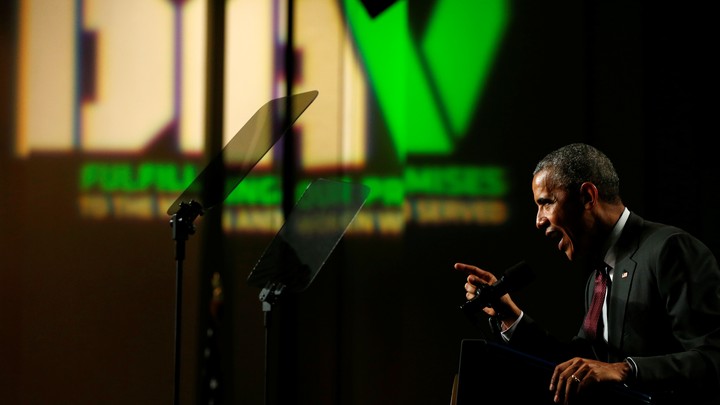 NEWS BRIEF Before President Obama could get to the meat of his speech to a disabled veterans' group on Monday, he had to get one thing off his chest: his own repudiation of Donald Trump's response to the parents of Army Captain Humayun Khan. Trump's comments on the Khan parents, who have spoken out about his anti-Muslim rhetoric, have drawn ire from across the political spectrum, with leaders gob-smacked that the Republican nominee for the presidency would criticize parents who lost their son in war. It seemed only a matter of time until the commander-in-chief would weigh in; speaking in front of a veterans' organization gave him an opening.
"There's a reason why last week in Philadelphia I was humbled to be introduced by Sharon Belkofer from Ohio, a Gold Star mom whose son, Tom, a lieutenant colonel in the Army, gave his life in Afghanistan," Obama told a meeting of the Disabled American Veterans, referencing his speech at the Democratic National Convention. A parent receives a Gold Star designation when their child is killed in combat. "I requested Sharon to introduce me, because I understood that our Gold Star families have made a sacrifice that most of us cannot even begin to imagine. They represent the very best of our country. They continue to inspire us every day, every moment. They serve as a powerful reminder of the true strength of America."
Though Obama didn't mention Trump's name, his language was a clear reference to the Republican nominee's insistence that, like the Khans, he has made sacrifices in his life. Other elements of Obama's speech functioned as a counterweight to Trump's view of veterans' treatment in this country and his positions on the military writ large. Where Trump has questioned the value of NATO and its current function, Obama promised the United States would honor the alliance. Where Trump has alleged, "We don't win with military," Obama argued, "We have the most capable fighting force in history."
Trump's stump speech features a refrain about how "badly" veterans are treated, and he has promised to make changes as president. Obama—whose second term was marred by a scandal at the Department of Veterans Affairs, which led to Secretary Eric Shinseki's 2014 resignation—said, "We've got a lot more work to do" to help American veterans. Steps like: improving health-care delivery, including mental-health care; fixing the backlog of veterans' disability claims, after the Obama administration missed its 2015 target; and continuing to curb veterans' homelessness.
But Obama suggested he has made "real progress," too: beefing up the number of medical personnel who tend to veterans at V.A. facilities, cutting the number of homeless veterans by 47 percent, and improving access to job opportunities. "About 200,000 service members are becoming veterans every single year," Obama said. The U.S. government "can't let up" on making improvements. He called specifically for support of Gold Star families: "We have to do everything we can for those families, and honor them, and be humbled by them."
We want to hear what you think about this article. Submit a letter to the editor or write to letters@theatlantic.com.