Obama to Republicans: 'Why Are You Still Endorsing' Trump?
In a press conference with Singapore's prime minister, the president characterized Trump as unfit to lead.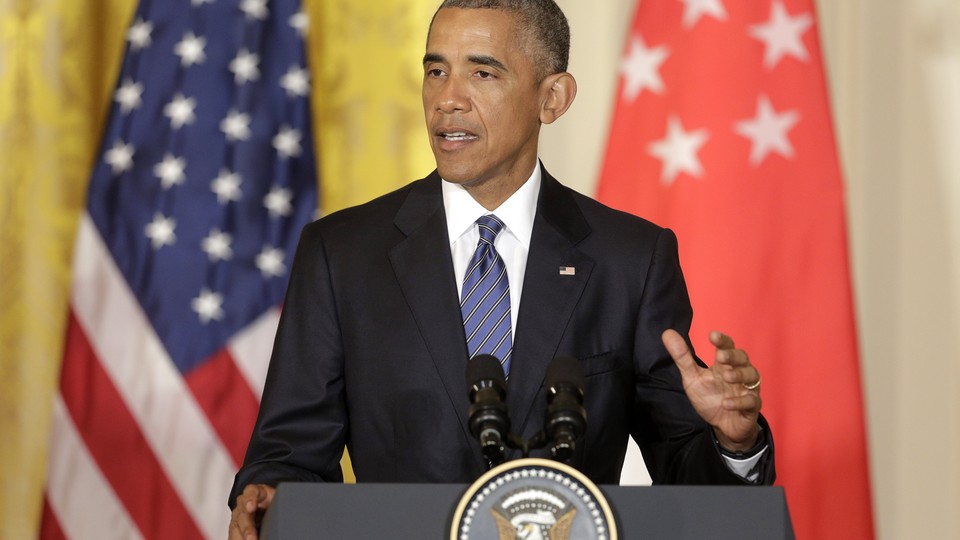 NEWS BRIEF President Obama doesn't believe Donald Trump is fit to be president of the United States. And he's calling on Republican congressional leaders to say so, too.
In a press conference Tuesday with Singaporean Prime Minister Lee Hsien Loong, Obama cited Trump's recent criticisms of the Khan family and his lack of "basic knowledge" of foreign policy as evidence "that he's woefully unprepared to do this job."
"This is not just my opinion," Obama said, referring to "denunciations" from prominent Republicans such as House Speaker Paul Ryan and Senator Majority Leader Mitch McConnell. "The question I think that they have to ask themselves is, 'If you are repeatedly having to say, in very strong terms, that what he has said is unacceptable, why are you still endorsing him? What does this say about your party that this is your standard-bearer?'"
The prime minister's state visit, in part a celebration of the 50th anniversary of diplomatic relations between the United States and Singapore, is largely focused on the Trans-Pacific Partnership, a 12-country trade deal that's awaiting a vote in the U.S. Congress. But as is typical with Obama's press conferences, Trump's latest controversy came up, when a CBS reporter asked the president about the Khans. The Muslim father and mother who recently spoke at the Democratic National Convention lost their son, Army Captain Humayun Khan, in combat in 2004. In recent days, they have spoken out about Trump's anti-Muslim policies and remarks. Trump has attacked them in response.
Obama said his opinion on Trump has to do with his judgment and temperament—it's not about "just having policy disagreements." Although he and his former election opponents John McCain and Mitt Romney had policy differences, "I never thought they couldn't do the job."
Had they had won, Obama said, he knew they would "abide by certain norms and rules and common sense, will observe basic decency, will have enough knowledge about economic policy and foreign policy and our constitutional traditions and the rule of law that our government will work—and then we'll compete four years from now to try to win an election," Obama said. "But that's not the situation here."