A High-Profile Push for President Obama's Pacific Trade Deal
The president and Singaporean prime minister warned against shunning the Trans-Pacific Partnership at a press conference Tuesday.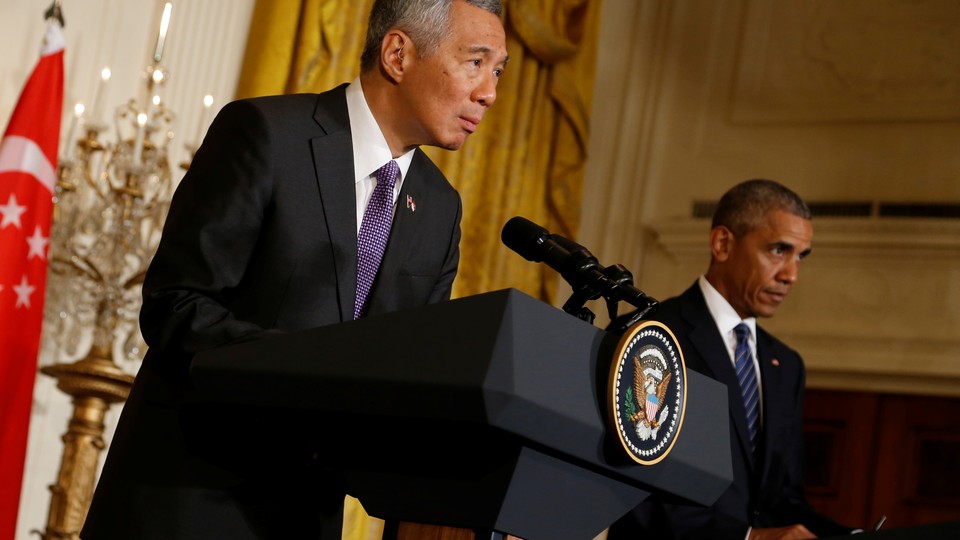 NEWS BRIEF President Obama understands those—including his political allies—who are against the Trans-Pacific Partnership, a 12-country trade deal he hopes to get ratified before leaving office. But they've just got it wrong.
"They are coming from a sincere concern about the position of workers and wages in this country," Obama said at a press conference with Singaporean Prime Minister Lee Hsien Loong Tuesday, in reference to a question about Hillary Clinton's and Donald Trump's opposition to the deal. "But I think I've got the better argument, and I have the evidence to support it. And hopefully after the election is over and the dust settles, there will be more attention to the actual facts behind the deal, and it won't just be a political symbol or political football."
The United States is having an anti-trade moment: Working-class voters flocked to Donald Trump and Bernie Sanders during the presidential primaries, in part, because they strongly oppose trade deals. That includes the TPP, which Singapore is a party to and which Lee is promoting during his visit to the United States. He and Obama are also marking the 50th anniversary of diplomatic relations between the United States and Singapore.
The deal's opponents charge that pacts like the TPP have killed American jobs, lowered wages, and hollowed out the middle class. And the next U.S. president won't look favorably on the agreement, if Trump's and Clinton's current positions bear out. Though the Democratic nominee's record around TPP is more mixed than that of Trump: As secretary of state, she supported negotiations and one of her longtime political allies recently suggested she'd change her position as president, before walking that suggestion back.
Obama—who argues the deal will help American businesses stay competitive and curb Chinese influence in the region—hopes it will come up for a vote in Congress before he leaves office in early 2017, though Reuters reports congressional leaders aren't confident that will happen. As The New York Times noted in June, members would need to begin holding hearings in September, once Congress is back in session, if they plan on a lame-duck-session vote.
On Tuesday, Obama said Americans have legitimate anxieties about trade deals and legitimate grievances with past agreements—they lost their jobs and didn't get support afterward, and labor and environmental standards weren't always honored by the parties. But the TPP, he suggested, is different. "The answer is not cutting off globalization," which he said cannot be reversed. "The answer is, 'How do we make sure that globalization, technology, automation—those things work for us, not against us?' TPP is designed to do precisely that," by lifting tariffs and raising and enforcing those standards. At a Monday event with the U.S. Chamber of Commerce, which supports the TPP, Lee put the responsibility on U.S. leaders to make sure American workers are taken care of: "There will be those who benefit less or those who don't benefit, and I think that your political system should look after them."
Lee said Tuesday that the United States' reputation is "on the line" when it comes to the TPP. If the United States doesn't follow through on this agreement, he suggested, nations might not feel they can depend on the country with other matters. "Your partners, your friends who have come to the table, who have negotiated, each one of them has overcome some domestic political objection, some sensitivity, some political cost to come to the table and make this deal," Lee said. "And if at the end, waiting at the altar, the bride doesn't arrive, I think there are people are going to be very hurt."