Obama Commutes Another 111 Prisoners, Will Add 'Many More'
To date, his total is 673.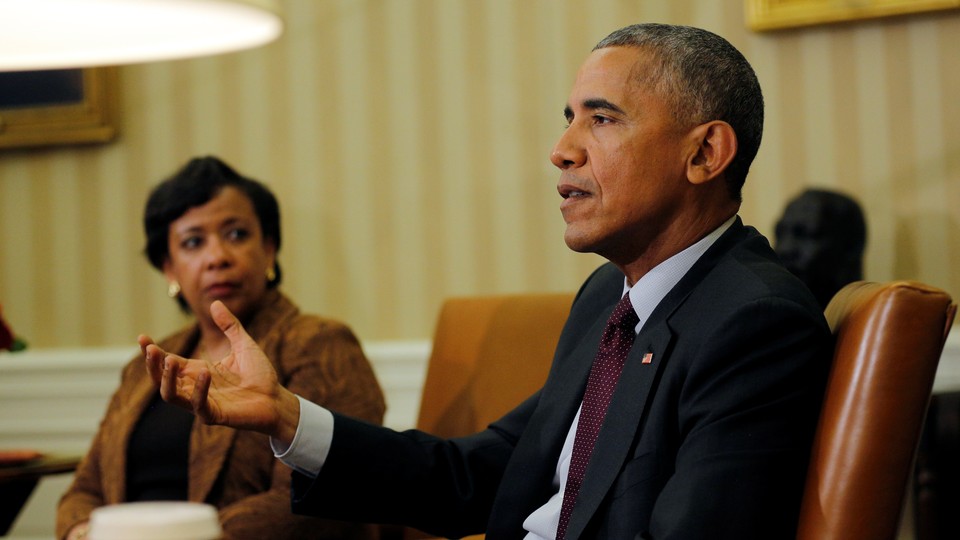 President Obama commuted the sentences of 111 federal inmates on Tuesday, bringing his total to 673. The move adds to a recent surge in the number of commutations being issued by the White House.
The commutations granted today bring the August total to 324, according to the Department of Justice.  Another 61 people saw their sentences commuted in May.  The administration has previously boasted that he has granted more such executive orders than the previous ten presidents combined.
Nevertheless, my colleague Vann Newkirk analyzed the president's clemency record after a round of 214 commutations was announced earlier this month, noting that the Obama administration's number of commutations ranks highly only when compared to a post-Cold War tradition of presidents making scant use of their clemency powers.
Today's group of commutations includes prisoners hailing from 28 states, with most convictions stemming from offenses related to possession and intent to distribute drugs or controlled substances. Most of the prisoners are set to be released by December 28, 2016.
Deputy Attorney General Sally Yates said in a statement, "The clemency initiative is about more than the 111 people who learned today that their sentences have been commuted; it's also about the families and communities who will welcome them home as they work to build a new life." Some observers anticipate more commutations will follow before the end of Obama's term, and Yates confirmed it in her statement: "[W]e expect many more men and women will receive that same opportunity in the months to come."
The National Association of Criminal Defense Lawyers, which is part of Clemency Project 2014, a working group that supported 72 of the 111 prisoners receiving clemency, celebrated the announcement.
Cynthia W. Roseberry, project manager for the project, said, "I want to express how pleased I am with the continued commitment that President Obama has shown toward commuting sentences. We are looking forward to many more grants during the remaining months of President Obama's term in office."
Roseberry oversees an organization that has trained thousands of volunteers to screen over 30,000 applications for assistance in clemency applications. It has filed over 1,600 petitions to the Office of the Pardon Attorney so far.
Obama's actions are another part of the administration's efforts to reduce the federal prison population. Just over a week ago, the DOJ announced it would phase out the contracts for private companies that house federal inmates.