Have North Carolina Republicans Found a Way to Reinstate Discriminatory Voting Rules?
After a federal court struck down the state's strict voting law as racially discriminatory, Republicans are trying to restrict voting at the county level.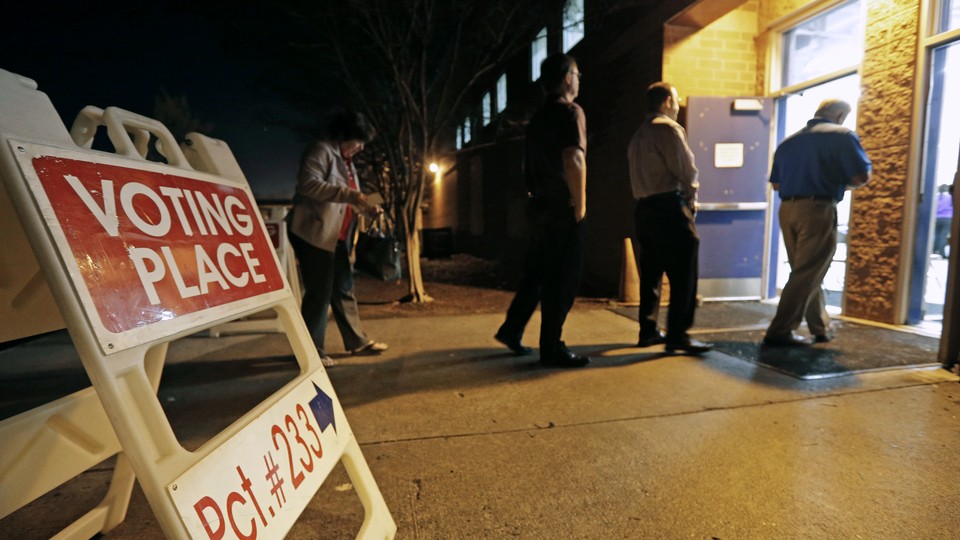 DURHAM, N.C.—Bill Brian Jr. already sounded weary, and the meeting hadn't even started. It was 5 p.m. Wednesday at the county office-building, and a typically sleepy meeting of the county board of elections had turned into a marquee event. Around 100 people had shown up to hear the three-person commission decide how early voting would work, and the board had already been forced to move the meeting to a much larger space.
Brian, the board's chair, mentioned the "flood of emails" he'd received, and announced that he'd allow citizens to speak briefly. "Please try to be civil," he said with a sigh. Over the next 40 minutes, a long line of county residents—including veteran activists, operatives, and assorted gadflies—stood up and delivered their thoughts on early voting. There were students who wanted polling locations on campus. One man wanted a location nearer to the bus terminal. Another railed against opponents of voter ID rules, describing them as "racist" for believing that blacks would be less able or willing to navigate them. The chair of the county Republican Party rose to say he didn't care how much early voting there was, but pleaded for an end to Sunday voting, which he saw as an affront to God. Several others were just as insistent about the need for polls to be open on the Sabbath; others pointed out that some denominations kept different Sabbaths.
What had transformed a normally moribund bureaucratic meeting into a heated encounter? A little over two weeks ago, the federal Fourth Circuit Court struck down the sweeping changes to voting laws North Carolina's Republican-led government made in 2013, finding the law was intended to be discriminate against black voters. Among the rules the court struck down were a requirement to show photo ID to vote, a reduction in early voting, and an end to same-day voter registration. Opponents of voter ID rules around the country hailed the ruling as a huge victory and a landmark decision. In many ways, it was.
But the ruling also placed decisions about how to handle early voting back with county boards of elections, where early-voting plans have become the latest partisan battleground in the struggle over when and how people can vote. Democrats and voting advocates charge that Republicans are trying to use the county boards as a way to achieve many of the same discriminatory effects that the federal court struck down. They can point to a memo from the executive director of the state GOP to Republican board members, calling for them to push through "party line changes" to voting plans. The decisions could have a large impact in North Carolina, which has become a key swing state in the presidential election.
Under the old law, North Carolina had 17 days of early voting. The 2013 changes reduced that to 10 days, but the law also required counties to keep the same total number of early voting hours as in 2012, as measured by the total hours at every early-voting site. The Fourth Circuit ruled that the state had to restore the seven lost days of early voting, but it left the method of doing that up to the counties and did not mandate a certain number of hours. The result has been that several of the state's largest counties have made decisions that cut the number of locations for early voting or the hours for early voting as compared to 2012, despite a growing population. Voter advocates complain that these steps make a mockery of the judges' ruling.
"This was exactly our worry, that they were slapped down at the state level, so now they want to go to the local level," said Bob Hall, who is the executive director of the nonpartisan voting-rights organization Democracy NC. "We've been educating people about the importance of this, and mobilizing people to attend meetings. There's been more turnout at these meetings than any in the past."
The 2013 law was passed shortly after the Supreme Court's decision in Shelby County v. Holder invalidated a part of the Voting Rights Act that required some jurisdictions with a history of discrimination to "preclear" changes to voting laws with the U.S. Department of Justice. The Republican-backed law took direct aim at options that were particularly popular with black voters, who also vote overwhelmingly Democratic, and the law's critics argued that it was a direct attempt at suppressing votes among blacks and other Democratic-friendly populations, including students and the poor. Experts say that working-class voters are more likely to use early voting (especially on weekends) because it's harder for them to get off work on Tuesdays; poor voters are more likely to move frequently and thus take advantage of same-day registration. Some voting experts also say early voting is important for guaranteeing that polling places aren't overwhelmed with long lines on Election Day. The law's advocates argued restrictions were essential to fight fraud, although there's almost no evidence of fraud being committed. A challenge to the law fell short in federal district court, but the circuit court ruled against the state in a scathing decision.
But as county boards have grappled with what to do about early voting on short notice, some of them have actually cut back their hours in comparison to 2012. On Monday, Mecklenburg County, the state's largest county and home to Charlotte, argued for a plan that reduces the total hours of early voting from 2,742 in 2012 to 2,504. The board's chair, a Republican, told attendees before the meeting that she is "not a fan of early voting," adding that, "the more sites we have, the more opportunities exist for violations," according to The Charlotte Observer.
Around 150 people showed up at the meeting, most demanding more early voting, the Observer reported, and the board added voting sites and hours compared to their initial draft. Michael Bitzer, a political scientist at Catawba College, wrote that the plan could be a "gift" for Republicans.
Things got more raucous in Guilford County, the state's third-largest, where attendees were not given a chance to speak and responded by chanting and singing. Two weeks ago, the county board proposed a plan that would have eliminated Sunday voting and slashed early voting sites, including ones at the University of North Carolina at Greensboro and North Carolina A&T, the largest historically black college in the state. After the pressure, the Guilford County board agreed to a plan that added those locations back, expanded sites, and included a Sunday.
In Wake County, home to the state capitol of Raleigh, the board decided to only offer early voting at a single location during the additional seven days. A motion by one Republican member to eliminate Sunday voting failed after neither the Democrat nor his fellow Republican would agree. In Watauga County, which is home to Appalachian State University, the board meeting "devolved into shouts of dissatisfaction, outrage and calls from the crowd for board members to resign as once again the three-member panel was unable to come to a unanimous decision on a one-stop early voting plan for the county," the Watauga Democrat reported.
While advocates of stricter voting laws usually cast their claims in terms of nonpartisan concerns about fraud, a memo from Dallas Woodhouse, the executive director of the state GOP, to Republican members of county boards suggested a partisan motivation.
"Our Republican Board members should feel empowered to make legal changes to early voting plans, that are supported by Republicans," Woodhouse wrote in an email obtained by The News & Observer. "Republicans can and should make party line changes to early voting." (There's little evidence this is true.) Woodhouse also said college students are not "entitled" to their own voting sites, and pushed for the abolition of Sunday voting. (Woodhouse's cousin Eddie Woodhouse was the board member who wanted Wake County to end Sunday voting.) Sunday voting is a partisan flashpoint because black churches across the state have long organized "Souls to the Polls" drives, transporting churchgoers to vote early after Sunday services.
Under state law, county boards consist of two members of the governor's political party and one of the opposition party. Because Governor Pat McCrory is a Republican, every county includes two Republicans and a Democrat, even in staunchly blue counties. That means a pair of Republicans who agree can push plans through on party-line votes, as Woodhouse said, but any plan that is not unanimous goes to the state board of elections for review, to ensure it aligns with the "geographic, demographic and partisan interests of the county."
Hall, the voting advocate, blasted Woodhouse.
"What the Republican executive director was doing was despicable and outrageous and illegal. He's basically advising his Republicans to take illegal action by being completely partisan. Board members take an oath that they are serving the public interest," he said. "It's a big mistake in providing this document that's a smoking gun."
Rick Hasen, a voting-law expert and professor at the University of California-Irvine, warned that Woodhouse's memo could get the state placed under federal supervision. The plaintiffs in the lawsuit asked the Fourth Circuit to impose federal oversight but were rebuffed. Hasen said new material like the Woodhouse memo could lead another court to decide otherwise.
"What they did was they restored the old law, and under the old law, the boards had discretion," he said. "However, knowing the state had just lost in court, I would hope and expect that state officials would be very careful to avoid any discrimination in implementing the early voting period under the old rules."
In an email, Woodhouse defended his memo. "We did not send an email calling for a blanket reduction in early voting sites, as that is not our position. Every county is different, every county budget is different," he said. "The county board members are an independent body, and we have the right to lobby them as much as anybody else, for Republican positions such as six day a week voting, with no Sunday voting and for additional voting sites in underserved Republican areas."
Woodhouse argued that Democrats had only themselves to blame, since the now-overturned 2013 law they fought mandated that the number of hours be held steady.
In Durham, in any case, the two Republicans and one Democrat managed to agree to a plan that expanded early voting with little difficulty. The board voted unanimously agreed to a plan that produced 1,541 hours of early voting, a significant increase over the 2012 plan of seven sites and a little less than 1,000 hours. The plan includes two Sundays of early voting and sites at Duke, North Carolina Central University, and Durham Technical Community College. The packed audience erupted in hearty applause—one more moment of unexpected energy for the board meeting.
If McCrory gets his way, all of this wrangling may be irrelevant. On Monday, the governor formally requested that the Supreme Court stay the Fourth Circuit's ruling in order to prevent "confusion" about the law on voting day. He said the state will appeal the decision soon.
McCrory is one of the politicians who could see his fate decided in part by the final status of North Carolina's voting laws on November 8. He's facing a tight reelection battle against Attorney General Roy Cooper, a Democrat. Senator Richard Burr is also in a close race. And the Old North State has become a central stage in the presidential election, as Donald Trump, Hillary Clinton, Mike Pence, and Tim Kaine all make repeat visits to the state. Small differences in voter turnout could make a lot of difference this fall: Barack Obama narrowly won the state in 2008, and Mitt Romney won it narrowly in 2012. On the other hand, the latest NBC/Wall Street Journal poll showed Clinton with a whopping nine-point lead.