How American Muslim Women Are Taking on Trump
The U.S. presidential nominee's anti-Islam rhetoric has motivated some to speak out against stereotypes.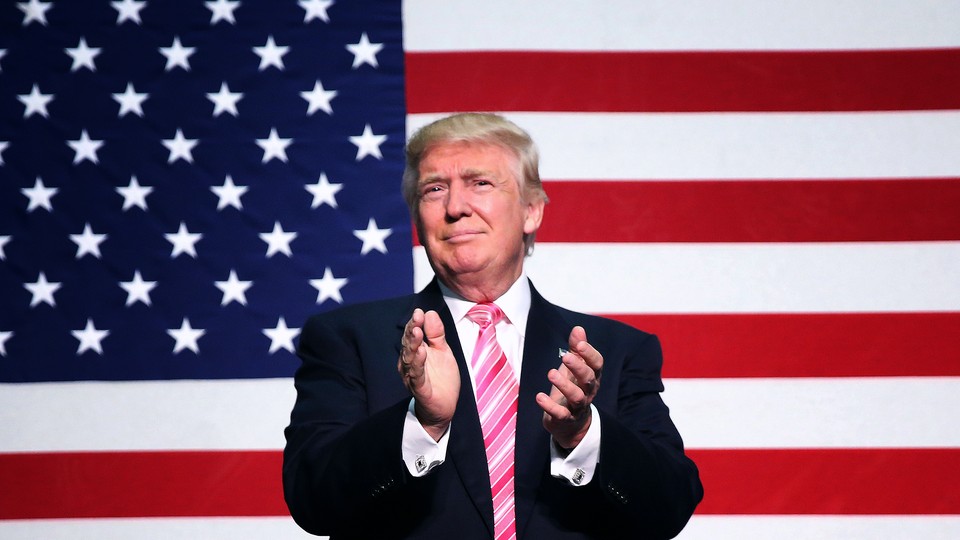 Donald Trump has effectively declared Muslims the enemy, accusing them of shielding terrorists in their midst, pushing to ban them from entering the country, and suggesting that the United States should start thinking seriously about profiling them. In response, some American Muslim women are speaking out against Trump and his anti-Muslim rhetoric.
"I never really felt like I was 'the other' until now," said Mirriam Seddiq, a 45-year-old immigration and criminal-defense lawyer from Northern Virginia who recently started a political-action committee called American Muslim Women. "It's a strange realization to have, but it's what motivated me to do this. There are so many misconceptions about Muslim women, and I want to help counter that narrative."
If the organization raises enough money, Seddiq wants to air ads opposing Trump in the run-up to the November election. Beyond that, she plans to host a voter-registration drive and hopes to build up a support network that will help Muslim women run for office.
Muslim women are uniquely vulnerable to sexism and Islamophobia. They can become visible targets for harassment when they wear headscarves. They are also often subjected to negative stereotypes and forced to respond to misconceptions that they are oppressed and silenced by their religion.
Donald Trump amplified those stereotypes when he suggested that Ghazala Khan, the Muslim American mother of a slain U.S. soldier, had not been permitted to speak when she appeared alongside her husband Khizr Khan at the Democratic National Convention. (She subsequently clarified that she did not speak because she was "in pain" over the death of her son.) Muslim American women denounced Trump's comment on social media using the hashtag #CanYouHearUsNow. Facing a climate of Islamophobic rhetoric, and a rise in anti-Muslim violence, Muslim women in the U.S. are laying the groundwork for Muslim women to achieve greater visibility in American political life.
The 2016 election inspired Naaz Modan, a 20-year-old Georgetown University student, to start writing about politics and Islam. Modan said used to get defensive when she heard anti-Muslim rhetoric voiced by Trump or his followers. "I feel personally attacked in this election," she said in an interview. But after a while, she started proactively speaking out against Islamophobia and about her beliefs. She began writing for a website called Muslim Girl. "It's my way of saying, 'What you think about me does not define me,'" she explained. "I define who I am."
Sarwat Husain, the 57-year-old president of the San Antonio chapter of the Council on American-Islamic Relations and national board member, believes Muslim women can do even more to counter negative stereotypes about Islam than men. "If you wear a hijab, you are much more likely to be harassed walking down the street, but there is also much more to gain by being so highly visible," Husain said. "As Americans and Muslim women, we need to make our presence known so that people will see we are a part of the community, and we love this country. We are not what people think—uneducated, oppressed, and incapable of serving society."
Muslim women might be able to help dispel anti-Muslim sentiment in American politics. Data from the Pew Research Center suggests that non-Muslims are less likely to hold negative perceptions of Muslims if they know someone who is Muslim. By getting involved in politics, Muslim women can actively shape public policy and create a political climate less overtly hostile to their religion.
There could also be unintended consequences. Pressure to be model citizens in order to counter stereotypes could be frustrating, painful, and exhausting.
"I get asked all the time, 'Are you American first, or Muslim first?' And these are very unfair questions," said Nausheena Hussain, the 39-year-old founder of the Minneapolis, Minnesota-based organization Reviving the Islamic Sisterhood for Empowerment, which aims to amplify the voices and power of Muslim women. "I don't think any person is one identity. I hope one day I don't have to worry about the fact that if I wear a scarf on my head, I'll be targeted, or people will think I conform to a certain set of ideas they have in their head."
Prejudice and discrimination could get worse in the short-term. Ilhan Omar, a Somali-American Muslim woman running for a Minnesota state legislature seat, recently faced a Democratic primary opponent who dismissed her campaign as "attractive to the kind of, what we call the young, liberal, white guilt-trip people." In the end, Omar won the primary. "A lot of people that I admire had bought into the narrative of misogyny that they believed existed in my community, and didn't think it was possible for a woman to win," Omar said at her primary-race victory speech. "Tonight, we proved these skeptics wrong."
The political power of American Muslims, and Muslim women in particular, is limited, in part due to demographics. Muslims make up only roughly 1 percent of the U.S. population, according to the Pew Research Center. They are also less likely to be registered to vote compared to Catholics, Protestants, and Jews, potentially limiting their ability to influence American politics as a voting bloc.
That doesn't mean things can't change. Muslim advocacy organizations are working to increase voter registration. And in a political climate where Islamophobia has moved from the fringes to the mainstream, Muslim activists say the community has intensified its political engagement. Prior to the September 11 terror attacks, many Muslim voters leaned Republican. Now, most American Muslims identify as Democrats. Trump might manage to drive away the relatively small segment of Muslim voters who still vote Republican.
Some Muslim women will undoubtedly avoid the political spotlight for fear of retribution. But for others, the election has crystallized their commitment to political engagement.
"I never thought to distinguish myself on the basis of my religion," Mirriam Seddiq said. "This is the first time that I see how many people view me as different. Maybe it's always been that way, and I just didn't realize it."
That has been difficult to accept, she said. But if this election leads to more Muslim women voting and running for political office, Seddiq believes that will have been a silver lining. "To some extent, I am grateful, because I think this is waking us up," she said. "We need to have a seat at the table, and people need to know who we are."