The Permanence of Black Lives Matter
A new policy platform from a coalition of activists signals a new stage in the protest movement.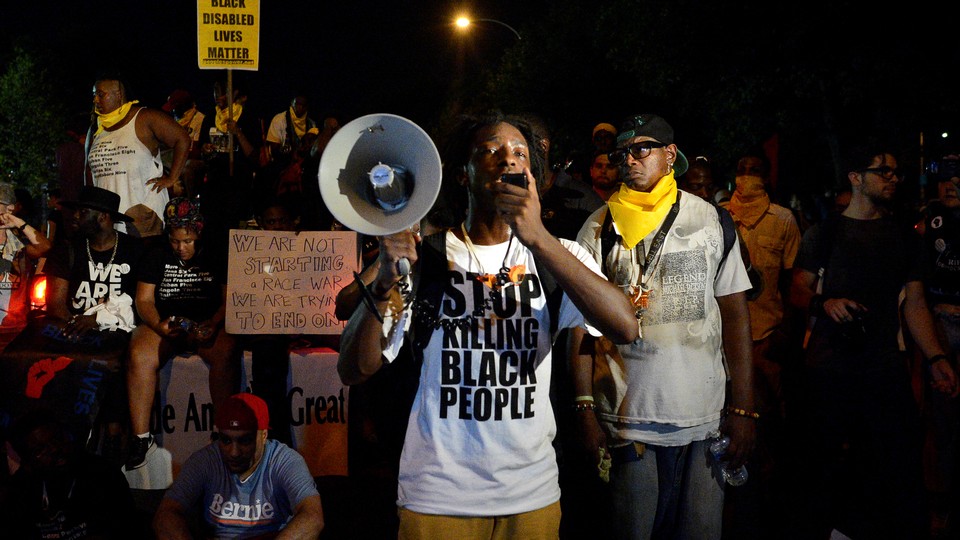 Last week at the Democratic National Convention in Philadelphia, black protesters made their presence known in marches down Broad Street. After these groups mostly ignored the Republican National Convention in Cleveland and just two weeks after the deaths of Alton Sterling and Philando Castile launched new protests, familiar slogans and chants of "Black Lives Matter" once again rang out in Philadelphia. While these protests were expected and facilitated by city and convention planners, they were almost overtaken at one point by the left-leaning Bernie Sanders crowd that dominated headlines through the first half of the week. Black Lives Matter protesters showed up, but they did not steal the show.
Turns out, several black activists had an ace up their sleeves. This Monday, with 99 days to go until the election, a coalition of over 50 black-led organizations known as the Movement for Black Lives released a wide-reaching and in-depth platform detailing the coalition's policy demands. The platform, which goes beyond criminal justice and rivals even political-party platforms in thoroughness—complete with issue briefs, a glitzy website, and a coordinated social-media strategy—reflects a good deal of organization and effort. Even as commentators like CNN's John Blake cite "confusion over what BLM wants" as a point of contention among the public, this platform is another indication that the movement is building.*
The "Vision 4 Black Lives," as the platform has been known on social media, lays out six core planks around criminal justice, reparations, investment and divestment, economic justice, community control, and political power. Some of these items, including the criminal-justice components of the platform's demands to "end the war on black people," are likely familiar to anyone who has followed the development of Black Lives Matter. But other ideas, including demands to add special protections for trans, queer, and gender-nonconforming people to anti-discrimination laws, a call for free education for black people, and a proposal to implement black economic cooperatives, haven't previously been spelled out quite this clearly. The demands are certainly controversial, but they are clearly the result of considered and methodical decision-making.
The process by which the platform was created provides insights into both the state of black activism and the political moment. According to several people who were involved in the creation of the Movement for Black Lives platform, that process was not unlike what might be expected from a political party. Janae Bonsu, the National Public Policy Chair of the Black Youth Project 100, one of the groups involved in the platform's development, told me that organizations had been working on the platform since the early days of Black Lives Matter. "Not so long after this time last year, many black-led organizations gathered in Cleveland at a weekend that was full of workshop sessions," Bonsu said. That August meeting, known as the Movement for Black Lives Convening and held in a city that held special resonance to the movement after the death of Tamir Rice, was part of a series of smaller meetings of black activists and a string of conference calls.
The platform's vision is ambitious and has elements unpalatable to most major politicians and people. Reparations, for one, don't poll well and haven't garnered support among any major-party presidential candidate. Rachel Gilmer, the chief of strategy with the Dream Defenders, another group involved with the platform's development, stressed that ambition is necessary for enduring change. "I don't think we can translate our entire vision into policy," she said, "but I think we built up a platform that is comprehensive and if enacted could drastically change the conditions of black people here and around the world. This agenda really allows us to articulate our vision on our own terms. What does Black Lives Matter want?"
In figuring that out, young activists honed and grappled with the leadership structure of modern-day organizations. "It's been a year-long participatory process," Bonsu said. "I'd be lying to say this whole year-long planning process was all peaches and cream. We didn't always agree with each other on everything, and we definitely engaged in principled ideological struggle." Friction between dozens of groups from across the country with different policy agendas, goals, and ideas of leadership was eased by the fact that they built on rough templates from predecessor groups.
As Karl Kumodzi, also with BYP 100 and a member of the platform's core policy development group, explained, "In the aftermath of Ferguson on the Ferguson Action site, there were a set of six broad visionary demands," he said. "A lot of them were pulled from the Black Panthers' Ten-Point Program." That program demanded education reform, an end to police brutality, fair housing, legal self-determination, and a host of other reforms from politicians. While it was unsuccessful, its influence on black politics in the world after the civil-rights movement is clearly reflected in the Movement for Black Lives platform.
One Black Lives Matter-affiliated group with an existing, nationally recognized platform was not among the signatories of the Movement for Black Lives platform. Campaign ZERO, whose planning team includes the well-known activists Johnetta Elzie, DeRay McKesson, Sam Sinyangwe, and Brittany Packnett, released a platform in August of 2015 that focused mostly on criminal-justice reforms—including calls for body cameras and community policing—and has since influenced the Democratic Party's own platform. Their vision diverges from that of the Movement for Black Lives policy, especially on issues like body cameras, which the platform holds as one of several "technologies that criminalize and target our communities."
That divergence is characterized by the decision among Movement for Black Lives participants to expand its scope beyond criminal justice. "What this platform aims to do is address more than police violence," Kumodzi said. "We do recognize that police violence is one manifestation of state violence. And what the movement is trying to do is address state violence in all of its manifestations. So health care, education system, in addition to police."
Those differences and the platform's own diverse and loosely-connected coalition of members are reminders that "Black Lives Matter" is an imprecise umbrella based on a hashtag and rallying cry that is used mostly for its simplicity. There are dozens—perhaps hundreds—of groups that have been associated with it, and they often disagree with one another. Several groups existed before the deaths of Trayvon Martin and Michael Brown kicked off the current wave of protests, and even the platform's namesake organization, the Black Lives Matter Network, is one group among many that signed the platform, and in itself is composed of many semi-independent groups. If measured against the civil-rights movement, to which the Black Lives Matter movement is often compared, the diversity of ideas is not necessarily a sign of fractiousness—although it can be—but an indication of a proliferation of ideas about how to ensure racial equality.
Nevertheless, the minds behind the platform are aware of the stereotypes about young black activists espousing a rudderless, cacophonous sort of anger, often offered by the president himself. "We've never been a movement that was just mad out here in the streets; just wanting to make noise," Bonsu said. "We've always known what we want, and this is a way of articulating it in a way that is accessible and can be viewed by other organizations and other people that are trying to make the changes. It's never just been about, 'Oh, we're mad and we just want you to stop killing black people.' It's been about way more than that. I do think about those critics, but we didn't do this for them."
This platform and others like it counter that criticism by giving disparate groups of activists ways to coordinate their demands. "We felt that it was important not to just have policy ideas," Bonsu told me, "but also provide examples of model legislation and something that you can tangibly take to your elected official, whether it be at the federal level in Congress or at your state legislatures or your city council." Those model policies and demands are based in sophisticated analyses from experts, scholars, and elder activists, including Barbara Ransby, the director of the gender and women's studies program at the University of Illinois at Chicago; Demos, a liberal public-policy think-tank; Color of Change, a civil-rights advocacy organization; and several others.
It remains to be seen whether this platform will lead to policy changes or changes of heart, even among liberals. The larger influence of the movement is still disputed, and the platform's more controversial elements may limit its potential to sway large audiences and politicians. But the development of the Movement for Black Lives platform and the increasing political organization of a range of black groups indicate that Black Lives Matter is not just another bit of disruptive political ephemera, but a movement that is learning and building as it expands. In a political moment crowded by violence, failed political revolutions, and the rise of white populism, Black Lives Matter not only endures, but advances.
---
* This article has been clarified to quote directly from John Blake's article.