Mike Pence's Double-Bind on Persecuted Christians
The Republican is advocating a country-based ban on refugees from the Middle East. Does that include the people who practice his own faith?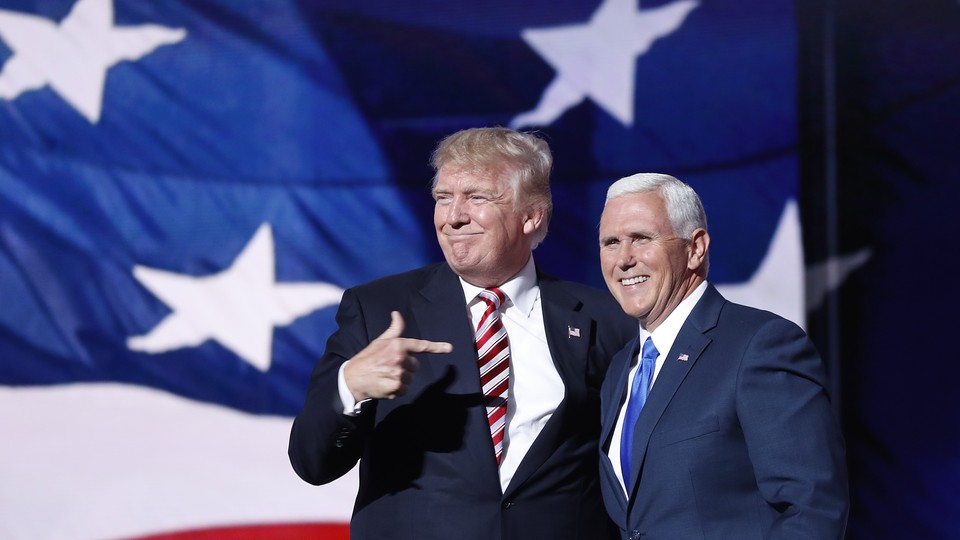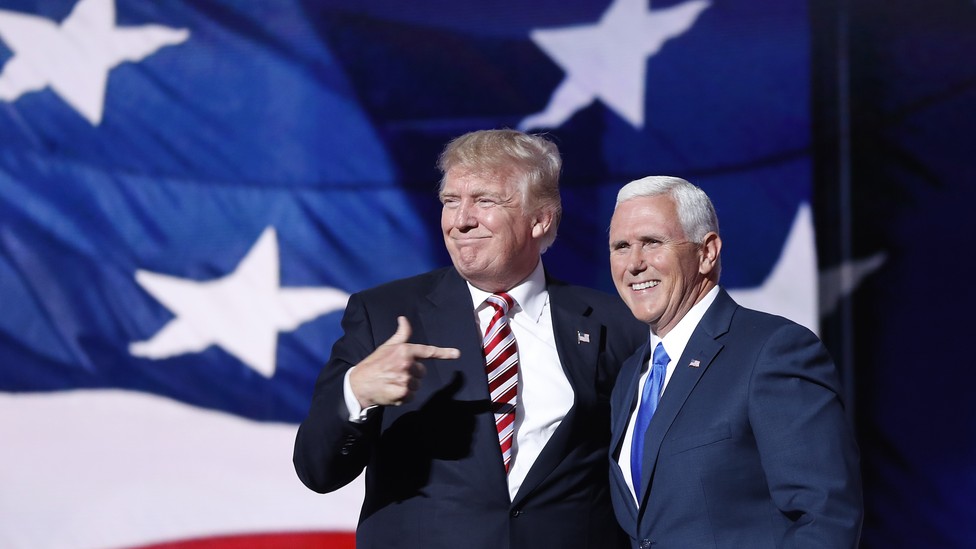 Last winter, as Donald Trump was beginning to refine his call for a ban on Muslim immigrants to the United States, two of his former opponents in the presidential race—Jeb Bush and Ted Cruz—gave their own spin on his proposal, naming the one group the U.S. should always welcome in the face of persecution: Christians.
Half a year later, Trump's campaign is still trying to square its desire to bar Muslims with Republican support for granting refuge to persecuted Christians.
On Monday morning, Trump's running mate, Indiana Governor Mike Pence joined the conservative Wisconsin talk-radio host Charlie Sykes for an interview. The Republican vice-presidential candidate talked about his ticket's plan for Syrian refugee resettlement: Suspending immigration from "countries like Syria … is in the best interest of the security of our people," he said."
When Sykes pressed him on whether this country-based ban would mean that Jews and Christians are also excluded from coming to the United States, Pence groped his way back to the party line.
"We would temporarily suspend [immigration] from countries or from territories … that have been compromised by terrorism," he said. "I think that's appropriate until we develop a new vetting system."
One might conclude from this, as BuzzFeed did, that Pence was giving a tacit "yes": Christians, Jews, and other religious minorities in territories affected by ISIS would be forbidden from coming to the United States, even though they face incredible violence and persecution. Especially for Pence—a Catholic-turned-evangelical whose role in the campaign is largely offering a voice of sanity and conservative cred to balance out Trump—this would likely be a difficult and unpopular position to defend.
But he didn't actually say that persecuted Christians would be banned from coming to the United States. He dodged the question, perhaps sensing the incredible bind it creates for him and the campaign. Trump's original plan to screen out refugees with a religious test proved legally, logistically, and politically untenable, so the campaign has moved toward the general-election policy Pence outlined: country-based bans on immigration. Yet country-based bans, set up without any exemptions for Christians or other religious minorities, would leave groups that are literally being crucified by ISIS without the option of refuge in the United States.
This doesn't seem likely to play well with voters: Evangelicals and other conservative Christians are highly concerned about the violence against Christians in the Middle East. And it also doesn't fit with Pence's political record as a self-styled defender of Christians, at least in the United States. Pence has gotten in a number of big political fights during the three years he's been in the governor's office, but the biggest was last spring, when he defended Indiana's controversial Religious Freedom Restoration Act.
Pence sells himself an advocate of religious freedom for Hoosiers, and ostensibly for all Americans. His campaign's stance on refugees makes it impossible for him to claim he's an advocate of religious freedom for everyone, everywhere, particularly Muslims. But the bigger irony of Trump and Pence's new, country-based position on immigration is that it suggests they're not advocates of religious freedom for anyone—even the people who share the faith of their most coveted voters.