Mike Pence, Apologist
Donald Trump's running mate has backpedaled his candidate's controversial remarks in recent days—but will that do anything to ease concerns among voters and Republican leaders?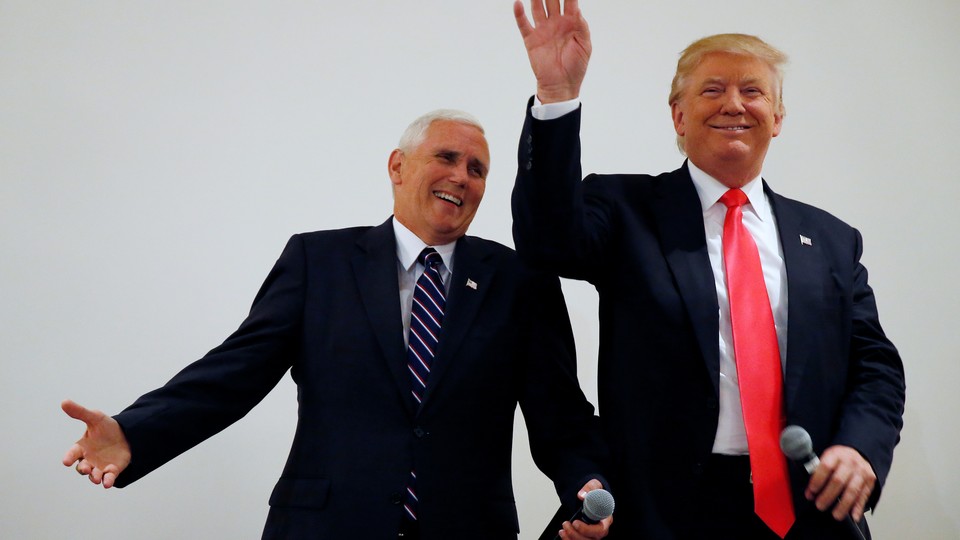 Mike Pence is on clean-up duty.
Shortly after Donald Trump said he would not endorse Senator John McCain in his upcoming primary election, Trump's running mate met with McCain during a trip to Arizona.
The meeting on Tuesday was scheduled before Trump's remarks, according to a Politico report. Pence's press secretary, Marc Lotter, said: "The two leaders discussed many issues facing the United States and the need for strong American leadership to defeat radical Islamic terrorism and ISIS." The move indicates Pence's role to attempt to unite a fractured party after a turbulent few days.
Trump's divisive rhetoric on the campaign trail is all but unavoidable. But in light of it all, Pence has released statements seemingly interpreting Trump's remarks, perhaps to try  to make the ticket more palatable to voters. Take Trump's call to Russia to hack into Hillary Clinton's emails. Trump suggested his remarks were misconstrued. On Twitter, he said, "In order to try and deflect the horror and stupidity of the Wikileakes disaster, the Dems said maybe it is Russia dealing with Trump. Crazy!" The next day, Pence issued a statement condemning the hacking: "The FBI will get to the bottom of who is behind the hacking. If it is Russia and they are interfering in our elections, I can assure you both parties and the United States government will ensure there are serious consequences."
Similarly, Trump stood by his remarks about the parents of a Muslim solider who died while serving in Iraq in 2004 and railed against Khizr Khan for his criticism of the Republican nominee. "Mr. Khan, who does not know me, viciously attacked me from the stage of the DNC and is now all over T.V. doing the same—Nice!" Trump said on Twitter. Pence, on the other hand, released a statement commending Captain Humayun Khan and later blaming President Obama and Hillary Clinton for instability in the Middle East. "Donald Trump and I believe that Captain Humayun Khan is an American hero and his family, like all Gold Star families, should be cherished by every American," he said.
And so it goes: The Indiana governor has been dispatched as damage control in the wake of his candidate's controversial remarks. But how much influence does Pence hold on how the ticket is perceived?
Vice-presidential nominees don't actually bear much influence. He or she might help the ticket win in his or her home state, but that still can fall short of carrying the election. Vice-presidential nominees can help relay a message, however. As my colleague Nora Kelly noted in April:
Joe Biden in 2008 helped alleviate worries about President Obama's foreign policy credentials, said Dunn, who once served as the president's White House communications director. (She said this reasoning is "not irrelevant for a few of the candidates running now"; though she didn't name names, several candidates have taken criticism for lack of foreign-policy experience.) Bill Clinton's decision to choose Al Gore was a "generational message." Even John McCain's oft-criticized selection of Sarah Palin painted a potentially helpful picture: She had a reputation in Alaska for being a reformer, Dunn said, and taking on special interests.
Adding salt to the wound, a Gallup poll found that roughly 37 percent of registered voters think Pence is an "excellent" or "pretty good" choice. Meanwhile, 45 percent saw him as "only fair" or "poor."
Republican leaders have been marking their distance from Trump. House Speaker Paul Ryan and Senate Majority Leader Mitch McConnell are among a pool of lawmakers who have expressed discontent with the Trump's recent remarks about the Khan family, despite not naming the Republican nominee by name in some instances. On Tuesday, Chris Christie, who was once floated as a possible V.P. pick, said at a press conference, "And for Mr. and Mrs. Khan, the pain of losing their son while defending our country in unfathomable, and I think it gives them the right to say whatever they want, whether they're right or wrong." Still, few have gone so far as to take back their support of the Republican nominee.
This week, Trump's campaign circulated talking points on the matter to surrogates in a memo titled "URGENT PIVOT," according a report from The Hill. The email included transcripts of Trump interviews and "talking points blaming the policies of President Obama and Clinton" for a number of issues. But it'll likely be Pence who is tasked with keeping the campaign on message.