Why a Former CIA Chief Says Trump Is a 'Threat' to National Security
Michael Morell the latest in a string of ex-national-security officials to back Hillary Clinton as she embraces an image centered on defense.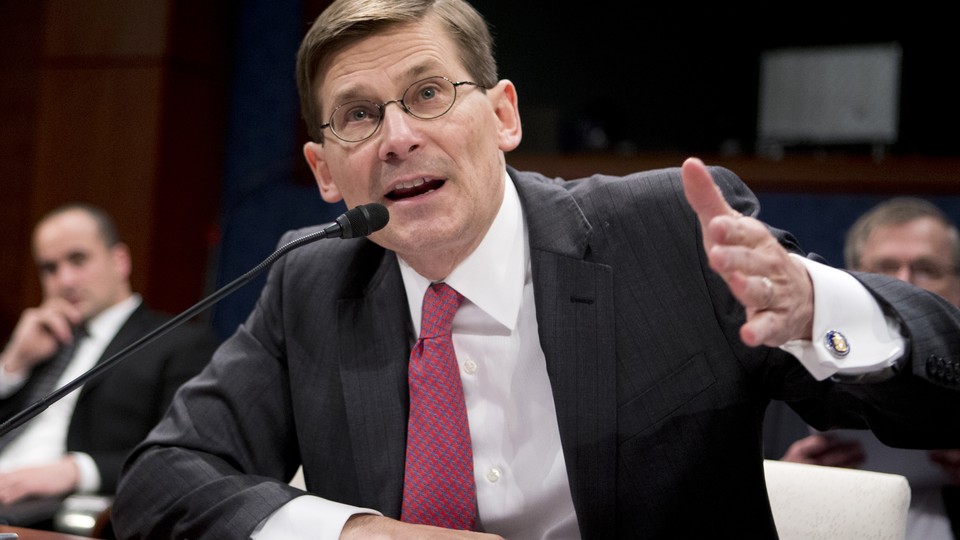 NEWS BRIEF Michael Morell, the former acting director of the CIA, endorsed Hillary Clinton and called Donald Trump a "threat to our national security" in an op-ed published in The New York Times on Friday.
Morell, a 33-year veteran at the agency, recalled his time working with Clinton while she was secretary of state, commending her for being "prepared, detail-oriented, thoughtful, inquisitive, and willing to change her mind" in important meetings. Notably, however, he also argued that a Clinton administration would be willing to flex its muscles on national-security issues:
I also saw the secretary's commitment to our nation's security; her belief that America is an exceptional nation that must lead in the world for the country to remain secure and prosperous; her understanding that diplomacy can be effective only if the country is perceived as willing and able to use force if necessary; and, most important, her capacity to make the most difficult decision of all — whether to put young American women and men in harm's way.
Morell also called Trump an "unwitting agent of the Russian Federation," following the Republican nominee's remarks suggesting that Russia hack into Clinton's emails after the DNC hack:
President Vladimir V. Putin of Russia was a career intelligence officer, trained to identify vulnerabilities in an individual and to exploit them. That is exactly what he did early in the primaries. Mr. Putin played upon Mr. Trump's vulnerabilities by complimenting him. He responded just as Mr. Putin had calculated.
Above all, Morell's language pegs Clinton as a champion for defense and the U.S. military. It's an image that the former secretary of state has seemingly been willing to take on, as a string of former national-security officials have flocked to her side in recent months.
In March, a number of Republican leaders wrote an open letter denouncing Trump. "His vision of of American influence and power in the world is wildly inconsistent and unmoored in principle," they wrote. "He swings from isolationism to military adventurism within the space of one sentence."
Clinton's camp has embraced the steady flow of support and the resulting image of a campaign centered on national security. A 30-second ad features a number of conservative critics of Trump, including former the CIA director Michael Hayden, making the point that Trump is "too dangerous." Clinton's efforts to broadcast this image seem in tension with her attempt to reach out to the progressive wing of the party. Nowhere was it more clear than when former CIA Director and Defense Secretary Leon Panetta delivered remarks at the Democratic National Convention to chants of "No more war!"