Kansas Republicans Rebuke Their Conservative Governor
Moderate GOP candidates for the state legislature ousted more than a dozen incumbents aligned with Sam Brownback in primaries on Tuesday.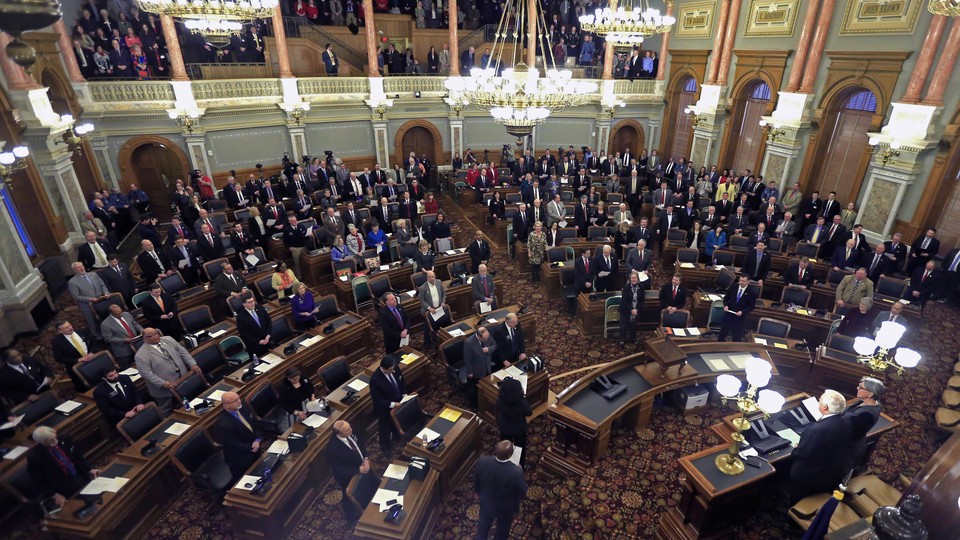 The verdict on Governor Sam Brownback's self-described "real live experiment" in conservative economics came back a long time ago, delivered through a budget gap that grew steadily into a chasm. On Tuesday, Kansas voters in the governor's own party issued their sentence in a primary-day rout.
Moderate Republican candidates ousted 14 conservative state legislators allied with the governor in primary elections across the state, while anti-Brownback contenders won nominations for open seats in another seven races. The results were widely seen as a repudiation of a second-term governor whose popularity has plummeted amid sustained budget gaps and ensuing sharp cuts in state spending. And they likely mean that the staunchly conservative state legislature in Topeka will move back toward the center in 2017, increasing the chances that lawmakers could roll back deep income-tax cuts that Brownback successfully enacted in his first years in office.
The electoral blowback left even supporters of the governor acknowledging that he and his allies in the legislature had simply gone too far, too fast for the majority of voters in one of the nation's most heavily Republican states. "Governor Brownback has pushed through an immense number of reforms and changes in the last six years," said Clay Barker, executive director of the state Republican Party. "And you know that old saying in politics: 'If you want to make people angry, change something.'"
For his part, the governor chalked up the defeats to the same angry electorate that propelled Donald Trump to victory in the Republican presidential primaries. "Kansas is not immune from the wide-spread anti-incumbency sentiment we have seen across the nation this election season," Brownback spokeswoman Eileen Hawley said.
Yet in spite of the Trump phenomenon, incumbent legislators have actually done quite well so far this year. Tea Party Representative Tim Huelskamp's loss on Tuesday in Kansas's 1st congressional district was just the second defeat for a sitting member of Congress who was not either under federal indictment or facing a fellow Republican congressman.
No, this Republican revolt was about Kansas, and a budget crisis that has spiraled out of control since Brownback and the state legislature slashed income taxes and exempted some 330,000 small business owners who file as individuals from paying state income taxes. The economic plan did not unleash the economic growth conservatives promised, and state budget revenues consistently fell short of projections.
Brownback won reelection in a tough race in 2014, but the fiscal situation only grew worse in his second term. Unwilling to either slow or reverse the income-tax cuts, the governor instead prodded the legislature to raise the state's sales tax, cigarette tax, and other levies on consumption as a way to help close a $600 million deficit in 2015. Earlier this year, the governor was forced to withhold money for university and teach pensions and halt highway projects to address the persisting shortfall. Credit-rating agencies have downgraded Kansas state bonds three times in the last two years.
"I do think it was a longtime coming," Burdett Loomis, a professor of political science at the University of Kansas, said of the voters' rebuke of Brownback at the polls. There was, he said, a "general sense that the state has taken hits it didn't have to take with all the Brownback policies." Republican voters were saying: "Wait a minute, what are you doing to this state?" Loomis said. "A whole bunch of things were starting to fray at the edges."
Kansans were particularly alarmed at the prospect of cutbacks to school spending and the deterioration of the highways—a lifeline for the large rural areas of the state. Moderate Republicans ran on a message of fiscal responsibility, protecting investments in education, and returning Kansas to the style of governing exemplified by former Senate Majority Leader Bob Dole, now a beloved elder statesman. "We were running to restore the fiscal viability of Kansas," Ed Berger, a Republican who defeated the state senate majority leader, told me on Wednesday.
While the conservative Kansas Chamber of Commerce, the Club for Growth, and the Koch Industries-funded Americans for Prosperity state affiliate were strongly supporting incumbents aligned with Brownback, challengers won backing from the teachers unions, highway contractors, hospitals, and a broad center-right group known as the Save Kansas Coalition. As the primaries drew close, ideological labels were muddied: Republicans on either side tried to tie their opponents to President Obama and Hillary Clinton, and both Brownback allies and challengers described themselves as "conservatives." "I think if you're a conservative, you vote for a balanced budget. If you're a conservative, you don't borrow from our future," Berger said. "I think that flies in the face of what was taking place with our government."
The state party remained neutral in the primaries, but Barker kept a tally of races based on whether the candidates were allies of Brownback. All told, six of the nine incumbents in the Senate who were pro-Brownback lost, and anti-Brownback candidates won 10 of the 16 Senate primaries overall. The governor, Barker said, lost a net of nine Senate seats. In the House, anti-Brownback contenders won 23 of 38 races, and the governor lost a net of 13 seats.
Four years ago, it was Brownback, a former U.S. senator and presidential candidate, who helped conservative allies oust more moderate Republicans in the legislature. Tuesday's defeats marked a clear reversal, and Democrats could pick up a few more seats in November to cement a more centrist governing majority in the legislature, which Republicans are still expected to control. "Everyone expected some seats to swing," Loomis said of the primaries. "I don't think anyone quite predicted the extent to which far-right Republicans would be defeated."