The Clinton Team's Affable Attack Dog
On his first solo swing of the campaign, Tim Kaine presses the case against Donald Trump in the urban South.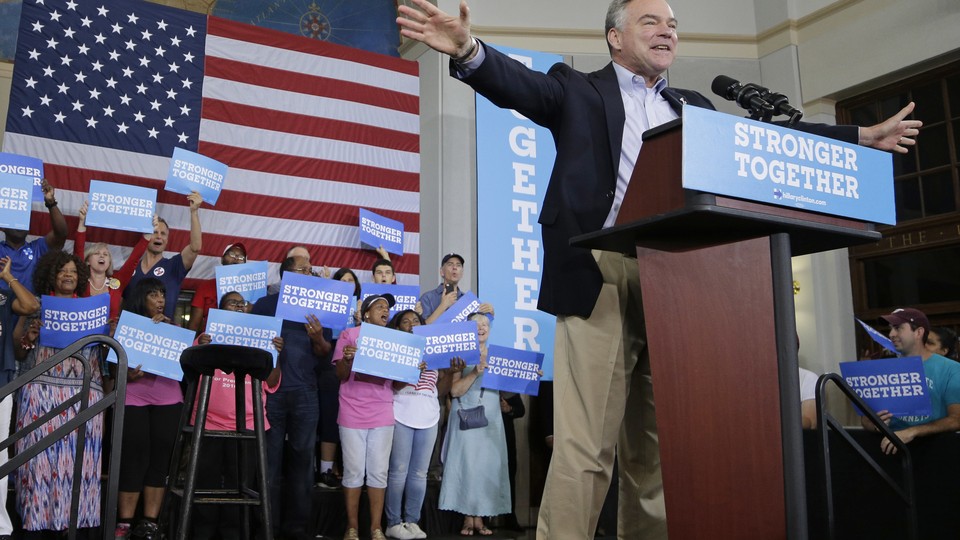 GREENSBORO, N.C.—Have you heard the one about Tim Kaine and dad jokes? Sure you have! But we're going to tell it again, because after all, that's how dad jokes work: They're not all that funny, and you have to tell them repeatedly.
U.S. Representative Alma Adams struck first at a rally Tuesday, with the groan-worthy pun, "Kaine is able!" But Roy Cooper, North Carolina's attorney general and the Democratic gubernatorial candidate, really kicked things into gear. "Senator Kaine and I were just backstage talking about it, and he and I both have a reputation with our children of making eye-rolling dad jokes," Cooper said. "I actually came today also to get some new material from him."
The rally was in the historic rail station in Greensboro, and unfortunately the Democratic vice-presidential candidate did not play to type with a spiel about how nifty trains are—at least not directly. Instead, speaking in the third-largest city in the state and the anchor of a historic manufacturing hub, Kaine focused on jobs, talking up Hillary Clinton's plan to boost the economy.
The Clinton campaign has tabbed North Carolina as a prime prospect to flip in the election, and it's hard to imagine Trump winning if he loses here. To win North Carolina, Democrats have to get high turnout among black voters, and from whites in urban centers. Kaine, a popular former mayor and governor from an adjoining state, is now integral to that plan. His appearance in Greensboro is a first test of how effective it's likely to prove.
Before the rally, Kaine visited a furniture factory in nearby High Point, where he managed to get in his requisite daily instance of publicly speaking Spanish, as the AP reported.
Kaine, it's been said, is not an especially dynamic speaker, at least in English. Based on Tuesday's performance, that's a fair assessment—but Kaine isn't an especially bad speaker, either. After several days of bluster, chaos, and belligerence on the Republican side of the campaign, a calm, paternal demeanor might appeal to voters. It's also well-suited to the material of an economics speech. You can only make infrastructure, manufacturing, paid family leave, and debt-free college so exciting, no matter how worthy you think those policies are, and Kaine plowed through the material, casually riffing on his father's experience as a small-business owner with a iron-working shop and dropping in the occasional joke. No, they weren't great; yes, they lightened the mood.
In the first part of his speech, Kaine was Mr. Sunny. "Did anyone watch that convention? It was upbeat. It was positive. It was patriotic," he said. "Without sugarcoating any challenge or whitewashing any of the issues we have to deal with, we Democrats showed that we're upbeat, candid people." He contrasted that with the Republican National Convention, which he described as having a "dark, depressing, Gotham City vibe."
Kaine talked about how pleased he was to be on the ticket with Clinton—remembering the exact time that she called him to offer the job, 7:32 p.m. ("But who's counting?") "How many strong women have stood up in support of me in my 22 years in political life?" Kaine said. "I have benefited because strong women have been able to stand up and say, 'I'm going to support you.' This election gives the strong men in America a chance to stand up in support of strong women."
In the second half of his remarks, however, Kaine turned his attention to Donald Trump. Another advantage of a dad-like demeanor is being able to play the attack dog without coming across as quite so churlish or harsh. Kaine made Trump's frequent use of "believe me" into a motif. "Does anyone in this room believe Donald Trump? Does anyone think that maybe there's something a little bit funny on those tax returns?" he asked. He assailed Trump for stiffing contractors who ran small businesses and students who attended Trump University. "We cannot afford to believe Donald Trump. Not one word!" Kaine said, setting off a chant from the energetic grandstand behind him.
Whatever Kaine brings in low-key demeanor and affability, he doesn't bring much in terms of name recognition or familiarity. A crowd of around 500 people showed up at midday to see him, but not all of them had a good read on him yet. One man in line ahead of the rally told me several times that he was excited to see "Tim McKaine" speak. Another man, Bob Harrison, had driven up from Charlotte with a secret plan he hoped to hand off to Kaine on how to win Ohio and with it the election. He wouldn't share it with me, since it would no longer be secret, and also in case I was a Trump plant. (The last part was, I believe, semi-joking.) Dave Clifford, a Bernie Sanders fan who said he was "not convinced yet" had come to see Kaine because he was curious and happened to free Tuesday afternoon. Another Bernie fan was there on a mission, and he briefly heckled Kaine during his speech for "election fraud" by his ticket mate.
Kaine didn't spend a great deal of time touting his own resume or introducing himself personally. What he did do was try to appeal on local issues, grouping his home state of Virginia with the Old North State. He spoke about the need to repeal House Bill 2, the "bathroom" law that has put North Carolina in national headlines and in federal courts for strict regulations on what facilities transgender people can use (among other clauses). Kaine deftly turned that into a national issue, too, scolding his Republican counterpart Mike Pence for once saying that gay people could cause "societal collapse." Kaine congratulated the audience on a federal-court ruling on Friday overturning central provisions of a voting law passed by the conservative General Assembly in 2013.
In Virginia, my colleague Ron Brownstein has written, Kaine succeeded in large by eschewing the rural, conservative areas of the Old Dominion and building his base in cities and suburbs. Kaine seems poised to play a similar role in North Carolina. He said he'd be back soon and often, and it would make sense for those visits to come in places like Greensboro—a relatively large urban center.
The focus on local issues like HB2 and the voting bill impressed Anne Bailey, an educator from nearby Whitsett. "He really speaks to us as Southerners," she said, admitting she hadn't know much about him before the DNC. Her friend Cynthia Adams agreed. "He knows we're not as regressive as we're seen," she said.
The November election will give some indication of just how progressive, or not, North Carolina is. Clinton's fate in the state is intertwined with the electoral fortunes of candidates like Cooper and Deborah Ross, who also attended the rally and is running against Senator Richard Burr. And their fates could all turn on how well Kaine is able to get to know and connect with voters in cities like Greensboro.