Is Trump Planning to Skip the Presidential Debates?
The Republican nominee falsely claimed that Hillary Clinton was rigging the debates and that the NFL had complained to him in a letter—perhaps preparing excuses to avoid debating.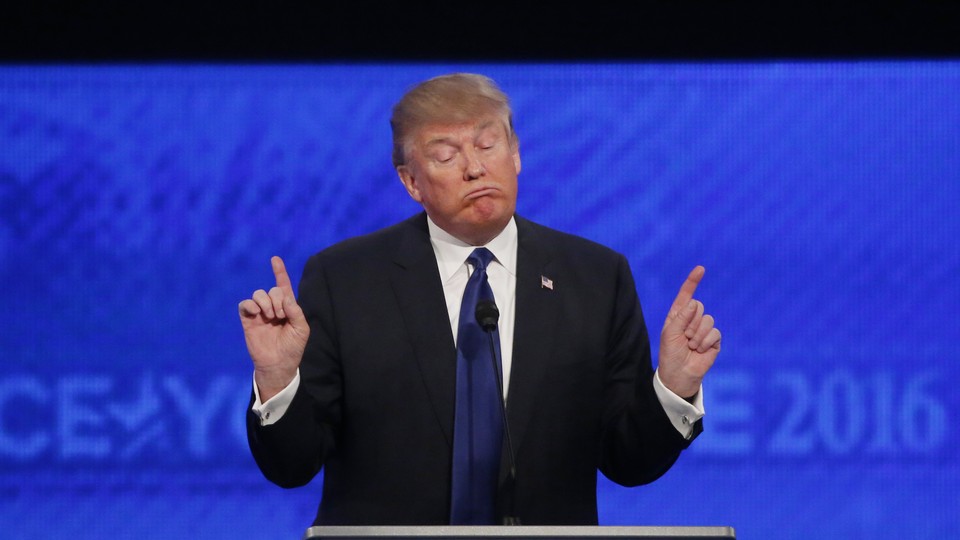 Several times during the Republican National Convention, I found myself in the midst of conversations—with journalists, delegates, and others—about whether or not Donald Trump would bother to participate in the presidential debates this fall.
Forecasting Trump's decisions is impossible, but if the Republican nominee decides he wants to skip at least one debate, he started laying the groundwork this weekend. Late Friday night, he tweeted an accusation that Democrat Hillary Clinton was trying to rig the debate schedule:
As usual, Hillary & the Dems are trying to rig the debates so 2 are up against major NFL games. Same as last time w/ Bernie. Unacceptable!

— Donald J. Trump (@realDonaldTrump) July 30, 2016
He repeated that thrust during an interview on ABC's This Week. "Well, I'll tell you what I don't like. It's against two NFL games, I got a letter from the NFL saying, this is ridiculous, why are the debates—because the NFL doesn't want to go against the debates," he said.
Trump was lying on both counts. There's no evidence of Clinton tampering with debate dates, and as CNN's Brian Stelter pointed out to Trump spokesman Jason Miller, the NFL released a statement saying, "While we obviously wish the debate commission could find another night, we did not send a letter to Trump." Appearing on Reliable Sources, Miller hemmed and hawed over whether had Trump had received a letter, even though it was by now clear he had not. (This fits with a pattern of Trump needlessly lying. He also claimed that he had recommended that the Republican convention be held in Cleveland, even though he was not a candidate or even a likely one at the time, and no evidence exists that he made such a recommendation.)
In any case, Stelter asked Miller whether Trump wanted the debate dates changed:
Jason Miller: We would not like the debates not be head to head against major NFL games. We like to see some—that's something we'll be discussing as we got into negotiations.

Brian Stelter: Will Trump skip the debates if they are continued to be scheduled on football nights?

Miller: Brian, we want as many people to be watching the debates as possible. That's our spirit of it. The Clinton camp would like these debates to be head-to-head with the NFL games. So, we're going to go in and start negotiations...
In other words, Miller was unwilling to commit to Trump debating. Stelter pressed Miller further, pointing out that there was no evidence that Clinton wanted the debates head-to-head with NFL games. "Why did Mr. Trump say that Clinton is trying to rig the debates?" Stelter asked. Miller replied:
Brian, if you take a look back at Hillary Clinton's track record in the primary, numerous times they had pushed to go on and have debates at the same time as other big events that were going on, head to head against things that would be big conflicts and keep voters excluded. Our focus, we want as many people involved as possible.
Miller is right that the Democratic debates were scheduled for mysteriously low-profile times. Many observers presented this as evidence of the Democratic National Committee trying to engineer low-profile meetings to aid Hillary Clinton. If so, the decision may not have paid off: Clinton ended up having a tough race against Senator Bernie Sanders, but she consistently performed well in debates.
But all of that is irrelevant to the presidential debates. Unlike primary debates, which are scheduled with cooperation between the candidates and their campaigns, their respective party committees, and the networks that will broadcast them, the general-election debates are produced by the Commission on Presidential Debates. It's an independent organization created after the 1984 elections, which has run the debates in every presidential-election year since. The debates are shot by pooled press, and they're available to networks to air but have to be aired in their entirety, without commercials, on the premise that they're providing a national public service and shouldn't be monetized.
The idea that the CPD is working to throw the debates doesn't bear much scrutiny. CPD announced the dates for the debates in September 2015. And while the commission studiously insists it's nonpartisan, it is in practice mostly a bipartisan body, made of former political hands of both parties. The chairs are Frank Fahrenkopf, a former head of the RNC, and Mike McCurry, former press secretary under Bill Clinton. Other Republicans on the commission include former Indiana Governor Mitch Daniels and former Senator Olympia Snowe. It's not a body that seems likely to throw the debates in favor of Clinton. (McCurry even publicly counseled her against running.) Neither of the parties gets a role in scheduling or planning the debates, nor do the candidates, although the candidates typically negotiate some mutually agreed-upon rules.
On Sunday, the Commission replied to Trump in a statement:
The Commission on Presidential Debates (CPD) started working more than 18 months ago to identify religious and federal holidays, baseball league playoff games, NFL games, and other events in order to select the best nights for the 2016 debates. It is impossible to avoid all sporting events, and there have been nights on which debates and games occurred in most election cycles. A debate has never been rescheduled as a result.

As a point of reference, in a four-year period, there are four general election debates (three presidential and one vice presidential) and approximately 1000 NFL games.
In November, I spoke with Newton Minow, the former chair of the Federal Communications Commission who helped create the modern age of televised debates and later co-founded the CPD.
"I think the public at this point doesn't want the parties or the candidates to run the debates. The public likes the idea of journalists asking tough questions," he said. "I think the public knows that the debates are fair, and they trust the debates are fair. At the level of the debate commission, the concern I think of each and every commissioner is to have debates that will serve the public interest, not the parties' interest, not the candidates' interests."
The CPD has been criticized, sometimes harshly, for wielding too much control, or for not letting third-party candidates join debates (they must reach a 15 percent polling threshold), or for being too slow to embrace new technologies. Whatever gripes other candidates have, however, it's generally been regarded as a honest broker between the two major parties.
Already last fall, Minow—who has been involved in presidential campaigns since he worked for Adlai Stevenson's 1952 team, and at 90 years old has seen plenty more—was taken aback by the 2016 race.
"I thought I understood national politics pretty well, but this year is so baffling that I feel like I'm in another culture," he told me.
One way Trump has overturned the understanding of people like Minow is his willingness to undermine the authority of longstanding institutions. He's been singularly willing to bash the Republican Party publicly, and even now, with the nomination battle long over, he can't resist taking shots at vanquished rivals. With the debates approaching, he's perfectly willing to assail the neutrality of the debate commission, despite having no evidence, and while blatantly lying.
Why wouldn't Trump want to debate? The Republican primary debates didn't hurt him, and in fact may have helped him by hurting his rivals. But Trump proved an unsteady debater, at times mounting effective attacks but at other times seeming bored and checked out. He also made several errors that continue to haunt him today, from his ignorance about the nuclear triad to the sexist feud he began with Fox News' Megyn Kelly. Trump has also shown a willingness to skip debates. He refused to attend one Fox News debate in January, spurred in part by the Kelly feud, and then again declined to participate in a March debate, effectively canceling it.
The general-election debates might prove tougher territory still for Trump. They have larger national audiences. Because they're not party-sponsored, there's room for a wider range of questions. With fewer candidates on stage, Trump would be less able to fade into the background. Clinton is an experienced, skilled debater who has shown an ability to get under Trump's skin. Of course, there are dangers to skipping debates, too. By refusing to participate, Trump would miss a major national moment and could appear petulant and cowardly. No major candidate has taken that risk since Richard Nixon, who had been so badly burned by his televised debate with John Kennedy in 1960 that he declined to debate on TV in 1968 or 1972. But if Trump decides he's willing to roll the dice, he will have begun laying the groundwork this weekend.