Introducing the Trump News Channel—Coming in 2017?
If Trump loses, his consolation prize may be a whole new right wing media juggernaut.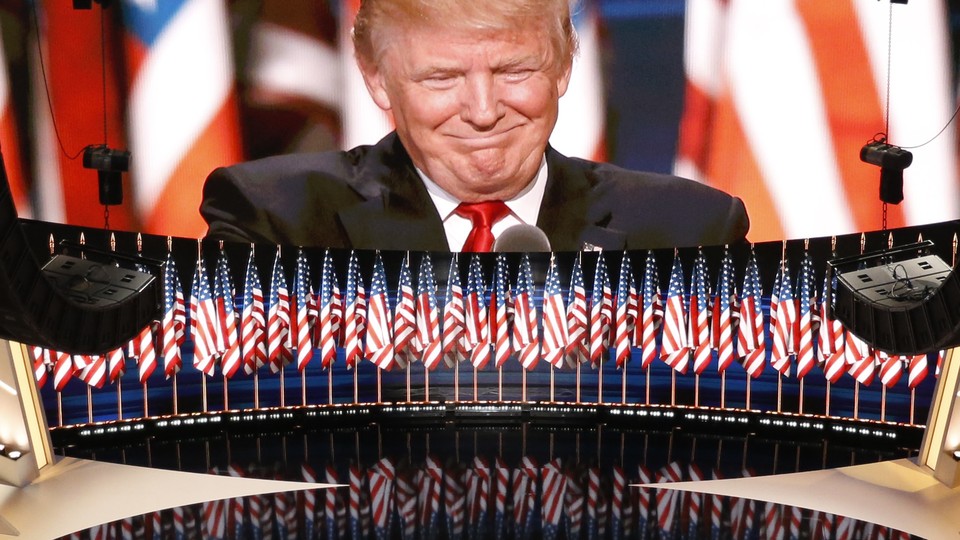 Most political observers are skeptical that Donald Trump has helped his chances of winning the presidency by entrusting his campaign to the executive producer of Breitbart News, Stephen Bannon; or by hiring Roger Ailes, who left his position atop Fox News amid a sexual harassment scandal; or by pitching his rhetoric to Sean Hannity viewers and Drudge Report readers, rather than more typical Americans; or by spending so little of the money he has raised on television commercials; or by appearing to care so much about the ratings his Republican National Convention speech got and so little that its viewers were turned off, not turned on.
There is so much about the Trump campaign that doesn't make sense so long as one assumes that its purpose is to propel the candidate to victory at the ballot box. But what if those involved now perceive a more attractive––or at least plausible–– endgame? Atop the campaign, there are three men whose past behavior suggests both a powerful desire to attract the eyeballs of a mass audience and a talent for doing so.
What if Tuesday, November 8, marks not an end for Donald Trump and associates, but the beginning of Phase Two in an effort to launch a media juggernaut that challenges Fox News for supremacy on the right across all platforms?
It is hard to imagine that Trump and those in his orbit haven't considered what they will do if they lose in November, or that the media business hasn't occurred to them (as it occurred to Sarah Palin, Mike Huckabee, and many other GOP politicians). The longer Trump lags far behind Hillary Clinton, the bigger incentive those whose salary he pays have to prepare for whatever is next––and the more their interests diverge from both the GOP and the conservative movement.
If today's polls hold through election day, Trump and associates will be proved failures at electoral politics. But even if that proves so, I wouldn't bet against a right-wing media behemoth that brought together Trump, Roger Ailes, Stephen Bannon, Ann Coulter, Matt Drudge, and Sarah Palin, especially if they had some help:
Fox News Channel's No. 1 primetime lineup could be in jeopardy if network boss Roger Ailes gets booted. Bill O'Reilly, Sean Hannity and Greta Van Susteren all might exit the network if parent company 21st Century Fox gets rid of Ailes in the wake of a sexual harassment lawsuit filed by former host Gretchen Carlson, according to a person familiar with the situation.

The three hosts have all spoken out publicly in defense of Ailes, who has been under internal investigation since shortly after the Carlson suit was filed. O'Reilly, Hannity and Van Susteren have contract clauses that would allow them to depart if Ailes leaves the network, according to a Financial Times report, which cites two people briefed on the situation.
I am not alone in wondering if a media company of this sort is in the offing.
"The breakout media star of 2016 is, inarguably, Donald Trump, who has masterfully—and horrifyingly—demonstrated an aptitude for manipulating the news cycle, gaining billions of dollars worth of free airtime, and dominating coverage," Vanity Fair reported in June. "Now, several people around him are looking for a way to leverage his supporters into a new media platform and cable channel."
The story continued:
Trump is indeed considering creating his own media business, built on the audience that has supported him thus far in his bid to become the next president of the United States. According to several people briefed on the discussions, the presumptive Republican nominee is examining the opportunity presented by the "audience" currently supporting him. He has also discussed the possibility of launching a "mini-media conglomerate" outside of his existing TV-production business, Trump Productions LLC. He has, according to one of these people, enlisted the consultation of his daughter Ivanka Trump and son-in-law, Jared Kushner, who owns the The New York Observer. Trump's rationale, according to this person, is that, "win or lose, we are onto something here. We've triggered a base of the population that hasn't had a voice in a long time."
"It now seems very plausible," John Ziegler writes, "that the remainder of the campaign might be used as little more than a marketing campaign for a future competitor to Fox News Channel." The "let Trump be Trump" approach would certainly facilitate that end, whether or not it was the candidate's conscious intention.
For that reason, GOP officials and movement conservatives ought to be preparing for worst case scenarios. And a Donald Trump Network is perhaps the worst case possible.
A Trump campaign expecting to lose and then launch an effort of that sort would have every incentive to hoard campaign donations to pay back debt incurred by Trump himself; to be maximally inflammatory, polarizing the electorate while further cultivating a core of true believers; to aggressively blame Fox News, National Review, Glenn Beck, and all other potential competitors in order to alienate them from their audiences; even to sabotage the GOP down ballot, depending on just how cynical the folks running things are. After all, what could be better for business, if you're a new media conglomerate to the right of Fox News, than a Hillary Clinton presidency supercharged by a Democratic House and Senate?
Nor would the nightmare for the right end on election day. Even after a huge Trump loss, a Trump News Network could help a destructive faction that might have faded in other circumstances to keep driving the Republican Party toward white identity politics, egregious misinformation, ideological incoherence, destructive infighting, and attacks on minority groups, with all of the attendant costs.
Since the Bush Administration, I've been warning the right that its media demagogues were doing great harm to the conservative movement, the Republican Party, and the country. A Trump News Network, while a ludicrous and absurd satirist's gold mine, would do even greater harm, as I've tried to capture in this programming guide that doubles as palliative gallows humor in this dark time:
6 am to 9 am –– Abreast World News with the Women of Miss Universe: Awake to perky pageant winners bringing you sports, weather, and everything you need to know about the loser countries that they fled for America.

9 am to 10 am –– Paid programming: Ben Carson's Non-GMO Brain Health Supplements

10 am to 11 am––Queer Eye for the Alt-Right Guy starring Milo Yiannopolous: Milo and co-host Ann Coulter work to help white nationalists look fabulous.

11 am to 2 pm––Sarah Palin's Real America: A folksy look at the "silent majority" communities that the MSM, sipping their elite cocktails, doesn't want to show, with defending-our-shores soldiers and clean coal miners who did built that. (Shot on location in Los Angeles and Vancouver.)

2 pm––Paid programming: An array of Donald Trump products presented at huge discounts by Little Marco Rubio.

3:00 pm to 4:00 pm–– To Catch an Illegal: Sheriff Joe Arpaio and his most ruthless team of undercover racial-profilers post wanted ads for day-laborers in communities just like yours. Little do the applicants know that their papers, if they have any, will be vetted by the same team of forensic analysts that debunked Barack Obama's birth certificate.

4:00 pm to 5 pm–– The Enemy at Home: An evening roundtable where a rotating group of national security experts vetted by Breitbart.com expose the sharia takeover of America on Crooked Hillary's watch. Tonight's guests: Andy McCarthy, Pat Dollard, Pam Gellar, and Liz Cheney.

5 pm –– News Hour with Greta Van Susteren and Jeffrey Lord

6 pm –– Hannity and An Empty Chair: Inspired by American hero Clint Eastwood's moving speech at the 2012 RNC, Sean Hannity squares off for a nightly debate against Barack HUSSEIN Obama, who is represented by an empty chair. Audience members can vote-by-text for the winner for $1.99.

7 pm –– We'll Do It Live with Bill O'Reilly

8 pm to 9:30––The Protégé: Donald Trump continues his quest to Make America Great Again TM, judging contestants competing for the right to become The Protégé, one of four aspiring candidates that Mr. Trump will self-fund with audience donations in the 2020 GOP primary. The winner will challenge Crooked Hillary in the general election.

9:30 pm to 10 pm––Behind the Scenes of The Protégé with Scott Baio: Exclusive footage and outtakes that didn't make it to air, tips on success from Donald Trump, and a check-in with Don Jr. on his latest projects.

10 pm to 11 pm––Women Who Work with Ivanka Trump and Caitlin Jenner

11 pm to 12 am––Rockin' Late Night with Ted Nugent

12 am to 3 am––The Women of Miss Universe After Dark

3am to 5 am––The Greatest Tweets: Wisdom from Donald Trump and a curated selection of the very best communicators scrolling as Sinatra plays.

5 am to 6 am––Pilates with Melania Trump and sidekick/towel-boy Chris Christie.
In seriousness, anyone who helps Trump to build a media company will have earned the ire appropriately aimed at those who empower callous bullies and mendacious bigots.
May it fail as a laughing stock if it launches at all.