Clinton's Roads to Victory
The Democratic nominee's gains along the I-75 and I-95 corridors reflect the growing political influence of cities in the South.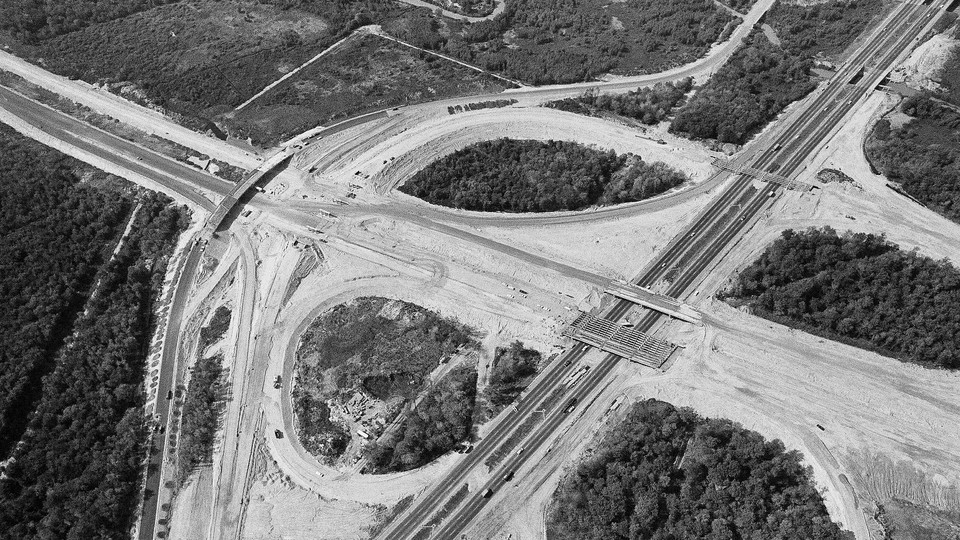 They are the two longest north-south highways in the United States, and main arteries of the Interstate Highway System. Like a massive asphalt river, the I-95 corridor stretches through the eastern seaboard from the Canadian border to Miami, creating the Northeastern megalopolis, connecting the nation's financial capital with its political capital and the maple forests of the Northeast with the orange groves of the Florida flats. I-75 courses south from the Michigan Upper-Peninsula through the Straits of Mackinac and connects Detroit with Cincinnati, Lexington, Chattanooga, Atlanta, Tampa Bay, and Miami. The two roads pass through states containing about 45 percent of the United States population, facilitating commerce, travel, and the gravity of American cities.
Those long distances mean each transits a wide swathe of land—and of political opinion. They run through the liberal cities of the Northeast, through blue-collar counties of the Midwest, through Republican strongholds in the Deep South and the cosmopolitan cities they surround, and through Latino neighborhoods in southern Florida. Most swing states, including the battlegrounds of Ohio, Florida, and Pennsylvania, lie along these two routes, and since interstates were created in 1956, only one candidate—Ronald Reagan in 1984—has managed to sweep all the states along one or both of these roads. Based on recent polling data, Hillary Clinton could manage to repeat that success in her race against Republican presidential nominee Donald Trump.
An NBC/WSJ/Marist poll released Friday shows Clinton building leads over Trump in Florida, North Carolina, and Virginia. An earlier poll by the same pollsters showed Clinton leads in Ohio and Pennsylvania. RealClearPolitics' polling averages give Clinton a big lead in Maine and a thin one in Georgia, and a recent Public Policy Polling poll in South Carolina has her competitive there, trailing Trump by only two points. While Kentucky and Tennessee still look like solid Trump states and would keep Clinton from a sweep of both highways, Clinton's play for all of I-95 and for key parts of I-75 would be an unprecedented accomplishment for a Democrat.
Major highways don't just provide a convenient shorthand—they play a very real role in Clinton's polling success. The demographic changes that Democrats often take for granted as the source of their momentum and future hopes have been influenced by the creation of I-95 and I-75 along with other federal highways in the 50s and 60s. Since the Republican Party's "Southern Strategy" in the 1960s used racial tensions against black people to solidify a vote-rich electoral college in the South, Republicans have become increasingly associated with whiteness and ruralness. That, in turn, turned the South and the working-class areas of the North increasingly red in recent decades.
But this map shows how interstates became catalysts for growth over time in smaller cities in many of these areas. The explosion of metropolises along the I-75 and I-95 corridors like Atlanta, Richmond, and Jacksonville shifted political weight away from rural areas. While that process has mirrored overall population growth in southern states and while it has not been fast enough to overcome some redistricting and voting changes in the South designed specifically to limit the political power of cities, it's produced growing tension between urban and rural regions of the same states. Interstates also facilitated the overall growth of the South and West, a development that initially favored Republicans. But the growing influence of cities and the fact that many people moving south are black voters returning to the homes of their ancestors have inverted that over time.
The urbanization and suburbanization of the South and Midwest have given Democrats a bit more than demographic momentum in presidential races, as well. Democratic reliance on cities as strongholds provides logistical as well as numerical advantages. Local television and radio ads have hard geographic limits, and being able to broadcast to as dense a likely-voter field as possible is efficient. According to Vox, "when like-minded voters live in closer proximity to one another, they tend to be easier to identify, organize, excite and turn out." This is aided by interstates, which allow ground teams to travel easily from metropolis to metropolis. The downside to that concentration, though, is that it may help win statewide and national races, but work against Democrats in legislative and congressional battles. In 2012, for example, Barack Obama cruised to reelection, and voters nationwide cast 1.7 million more votes for Democrats running for the House of Representatives than for Republicans—but the GOP still wound up with a 33-seat majority.
Caveat emptor: Trump is a uniquely bad candidate facing defections within his own party who hasn't spent any money on TV ads, doesn't appear to have a ground game in key battleground states, and isn't polling very well overall. Conclusions for the future are probably limited. But if Clinton does make inroads along I-95 or I-75, it could be a real signal that the "demographic revolution" Democrats have been counting on is arriving. And it is being guided along by these great highways.