Meet the People Who Protect America's Critical Infrastructure
A team of workers at the Department of Homeland Security gives companies advice on protecting themselves from attacks.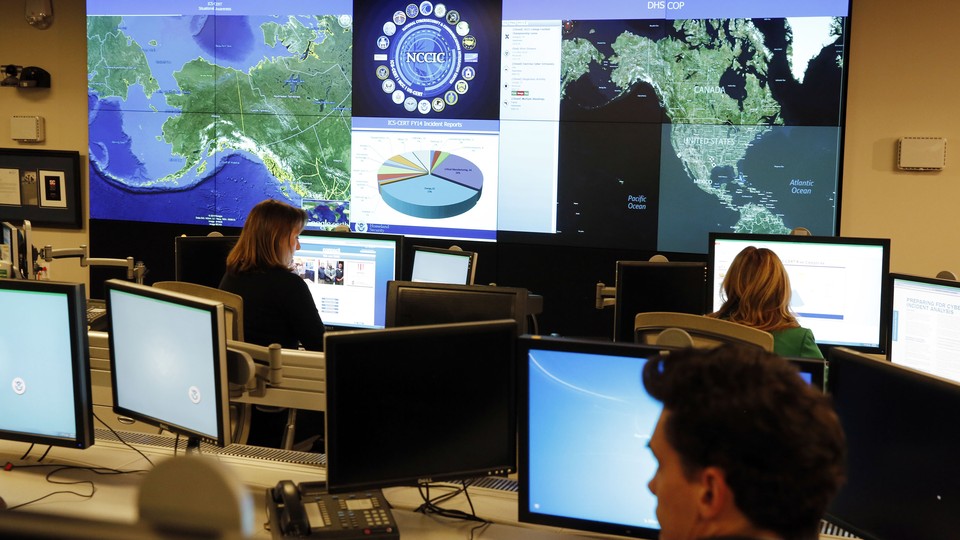 In the byzantine Department of Homeland Security's organization chart, issues like cyber attacks on the power grid fit under critical infrastructure protection. It's mostly about the department's humdrum work of encouraging private industry to protect itself. It's a job the government never thought of before 9/11, but it's obviously important given that most of what makes life tolerable, or could make life miserable, is privately owned.
In a world in which corporate quarterly-earnings statements are not helped by investments in "what-if" security (and in which insurance covers the more foreseeable losses), the work involves persuasion more than anything else. The person at DHS in charge of this mass jaw-boning effort is Caitlin Durkovich, a former Washington consultant, who says she has "the greatest job in the world, because I work with every sector of the economy on something that's really important." Durkovich runs a group of 600 federal employees and 400 contractors, most of whom provide security surveys and advice to proprietors of everything from major-league ballparks (only one team has not engaged in developing a plan, she told me) to water plants to banks.
A detailed software questionnaire and matrix that I watched being used for a security review at one New York financial exchange ran the gamut of issues. Had the employees been trained in active-shooter exercises? What was the durability rating of the barriers blocking potential truck bombs? Are employee background checks updated frequently enough? Are working relationships and liaisons in place with New York City's anti-terror unit and the Joint Terrorism Task Force?
A retired Secret Service officer who earns about $90,000 a year working in Durkovich's division walked the clearinghouse's security director through the questions. Each category of answers produced a grade, projected on a screen in the security director's conference room, showing the facility's improvement since the last review and its standing compared to the average facility in its industry. A relatively low grade, the security director explained to me, wasn't all bad, because it gave her ammunition to get more resources from her bosses.
In an office in downtown Washington, I met a half dozen other members of Durkovich's infrastructure protection staff. None had ever talked to a reporter. None do the kind of work that makes news. They are the unsung army of the September 12 era.
One had just come from a meeting of security directors of the nation's dams; another talked excitedly of helping the Army, in the wake of the lone-wolf terrorist shootout at a Chattanooga recruiting center, to use analytics to identify the 350 out of 10,000 centers most in need of stepped-up protection. All had been energized by the rounds of conference calls they convened the night and morning after the Paris attacks with their liaisons in various industry sectors, particularly those in the sector that covers concert halls, malls, and sports arenas, to suggest stepped-up security measures.
"We see all that anti-government talk on television about bureaucracy and how nothing works in Washington," said a woman who works on outreach to several of the 16 sectors. "But then you hear the people we are dealing with say 'thank you,' and you feel better."