Obama's Last Attempt at Immigration Reform
The administration has announced a new plan to welcome Central American migrants—a move away from its years-long deterrence policy.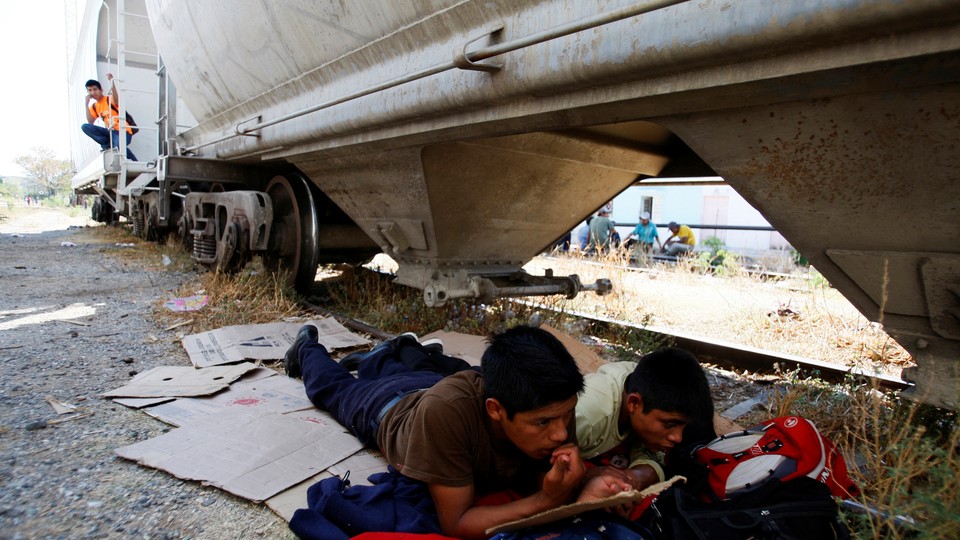 Immigration reform was supposed to be part of Obama's legacy. His executive actions on immigration aimed to shield millions of undocumented immigrants from deportation, but were eventually blocked by the U.S. Supreme Court. With a Republican-controlled Congress, legislation appears out of reach. So the administration is taking a new approach by expanding its assistance to Central American migrants, seeming to acknowledge years of frustration and failed attempts at reforming America's immigration policy.
In January, Secretary of State John Kerry announced a plan, in conjunction with the United Nations, to identify people from El Salvador, Honduras, and Guatemala who are eligible for refugee status. "We can both maintain the highest security standards and live up to our best traditions as Americans by welcoming those in need of help to our great country," Kerry said in a speech at the National Defense University in Washington, D.C.
In late July, the administration announced additional steps to address Central American migrants. For one, the United States will screen individuals in their native countries. Costa Rica, in partnership with the United Nations High Commission on Refugees, also agreed to assist in the effort by temporarily taking in small numbers of applicants and processing them before they get transferred to the United States or another country. And an expansion of the Central American Minors program will allow siblings, parents, and caregivers accompanying minors to apply for refugee status. Under this program, the United States has already received 9,500 applications. The goal is to provide "orderly and safe resettlement here in the United States," as Eric Schultz, the principal deputy White House press secretary, put it in a press briefing.
News of the effort came while the Democratic National Convention was underway. Schultz said the announcement coincided with finalized negotiations with the government of Costa Rica. But the timing meant it went largely unnoticed.
Democratic lawmakers have been placing pressure on the administration to change how it addresses Central American migrants, arguing that they should be considered refugees. Tensions between congressional Democrats and the White House heightened earlier this year when the administration carried out deportation raids. "The manner in which it was rolled out was also a big insult to many of us. We were not instructed and informed about this beforehand," Representative Ruben Gallego of Arizona told me in January. More than 140 House Democrats implored the administration to reconsider its approach in a letter. It appears they have.
For years, the United States has relied on a deterrence policy, discouraging people in Central America from making the journey to the U.S.-Mexico border, said Rebecca Hamlin, an assistant professor at the University of Massachusetts Amherst who studies law and immigration politics. Still, many migrants continue to make the journey to the southern U.S. border. While the number of undocumented immigrants coming across the U.S.-Mexico border has fluctuated in recent years, concerns linger that another surge, like that of 2014, could happen again. Since October, more than 51,100 people traveling as families and more than 43,000 unaccompanied minors have been caught trying to cross the border, according to the Associated Press.
"It's a realistic recognition that actually deterrence policies don't work," Hamlin said. "They might work when someone's only motivation to migrate is economic, but they really don't work—and this is consistently found all over the world—when it comes to people who are fleeing what they believe to be potentially a life-or-death situation." Maureen Meyer, a senior associate for Mexico and migrant rights at the Washington Office on Latin America, an advocacy organization for the Americas, noted the shift has happened over time. "It was a slow realization probably from the last year into this year of, 'Wow, this is one a new reality and a new normal for us but this isn't something we can just respond to using our traditional mindset of immigration enforcement,'" she said.
The new mindset was evident in a July 26 White House press briefing. "Our goal here is to conduct the resettlement process in the home countries so that we're not dealing with an influx on the border," Schultz said, "and we're not dealing with a heartbreaking or unsustainable situation that is neither safe, or orderly."
This new policy represents a last-ditch effort at immigration reform. Still, refugee resettlement has often been a challenge for the administration. Last year, the United States said it would receive at least 10,000 Syrian refugees, despite pushback from congressional Republicans. Some Republican lawmakers have already reacted to the implementation of the new program, urging the administration to instead focus its efforts on the border. "Once again, the Obama administration has decided to blow wide open any small discretion it has in order to reward individuals who have no lawful presence in the United States with the ability to bring their family members here," said Representative Robert Goodlatte, who is also the chairman of the House Judiciary Committee, in a statement. "Rather than take the steps necessary to end the ongoing crisis at the border, the Obama Administration perpetuates it by abusing a legal tool meant to be used sparingly to bring people to the United States and instead applying it to the masses in Central America."
The program may have weaknesses. Hamlin argued it falls short of addressing urgent situations, as well as the "large-scale crisis" in the region. But perhaps above all, the administration's new approach to Central American migrants is an admission of failure: an acknowledgement of legislation that never came through, executive actions that were blocked, and an ongoing regional crisis.