Hillary Clinton's Millennial Challenge
Surveys show that most young voters view Donald Trump as racist or disrespectful. Unfortunately for the Democratic nominee, they don't think much of her either.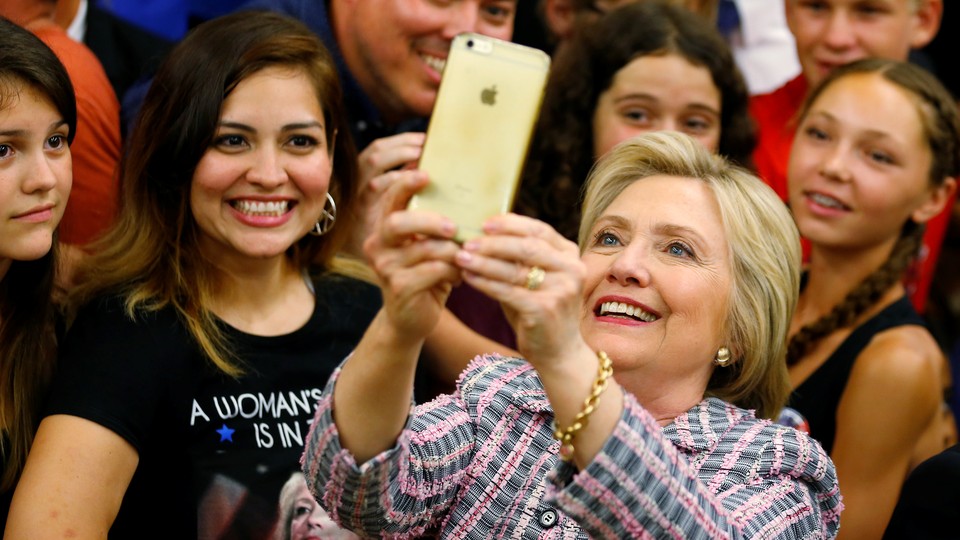 The Millennial Generation is poised to exert more influence in the 2016 election than ever before. And yet paradoxically, the generation today stands as one of the knottiest challenges facing Hillary Clinton in her race against Donald Trump, a candidate who, polls show, most of them disdain.
Though the Democratic convention has lifted Clinton's overall poll standing, her hold on Millennials has consistently looked less secure than her position with college-educated whites (especially women) and minorities, the two other pillars in President Obama's winning coalition. Even amid all the disarray now enveloping Trump, Clinton's long-standing struggles with young voters remain a dark cloud in her brightening prospects. "It's a challenge that needs to be taken very seriously," said Ben Tulchin, the pollster for Bernie Sanders, who captured over seven-in-10 Millennial voters against Clinton during their primary contest.
As recently as 2008, the Millennial Generation, generally defined as those born between 1981 and 2000, represented just 18 percent of all Americans eligible to vote; that was only half as much as baby boomers. This year, for the first time, Millennials (at 30.5 percent) will virtually equal baby boomers (30.7 percent) among eligible voters, the non-partisan States of Change project forecasts.
Because older people vote at higher rates than younger, baby boomers will almost certainly cast more actual ballots this year than Millennials. Even so, Project New America, a Democratic research group, recently calculated that 53 million Millennials are now registered to vote, up over 20 million just since 2012. The number of registered Millennials has increased since 2012 by at least 40 percent in Virginia, Ohio, Colorado, Nevada, and North Carolina, all key battlegrounds.
Diverse, heavily secular, and inclusive, Millennials are a tough audience for Trump. In a June survey by the non-partisan Public Religion Research Institute and the center-left Brookings Institution, Millennials were less likely than any older age group to support Trump's proposals to temporarily bar Muslim immigration or build a wall along the Mexican border, and most likely to say immigrants benefit, rather than burden, U.S. society.
Another early July survey solely of Millennials in 11 battleground states conducted by the Democratic pollster Andrew Baumann for Project New America and NextGen Climate, a liberal group that supports action on climate change, provided the fullest picture of Trump's difficulties—and Clinton's challenge—with this generation. (The poll was conducted online, a technique that has not yet demonstrated as much overall reliability as phone surveys, but which has advantages for reaching young people.)
In that survey, three-fourths of battleground-state Millennials described Trump as a racist; an equal number said he does not respect women. Nearly seven-in-ten said they "would be ashamed of my country" if Trump wins. (Trump's extended post-convention confrontation with the Muslim-American Khan family is unlikely to improve those numbers.)"These voters disdain Trump as much or more as anyone else in the electorate," Baumann said.
Those harsh verdicts span familiar divides. While older blue-collar white voters provide the foundation of Trump's support, Baumann's poll found that about seven-in-ten non-college white Millennials viewed Trump as a racist and disrespectful to women, little different than their college-educated counterparts.
And yet even though roughly three-fourths of all battleground-state Millennials expressed these disparaging views of Trump, the survey found Clinton drawing just 43 percent against him in a four-way race that included libertarian Gary Johnson and Green Party candidate Jill Stein. While Trump attracted only 24 percent, nearly as many picked Johnson or Stein, and the rest said they were either undecided or wouldn't vote. By comparison, Obama carried two-thirds of Millennials in 2008 and three-fifths in 2012.
The core of Clinton's problem: About one-fifth of Millennials surveyed said they would vote for Sanders against Trump, but not for her. Two-thirds of those Sanders hold-outs said they see "no real difference" between Clinton and Trump on the issues they care most about. Sanders "was trying to paint her as a tool of the oligarchs and neo-conservatives," said Baumann. "And he had some success."
That lingering alienation surfaced in the often belligerent protests from Sanders die-hards at last week's Democratic convention. Tulchin said Clinton will benefit among Sanders supporters from her move toward him on some issues (particularly tuition-free public college) and as the frame of comparison naturally shifts from her and Sanders to her and Trump. Clinton's tougher challenge, he said, will be conveying the authenticity and impatience for change that Sanders projected. "She has to come across as something she typically hasn't been," Tulchin said.
Democrats, as Clinton might put it, will deploy a village to mobilize Millennials. Sanders will campaign for her, as will young entertainment figures. The NextGen Climate group is targeting over 200 campuses in seven battleground states and Clinton's campaign is building its own campus-based organization. "It is basically going to be non-stop once…schools are in session," said Sarah Audelo, Clinton's Millennial director.
Clinton's best asset is that so many Millennials see Trump as antithetical to the inclusive, diverse America they welcome. But Baumann said that cultural affinity likely won't be enough to generate the Millennial turnout and margins Clinton needs. On issues from student debt to climate, he said, "They want to vote for somebody who has positive positions that they think will make America better, and at least before the convention they weren't seeing that from Hillary Clinton." In the growing ranks of Millennial voters, Clinton isn't running so much against Trump as against the lingering doubts about her passions and priorities.