Clinton's End-Run Around the Press
A campaign with a reputation for avoiding the media finds new ways to generate positive publicity in a digital era.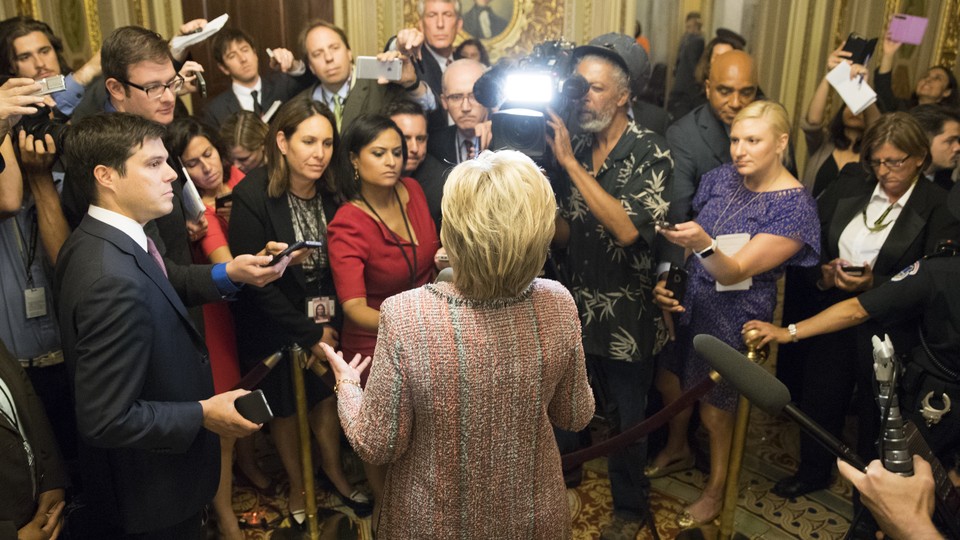 An article recently popped up on my Facebook feed with the headline: "8 Hollywood women who took a stand for progress and inspired us." At first glance, it looked like it had come from a media outlet dedicated to viral content. In fact, it had been created by the Hillary Clinton campaign. The article features A-list celebrities like Amy Schumer and Jennifer Lawrence taking a stand on a variety of liberal causes. At the end, it reads: "We couldn't agree more—equal rights, gun safety, racial justice and equality are all issues Hillary is fighting for." A campaign with a reputation for keeping the media at a distance is finding new and innovative ways to generate positive publicity of its own making.
Digital media makes it easy for politicians to speak directly to voters without relying on the press—and the Clinton campaign is taking full advantage of that. The campaign is hard at work constructing a narrative about what's at stake in the 2016 election, one that's designed to leave voters with a favorable impression of Clinton. In addition to creating content that's easily shared on social media, the campaign recently debuted a podcast, With her. The podcast humanizes a candidate who is disliked by many voters and frequently caricatured as stiff and robotic. It's doing quite well: Launched less than a week ago, With her quickly topped the charts.
After spending years in the public eye, Clinton is famously wary of reporters and has a reputation for hating the media. She has accused the media of subjecting women to a double standard, and she has mastered the art of ignoring questions from the press. As the campaign's podcast, website, and social-media accounts spread a carefully stage-managed message, reporters lament a lack of access and media outlets complain about the infrequency of Clinton's press conferences. All of which raises a few questions: Does media generated by the campaign come at the expense of traditional media outlets? What would a president skeptical of the media mean for transparency and accountability in the White House? Clinton may not want to be put on the spot with uncomfortable questions, but that doesn't mean American voters don't want answers.
As the front-runner, it benefits Clinton to keep a low profile on traditional media. Donald Trump's campaign looks like it has been set to self-destruct in full view of every major cable television network. Clinton can step aside and let Trump generate negative headlines, and polling suggests voters won't hold it against her. But that could leave the public worse off. The Clinton media strategy is not necessarily surprising, but it is "highly problematic," said Kathleen Hall Jamieson, the director of the Annenberg Public Policy Center at the University of Pennsylvania. "There's a tactical advantage to ducking the press when it looks like you are poised to win," Hall Jamieson said, "but it means that the public is less informed. It can also leave candidates less prepared to respond to tough questions."
The campaign and the candidate resist charges that Clinton avoids the media. "I've done nearly 300 interviews just in 2016. I believe that it's important to continue to speak to the press, " Clinton told CNN's Jake Tapper in May. That number has risen to "nearly 400 interviews this year, which amounts to thousands of questions from press, national and local," according to the campaign's traveling press secretary, Nick Merrill. The campaign also points out that there are other opportunities for the media to interact with the candidate on the campaign trail. As far as the campaign's digital-media messaging: It's not easy to cut through the noise created by the constant controversy surrounding Trump. From the perspective of the Clinton campaign, taking their candidate's case directly to the public as often as possible is not just good strategy; it's crucial for the fate of the country.
Of course, not all media is created equal. It's worth considering what is sacrificed when a candidate gives less airtime to certain formats. Sure, sit-down interviews can lead to revealing exchanges. But press conferences are a more freewheeling format that allow for questions from a broader range of journalistic voices at once. Working in tandem can help journalists pry more information out of a politician than they otherwise could in a one-on-one interview, particularly when reporters have the benefit of answers to questions they may not have even thought to ask. The role of traditional media as a trusted gatekeeper has also diminished at a time when social media makes self-publishing eminently possible. As presidential campaigns increasingly get their message out without the press, the public may rely on the media as an important source of information less and less.
It's one thing to attempt to generate positive coverage in print media and network television. It's another to simply manufacture your own. In addition to With her, an entire section of the Clinton campaign website is devoted to showcasing Upworthy-style content. Most of the headlines are overtly pro-Clinton or anti-Trump, though at times the connection to the campaign is less obvious. Here are a few examples:
"Read the letter this Republican wrote to his daughter about Hillary Clinton."
"Was this Donald Trump's worst week ever?"
"How easy is it for a convicted felon to get a gun?"
"The Supreme Court just handed down a major abortion ruling. We can't take this victory for granted."
"Un veterano y congresista a quien le han dicho 'regresa a México.'" (Some of the content appears in Spanish.)
Most of the headlines read like they could be coming from a left-leaning blog or website. The content is glowing. It's inspirational. It's ready-made for social media. The podcast achieves a similar effect by giving Clinton a chance to introduce herself and to sound relatable. In the first episode, co-host Max Linsky, who identifies himself as "a huge supporter of Secretary Clinton," starts off with a disclaimer: "I'm not a journalist, and I'm not impartial." He asks Clinton what an average day is like and what she thinks about before falling asleep. "Probably my grandchildren," Clinton replies. "When I just can't think about anything else because I'm just so burnt out, I'll take my phone out and look at all the little videos and the pictures."
Clinton isn't so much breaking ground as she is modernizing political messaging. In various ways, she is building on what President Obama did while running for office. "With the Clinton campaign, it seems like they've basically paid attention to all the best practices from the previous few years and have updated them to fit the times," said Jesse Baldwin-Philippi, a professor of new media at Fordham University, noting that the Obama campaign "had a blog where they highlighted what the campaign was doing in a way that got supporters to feel really connected to the campaign."
It may be updated for the digital age, but the Clinton campaign's media strategy fits the mold of time-worn political tradition: Make the candidate look good, and attempt to minimize any and all bad press.
So, how likely is it that a campaign media strategy carries over into the White House? Presidents do have a certain degree of power to set terms of engagement with the press. Obama, for example, also seems to prefer interviews over press conferences. But even if a president attempts to meet the press on terms that will be favorable to him or her, that doesn't mean a commander-in-chief could easily shun the media. "That would be unlikely, not just based on tradition, but based on self-interest," said Martha Joynt Kumar, a presidency scholar who writes about White House communications.
The way a candidate behaves toward the media on the campaign trail doesn't necessarily translate to how they treat the press in the White House. For one thing, there are different incentives to granting media access when someone is a candidate as opposed to a sitting president. A President Clinton would need the press to sell her policy ideas to the American public and to implement her agenda. She would face more pressure to do so than she does now in a matchup against Trump. But that doesn't mean that there isn't already anxiety among the press corps.
As Anne Gearan of The Washington Post recently told Politico:
From the Clinton side of it, certainly we have concerns that she is starting out with print organizations at a level of remove that is concerning to us … There are certain institutional norms that are in place at the White House for the way press access is treated. Those are not by right or law, they are as a result of negotiations and custom over a considerable amount of time. We certainly hope at this point in time there's no consideration by the Clinton campaign that if she becomes president, she'd relax or go back on any of the current set of accommodations that are provided to the press in the White House.
Then there's the legitimacy of the press. Trump's campaign is Exhibit A in how to undermine Americans' confidence in the media's ability to accurately report the facts and vet a candidate. Though he regularly makes himself available for interviews, Trump has taken to calling the media "disgusting" and "corrupt." He recently said that if it weren't for harsh treatment at the hands of reporters, he would be beating Clinton by 20 percent. Trump's media tactics are extreme, and the Clinton team's strategy shouldn't be compared to it. But if campaigns on both sides of the aisle have a reputation for either loathing or evading the press, will voters lose even more faith in the media than they already have?
"I think that it has long been a dream of campaign practitioners who work in the digital space to speak directly to citizens themselves without the filter of journalists and journalism," said Daniel Kreiss, a professor of political communication at the University of North Carolina-Chapel Hill. "But at the end of the day, I don't think journalism will be displaced. People understand that campaigns will try to create strategic communications, but I think the public is still attuned to the critiques that journalists offer of the candidates."
The Clinton campaign will undoubtedly look for new ways to modernize its messaging in a changing social-media landscape. And reporters will almost certainly continue to lament a lack of access to the candidate. But barring a fundamental change in the dynamics of the race, the campaign is unlikely to dramatically shift its media strategy. That is, unless Clinton campaign officials decide to cede the airwaves entirely to their opponent, as he engages in one viral act of self-sabotage after another.