Hillary Clinton's Latest Email Scapegoat: Colin Powell
The Democratic presidential nominee has reportedly said privately that the former secretary of state encouraged her to use a personal address for State Department business.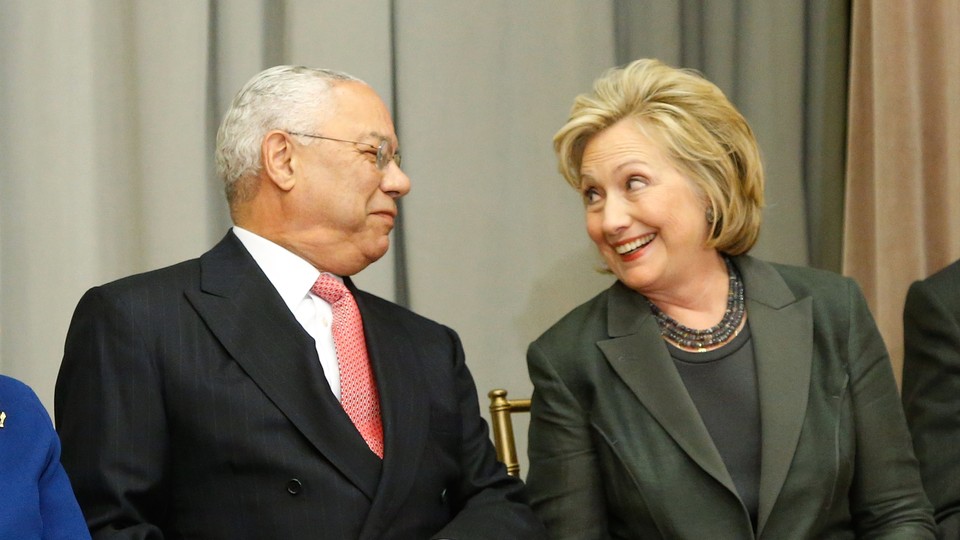 Hillary Clinton has struggled for months to find a satisfactory explanation for why she chose to use a private email server and a personal email address while she was secretary of state, a choice that FBI Director James Comey described as resulting in "extremely careless" handling of classified information. Publicly, none of her excuses have met with much success.
Privately, however, Clinton seems to have found one scapegoat: former Secretary of State Colin Powell. It has long been known that Powell used a private email address at Foggy Bottom, and Clinton told FBI investigators that Powell recommended she do the same, according to a New York Times report on Friday:
The account is included in the notes the Federal Bureau of Investigation handed over to Congress on Tuesday, relaying in detail the three-and-a-half-hour interview with Mrs. Clinton in early July that led to the decision by James B. Comey, the bureau's director, not to pursue criminal charges against her.

Separately, in a 2009 email exchange that also emerged during the F.B.I. questioning, Mrs. Clinton, who had already decided to use private email, asked Mr. Powell about his email practices when he was the nation's top diplomat under George W. Bush, according to a person with direct knowledge of Mr. Powell's appearance in the documents, who would not speak for attribution.
The Times notes that liberal journalist Joe Conason, a longtime advocate for the Clintons, first reported that conversation between Powell and Clinton.
But the Powell story, even if accurate, doesn't clear things up much. For one thing, as Conason pointed out, Clinton had already decided to use a private email account by the time of the conversation. (The story's subtext, that former and current Cabinet secretaries sit around and discuss ways to circumvent public-records laws, is a separate issue.) For another, Powell used a private email address but not a private server; his address was through AOL.
Powell is not taking kindly to the reports. In response to the Times story, Powell's spokesman issued a statement saying, "General Powell has no recollection of the dinner conversation. He did write former Secretary Clinton an email memo describing his use of his personal AOL email account for unclassified messages and how it vastly improved communications within the State Department."
When People spoke with Powell Sunday night in the Hamptons, he was blunter. "Her people have been trying to pin it on me," he said. "The truth is, she was using it for a year before I sent her a memo telling her what I did." (Powell added, "It doesn't bother me. But it's okay; I'm free.")
Powell is a Republican who served in the George W. Bush administration and was repeatedly mentioned a Republican presidential candidate, but he endorsed Democrat Barack Obama in 2008 and 2012. While several other Republican Cabinet members, including colleagues in the Bush administration, have backed publicly backed Clinton over Republican Donald Trump this year, Powell has not. He has not committed to endorsing any candidate, despite sporadic speculation that a Clinton endorsement is near. It doesn't sound like Powell is especially enamored of Team Clinton at the moment.