Gaffe Track: Donald's Watching More Non-Existent Videos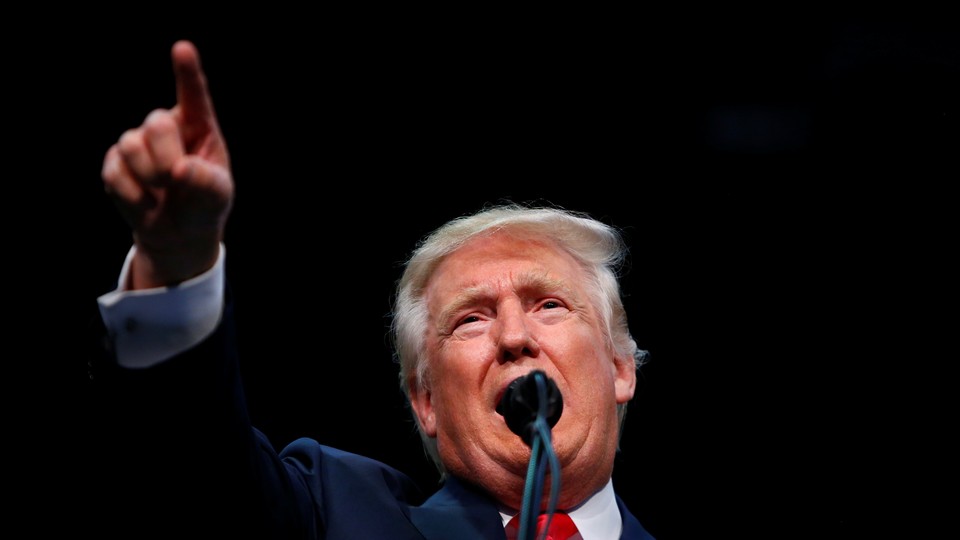 Editor's Note:
This article previously appeared in a different format as part of The Atlantic's Notes section, retired in 2021.
The candidate: Donald Trump
The gaffe: On Wednesday, the Republican nominee talked about watching a video of American officials unloading cash in Iran. The cash was real—a Wall Street Journal scoop revealed it—but there was no video. Trump's spokeswoman admitted that to The Washington Post, saying he was referring to a different video. And yet on Thursday, Trump once again claimed to have watched the video. "I woke up yesterday and I saw $400 million—different currencies, they probably don't want our currency—being flown to Iran," he said in Maine on Thursday. "You know it was interesting, because a tape was made, with the airplane coming in, nice airplane, and the money coming off I guess. That was given to us, has to be, by the Iranians. You know why the tape was given to us? Because they want to embarrass our country."
The defense: The first time Trump made the claim, it was plausible he was just confused. But now?
Why it matters (or doesn't): There are two possibilities, neither especially flattering. One is that the campaign knows Trump is mistaken, but no one bothered to tell the candidate, leaving him to make a public gaffe. Another is that Trump knows quite well and doesn't care. It takes a special sort of brazenness, and a certain kind of faith in one's base, and probably a certain sort of delusion about how politics works, to assume that you can get away with lying about this. It's not the first time Trump has claimed to have seen a video that didn't exist—like when he described tape of Muslims supposedly celebrating 9/11 in New Jersey. So maybe Trump really does believe he saw the tape. Which isn't a good sign either.
The moral: The camera doesn't lie, but the candidate might.