Trump-Loving Christians Owe Bill Clinton an Apology
Conservative evangelicals were unwilling to offer forgiveness to a Democrat who asked for it. But they have freely offered it to a Republican who doesn't want it.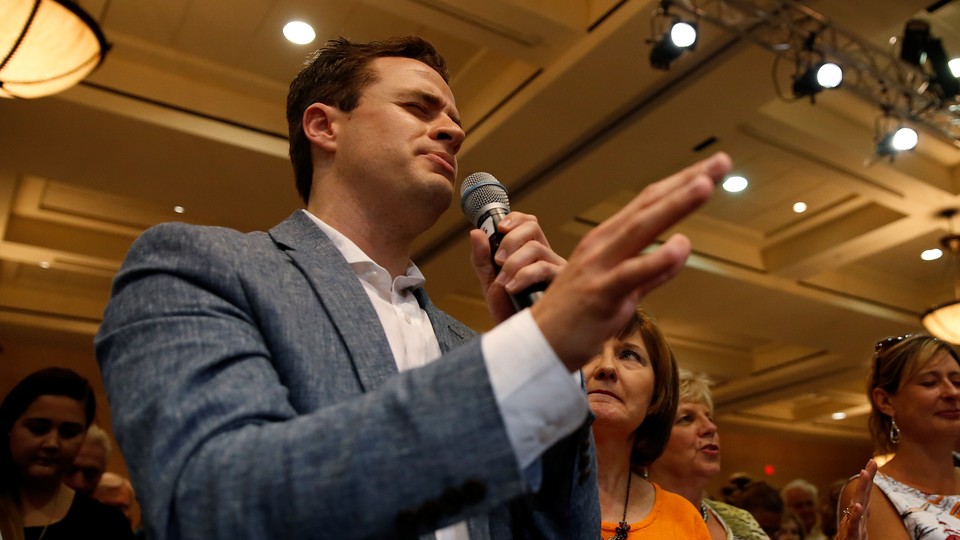 "Character counts." That was evangelicals' rallying cry in their all-out assault against Bill Clinton beginning in 1993. In response to what they perceived as widespread moral decline, some religious groups had become aligned with the Republican Party during the Ronald Reagan and George H.W. Bush administrations. To them, the allegedly draft-dodging, pot-smoking, honesty-challenged womanizer symbolized everything that was wrong with America.
More than two decades after Clinton's first inauguration, many evangelical leaders of that era have endorsed the draft-dodging, foul-mouthed, honesty-challenged womanizer named Donald Trump for president. Only a handful refuse to follow suit, including Albert Mohler, the president of The Southern Baptist Theological Seminary. During the Clinton years, he regularly argued in mainstream media outlets that the Arkansan was morally unfit to serve as Commander-in-Chief.
"If I were to support, much less endorse, Donald Trump for president," Mohler says, "I would actually have to go back and apologize to former President Bill Clinton."
At least Mohler is consistent, which is more than can be said for some of his peers in leadership. While prominent evangelicals tied Bill Clinton to the public whipping post for nearly a decade to make him pay penance for his character defects, they now celebrate a reality-television star who is at least as flawed. As Mohler said, if these Christian leaders want to endorse Trump, they should apologize to Bill Clinton.
Ever since the sexual revolutions of the 1960s, conservative Christians have been especially focused on sexual immorality. Many believe in staying abstinent until one's wedding day and forbid sex outside of opposite-gender marriage. Clinton's sexual scandals convinced evangelicals that the president would lead America further away from its "Christian roots." When Monica Lewinsky produced her infamous semen-stained dress, Clinton went from morally questionable to a moral disgrace in their eyes.
The televangelist Pat Robertson once called Clinton a "debauched, debased, and defamed" politician who turned the Oval Office into a "playpen for the sexual freedom of the poster child of the 1960s." It's difficult to understand how Robertson could tell Trump recently, "You inspire us all."
The Republican candidate has been married three times, and it is widely believed that he was unfaithful during each relationship. When he was deposed in the divorce proceedings with his first wife, Ivana, he invoked the Fifth Amendment 97 times to avoid answering questions about questions regarding "other women." He married his second wife, Marla Maples, two months after she gave birth to their daughter. Until recently, Trump embraced his reputation as a Manhattan womanizer. In case you are wondering, evangelicals typically aren't big fans of divorce, adultery, or out-of-wedlock pregnancy.
Trump clashes with evangelical ethics in ways that would have killed Clinton's career two decades ago.
Evangelicals during the '90s were not merely concerned with Clinton's private behavior; they were worried about its effect on a society they felt had already abandoned traditional values. In September 1998, James Dobson of Focus on the Family sent a letter to 2.4 million conservative Christians claiming Clinton should be impeached because his behavior was setting a bad example for our children about "respecting women." Dobson's apparent concern for women back then feels like a partisan political move now that he's given Trump an enthusiastic endorsement.
While Clinton, at least, hid his indiscretions, Trump has paraded his affairs down Broadway for decades. In The Art of the Deal, Trump actually bragged about bedding multiple married women. He's slept with so many women that he called his ability to avoid STDs "my personal Vietnam." He's objectified or insulted the women he hasn't married, divorced, or slept with, labeling those he finds unattractive with terms like "fat pig," "dog" or "slob." In numerous interviews with Howard Stern, he talked in graphic detail about his sexual exploits and discussed which female celebrities are worth a "bang." How exactly do evangelicals reconcile this behavior with claims that they value respect for women?
In addition to Clinton's sexual misconduct, evangelicals were particularly concerned with his alleged lies. But how, then, can they support the real-estate mogul's candidacy? Donald Trump plays at least as fast and loose with the truth as Clinton did. From the size of his net worth to his claim that thousands of people in New Jersey cheered when the World Trade Center was attacked on 9/11, Trump fibs constantly. The website Politfact factchecked the GOP candidate 182 times and found that his statements were "true" or "mostly true" only 19 times. In 2015, the organization awarded Trump its "lie of the year."
Trump's character clashes with evangelical ethics in ways that would have killed Clinton's political career two decades ago. Conservative Christians typically oppose pornography, but in 1990, Trump appeared on the cover of Playboy magazine. In 2006, he rewarded an "Apprentice" team with a trip to the Playboy Mansion. Conservative Christians also typically oppose gambling, but Trump has made millions as a largely failed casino owner. In 2013, he opened the nation's first casino strip club: Atlantic City's Trump Taj Majal.
Given all of this, it's perplexing that the former Christian Coalition executive director Ralph Reed declared that "character matters" when it came to Clinton but privately offered to run Trump's campaign in 2012. It's hard to understand how the former Family Research Council head Gary Bauer ran television ads in the '90s calling for Clinton's resignation due to a "virtue deficit" but now supports Donald Trump. It's confounding that the theologian Wayne Grudem signed a public letter lambasting former-President Clinton for "ill use of women" and "manipulation of truth" but recently wrote a 5,000-word endorsement of Trump, calling him "a good candidate with flaws" and arguing that people who vote for Hillary will be sinning.
All of this signals something bigger: an end to meaningful evangelical power and influence.
Many evangelicals have worked hard to rationalize their endorsements. Dobson excused Trump's behavior because he is a "baby Christian." The author Eric Metaxas claims Trump is the lesser of two evils because Hillary is more like Hitler. Pastor Robert Jeffress argues that his fellow Christians should vote for Trump because "at least he likes us." No matter which rationale they choose, these evangelicals' double standard is undeniable.
Although both Bill Clinton and Trump have a morally checkered past, only one of them has apologized for his failings. In September of 1998, a solemn Bill Clinton asked that the country, his family, and God to forgive him, saying, "I have sinned." Evangelical leaders largely dismissed his apology and continued their calls for impeachment. By contrast, Trump says he has never asked God for forgiveness. Conservative Christians were unwilling to extend mercy to a Democrat who asked for it but have offered it freely to a Republican who doesn't want it.
All of this signals something bigger: an end to meaningful evangelical power and influence. Since the late 1970s, conservative Christian leaders have claimed their political engagement is about morality. They have claimed it is about character. They have claimed it is about values. They have claimed it is about biblical principles. Pious preachers, thunderous televangelists, and moralizing activists have sold America a bill of goods about their pure motivation for decades. But evidence indicates that evangelical political engagement is really about cultural influence, social dominance, and power.
Trump-loving evangelical leaders should either apologize to Bill Clinton or admit, after all these years, that they, too, have a character issue.