Feds End Use of Private Prisons, but Questions Remain
The government's decision to stop using corporations to manage the federal prison population could have unintended consequences.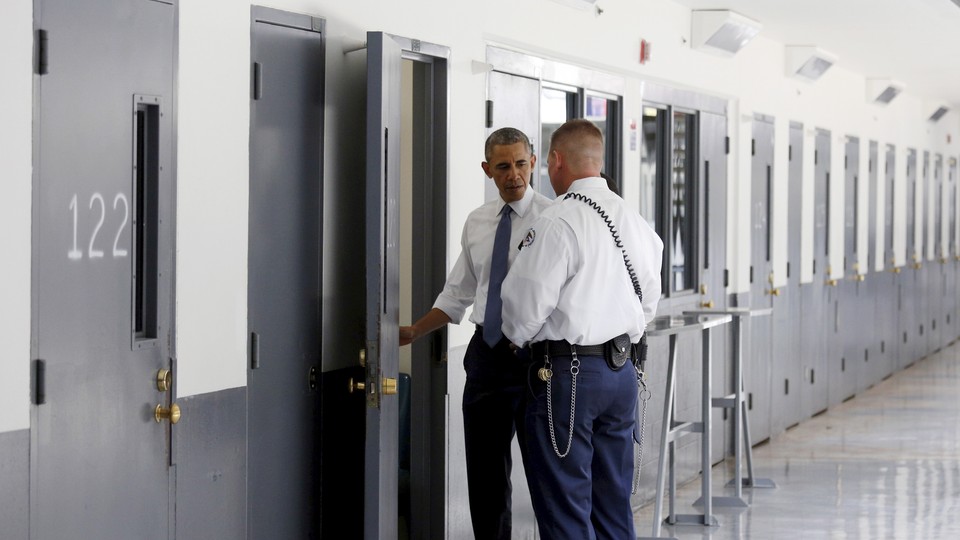 The Department of Justice today announced it will phase out its contracts with private prisons, calling the prisons unsafe, expensive, and ineffective in reducing recidivism.
About 22,000 of 193,000 federal prisoners are held in such facilities, adding up to 11 percent of the population. Though meaningful as a gesture of the government's commitment to reducing the number of people in prison, the move will have limited impact on the 2.2 million people in federal and state custody. The decision also leaves important open-ended questions about potential unintended consequences.
While any reduction in the federal prison population will be welcomed by those released, their families, and by reform advocates, the majority of inmates reside in state or county facilities. Only one in eight federal inmates was in a private facility in 2015. Consistent review of and changes to federal and state sentencing guidelines, more humane pre-trial bargaining by prosecutors of low-level offenders, increased used of probation instead of jail time, and a more judicious application of bail practices would do far more to reduce the incarcerated population. Those actions would also mean real strides toward a less punitive penal system.
Another set of concerns has to do with the private prisons' business model. They make money from warehousing people, and will need to refill their buildings in order to remain in operation. Where will they find institutional or governmental clients who can generate and replenish the tens of thousands of bodies needed to fill their facilities?
There's a great likelihood they will turn to states that don't already employ them. The potential implications for states of entering into contracts with private prisons range widely. For example, there are serious financial considerations, as it costs more to house a prisoner in a private institution than in a public one. Marc Mauer, executive director of The Sentencing Project, attributes the use of private prisons with facilitating "the unprecedented growth in incarceration, particularly in the federal system." He characterized their use as "a stain on our democracy" that allowed "profit-making entities to be handed the responsibility of making determinations of individual liberty."
One potential new customer for private prisons is U.S. Immigration and Customs Enforcement, which has increased the number of people it holds for processing throughout the country. Comprised almost entirely of undocumented immigrants, including children and families, the average daily ICE detained population in 2013 was 33,811, according to one study. A 2015 report by Conference of Catholic Bishops and The Center for Migration Studies called Unlocking Human Dignity reported a similar number:
The U.S. immigrant detention system grew more than five fold between 1994 and 2013. During these years, the average daily detained population rose from 6,785 to 34,260 ... The number of persons detained annually increased from roughly 85,000 persons in 1995 to 440,557 in 2013 ... More persons pass through the U.S. immigrant detention system each year than through federal Bureau of Prisons facilities.
At the moment, ICE uses county jails as satellite locations, for a total of 111 detention facilities. But stories of mistreatment and poor living conditions in some centers cast doubt on  private prisons' ability to deliver adequate housing. A scathing report released last week by the Justice Department indicates that private prisons' standard of care falls short of federally administered facilities. Yates summarized it thus in her memo:
They simply do not provide the same level of correctional services, programs, and resources; they do not save substantially on costs; and as noted in a recent report by the Department's Office of Inspector General, they do not maintain the same level of safety and security. The rehabilitative services that the Bureau provides, such as educational programs and job training, have proved difficult to replicate and outsource, and these services are essential to reducing recidivism and improving public safety.
Twenty years ago when the federal government first contracted with private prisons it did so in response to several factors:
In the 1980s, the public's frustration over a perceived failure of the penal system to rehabilitate offenders and a reluctance to provide more funding for correctional institutions, coupled with the increasing demand for more jail space, precipitated a crisis. One proposed solution that emerged was the privatizing of prisons and jails by contracting out, in part or in whole, their operations.
The results of the rapid overcrowding of federal prisons due to the acceleration in drug and low-level offenders who were sentenced under a sweeping crime bill that instituted harsh sentences for drug crimes, even those as minor as possession, still echo today in a generation of lost young men sentenced as youth and now in their 30's and 40's. The growing public disenchantment with poorly run facilities that were not actually rehabilitating inmates has morphed into a palatable frustration with a bloated system that still cannot effectively help people overcome the circumstances that landed them there. Lastly, private prisons  have not resulted in significant cost savings as promised.
The pitfalls of the crime bill and the lasting consequences that resulted for urban centers have been well documented, especially in poor and people of color populations. More importantly, we now have enough information to understand that people end up involved with the criminal justice system for reasons other than criminality. Mental health issues, chronic homelessness, severe addiction, and post-military PTSD are among the more easily recognizable precursors to incarceration. All of them require prevention via early screening, housing-first policies, medical treatment, and other alternatives that do not include jail time.
Private prisons are a byproduct of a moment in which our country lacked the empathy and imagination to act proactively in the face of a mounting crisis. The Justice Department's decision to sever its relationship to them signals a willingness to address the current incarceration crisis with knowledge, foresight, and empathy.