Donald Trump's Big-Spending Infrastructure Dream
The Republican nominee's push to pour more money into roads and bridges than Hillary Clinton is his latest break with conservatives, and it's drawing criticism from one of his own economic advisers.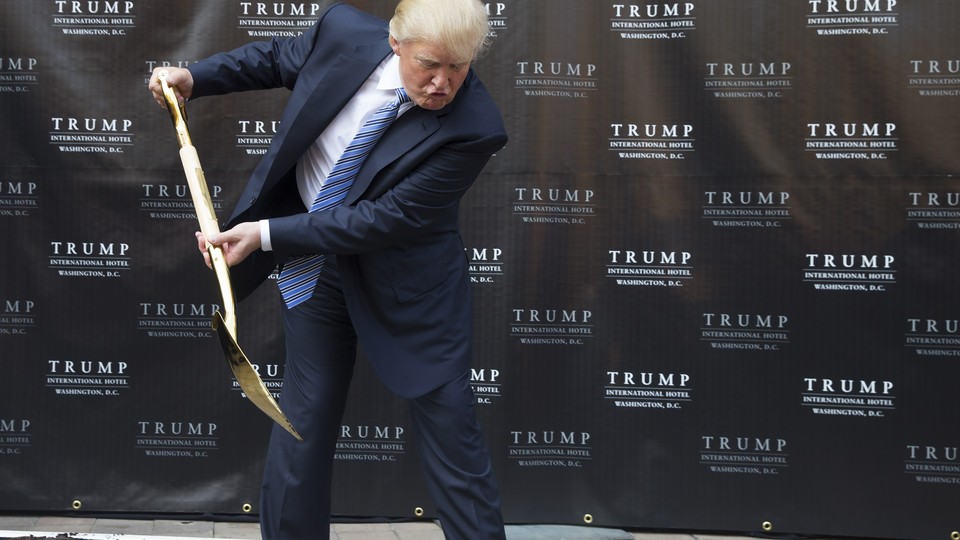 Donald Trump, builder of hotels, casinos, luxury apartment buildings, and golf courses, now wants to rebuild America. He wants to, as he said on Monday in Detroit, "build the next generation of roads, bridges, railways, tunnels, sea ports, and airports."
And he wants to spend a heck of a lot of money to do that.
Hillary Clinton has proposed $275 billion in direct spending on infrastructure over five years, plus another $225 billion in loans and loan-guarantee programs. That's not nearly enough, according to Trump.
"Her number is a fraction of what we're talking about. We need much more money to rebuild our infrastructure," the nominee of the party of limited government said last week in an interview on the Fox Business Network. "I would say at least double her numbers, and you're going to really need a lot more than that."
As with so many of his proposals, Trump hasn't put out a detailed plan. But one is coming in the next several weeks, a campaign adviser told Bloomberg News. For now, Trump's rhetoric on infrastructure is remarkably similar to that of Clinton and President Obama, who has spent nearly six years trying to persuade conservatives in Congress to support the kind of major public-works program that Democrats began to fund in the 2009 economic stimulus package. According to arguments that both Trump and Obama have made, huge new investments in infrastructure would reverse decades of decay in the nation's public transportation arteries and create millions of jobs.
That philosophy is anathema to conservatives who have long derided the stimulus package and the underlying push for more federal spending on infrastructure. "This is right out of the Obama playbook," said Michael Sargent, a research associate at the Heritage Foundation. Sargent said it was "fairly ironic" for Trump to be touting a major infrastructure plan when he is simultaneously attacking Clinton for offering "more of the same" economic policies. "This is literally 'more of the same' of what she's proposing," he said. Like other conservatives, Sargent argued that Trump's assertion that America's roads and bridges are "crumbling" is an exaggeration.
Trump's devotion to infrastructure draws criticism even from his own economic advisers. On Friday, the Trump campaign named Stephen Moore, a former president of the Club for Growth and well-known conservative economist, as a member of his economic advisory council. Barely two days later, Moore ripped Trump's comments on infrastructure in an op-ed for the Washington Times. "It's a rare source of agreement, so wouldn't you know it: They're both wrong," Moore wrote of Trump and Clinton.
In a phone interview on Monday, Moore told me that while he had discussed issues like taxes, trade, and energy policy with Trump many times, the two had never talked about infrastructure. If they did, Moore said he would tell the candidate: "I don't think we need to spend hundreds of billions on infrastructure. We need states to run infrastructure, not the federal government."
On Capitol Hill, congressional Republicans have largely kept quiet about Trump's promises to spend big on roads, rails, and bridges. House Speaker Paul Ryan, fresh off his latest public spat with Trump over his primary campaign, has responded with the rhetorical equivalent of a brush-off. "House Republicans are focused on our 'Better Way' agenda," Ryan spokeswoman AshLee Strong said in a terse statement. (The 'Better Way' agenda does not include new spending on infrastructure.) The speaker's office also noted that Congress passed a $305 billion, five-year infrastructure bill late in 2015—suggesting that Ryan does not believe an additional infusion of federal money is needed anytime soon.
* * *
The first thing to ask about any Trump policy pronouncement is, "Is he serious, or is this just one more idle musing from a stream-of-consciousness candidate?" It's true that Trump hasn't released a detailed infrastructure plan, and his much-hyped economic policy speech on Monday hewed much closer to the orthodoxies—supply-side tax cuts, less regulation—of the party leadership and donor class.
Yet Trump's embrace of an ambitious infrastructure agenda has been one of the most consistent themes of his campaign, a core plank from the moment he descended his gold-rimmed escalator in Manhattan 14 months ago. ("We have to rebuild our infrastructure," he said then. "Our bridges, our roadways, our airports.") His signature proposal—that big, beautiful wall along the southern border—is, after all, nothing more than an infrastructure project. And while Trump wants Mexico to pay for the border wall, he says American taxpayers and investors should kick in money for a fund to finance road, bridge, and rail projects. "The citizens would put money into the fund," he said on Fox Business. "It would be a great investment, and it would put a lot of people to work."
Advocates for increased infrastructure generally welcomed Trump's support and viewed it as a further demonstration of broad public backing for making the issue a priority. In a poll released on Tuesday and conducted by Morning Consult for the Association of Equipment Manufacturers, a significant majority of voters said the nation's roads, bridges, and energy grids were in need of repair, and nearly half said they had gotten worse in the last five years. Nearly 70 percent also voiced support for more federal spending on infrastructure.
Yet the champions of infrastructure also greeted Trump's comments with wariness, noting that he was the latest in a long line of politicians to promise more money without offering a concrete way to sustain funding. "If Obama were saying that, Republicans and even some Democrats would say that's just another way of saying we're going to borrow more money," said Senator Tom Carper of Delaware, a Democrat who could become chairman of the committee with jurisdiction over infrastructure spending next year if his party captures the majority in November.
Carper said he hoped Congress would re-prioritize infrastructure early in 2017 no matter who wins the White House, noting that the bill lawmakers passed last year was "a very disappointing package." Neither candidate, however, has proposed a permanent funding source for transportation and infrastructure projects—either by raising the federal gas tax for the first time in two decades, shifting to a vehicle-miles-traveled tax, or by imposing a tax on barrels of oil, as Obama proposed earlier this year. In addition to his infrastructure fund, Trump has, like some members in both parties, suggested reinvesting money raised by repatriating corporate profits now being kept overseas to avoid U.S. taxes. Economists, however, say that would only fund a few years' worth of spending on transportation projects.
Clinton has said she'd pay for her $275 billion plan by raising revenue through "business tax reform," but she hasn't endorsed a permanent funding source, either. "Compared to doing nothing, Hillary's proposal is brilliant," Carper said. But he lamented that it was politically impossible for her to call for raising the gas tax or another transportation "user fee" in the middle of a presidential campaign for fear that Republicans would use it "to put a noose around her neck." "I would take it all with a grain of salt," Carper said of both proposals.
Ron De Feo, chairman of the Association of Equipment Manufacturers' infrastructure task force, said he saw a familiar lack of long-term vision and specifics from both candidates. "Same old story," he said. "We've looked at this multiple ways, and it always seems frustrating across multiple administrations, multiple majorities." Clinton, De Feo said, had proposed a spending plan that was "an order of magnitude greater than what we've seen before." But he said he worried that her accompanying call for tax increases on employers would counteract the economic benefit. Trump, meanwhile, was predictably short on details. "Donald is crafty and has never been very specific about infrastructure other than to articulate the problem," De Feo said. "I think you've got to ask more questions about what Trump's plan is, because we really don't know."
* * *
If Trump's support for infrastructure spending is inconsistent with conservative economic doctrine, it seems quite consistent with his own. He is, as my colleague Yoni Appelbaum has written, very much a big-government Republican. The expensive border wall. A federal mobilization to deport millions of undocumented immigrants. New barriers to foreign trade. Strengthening the military and increasing support for veterans. Opposition to cutting Social Security and Medicare. All of those positions envision a sustained and even expanded role for the federal government in American life. And for Trump, an emphasis on infrastructure has the added benefit of making a presidential brand—and a legacy—easier to build. Just imagine all the physical signposts—new highways, overpasses, even train lines—that could carry a "Trump Administration" stamp if Congress approves his big spending plan.
For Republicans, however, the biggest immediate fear may be that Trump's bid to outspend Clinton will undo their eight years of work to delegitimize Obama's stimulus and the notion that major infusions of federal spending on infrastructure is a job-creating public good. If Trump wins, congressional Republicans can try to rein in his excesses. But if Clinton wins and tries to push an ambitious infrastructure bill in her first 100 days as promised, she will surely point to Trump's very public support for such measures during the campaign to build momentum. "I do worry," Moore told me, "that this will be an excuse for a big spend-fest."
---
Related Video