Wanted or Not, Trump Shows Up in Louisiana
Seizing on President Obama's absence, the Republican nominee surveys flood damage despite a warning from the state's governor.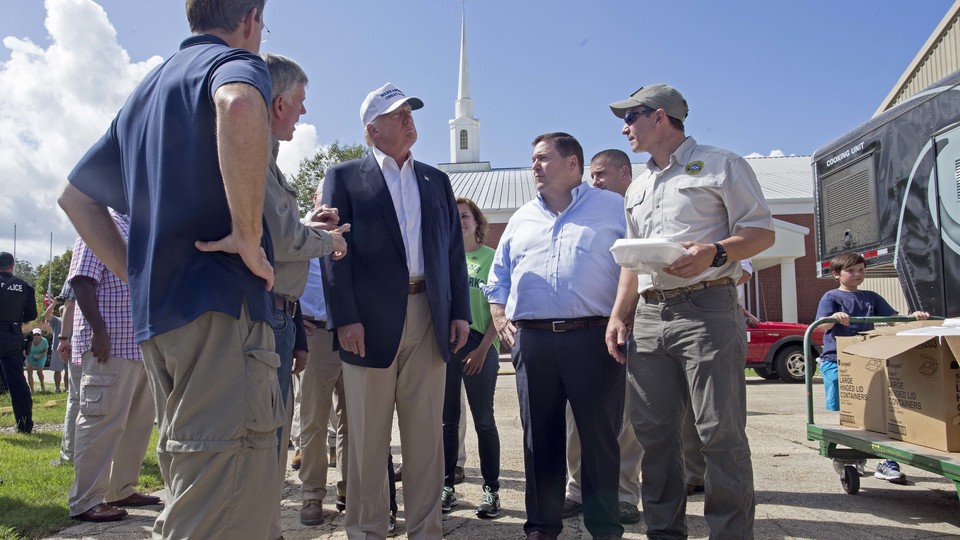 Updated on August 19 at 3:55 p.m.
President Obama hasn't broken from his Martha's Vineyard vacation to tour the flood damage in Louisiana, so Donald Trump went instead.
The GOP nominee and his running mate, Mike Pence, landed in Baton Rouge on Friday morning and were greeted by top Republicans in the state, including the lieutenant governor and House Majority Whip Steve Scalise, the third-ranking Republican in the U.S. House.
One man who did not come out to meet Trump was Louisiana's Democratic governor, John Bel Edwards, who just a day earlier had warned the Republican not to visit Baton Rouge for "a photo-op." The governor's office said in a statement that Trump had not informed Edwards of his planned visit. "We welcome him to [Louisiana] but not for a photo-op," the statement read. "Instead we hope he'll consider volunteering or making a sizable donation to the LA Flood Relief Fund to help the victims of the storm."
The local press in Louisiana has strongly criticized Obama for his silence on the floods, which have left 13 people dead and which the American Red Cross has called "the worst natural disaster to hit the United States since Superstorm Sandy" in 2012. The president has issued disaster declarations for 20 parishes and dispatched Cabinet officials to the region, but both The Advocate in Baton Rouge and the Times-Picayune in New Orleans have called on him to make a personal visit. "A disaster this big begs for the personal presence of the president at ground zero," The Advocate wrote. "In coming here, the president can decisively demonstrate that Louisiana's recovery is a priority for his administration—and the United States of America."
Giving cover to the White House, Edwards declined to join those calls. He told MSNBC's Rachel Maddow on Thursday night that while Obama was welcome anytime, it would be better for him to wait a week or two so as not to divert resources from what remains an active rescue and recovery effort. He noted that a presidential visit requires hundreds of local first responders to help with security and shutting down roads. "It is a major ordeal," Edwards said. "I'd ask him to wait if he would for another couple weeks."
Later Friday afternoon, the White House announced that Obama would visit Baton Rouge on Tuesday; he was due to conclude his vacation in Martha's Vineyard on Sunday. "The president is mindful of the impact that his travel has on first responders and wants to ensure that his presence does not interfere with ongoing recovery efforts," spokesman Josh Earnest said in a statement. "He is also eager to get a first-hand look at the impact of the devastating floods, hear from more officials about the response, including how the federal government can assist and tell the people of Louisiana that the American people will be with them as they rebuild their community and come back stronger than ever."
Trump did not wait for an invitation.
During a visit overshadowed by the resignation of his campaign chairman, Paul Manafort, Trump and Pence landed shortly before 9 a.m. Wearing a white "Make America Great Again" hat, Trump shook hands with dignitaries at the airport before his motorcade made its way through hard-hit East Baton Rouge Parish. He stopped at a Baptist church and met with Tony Perkins, the president of the Family Research Council and a former state legislator in Louisiana. Trump and Perkins joked about Obama's golf game as they chatted, according to Candace Smith of ABC News.
The Associated Press reported that Trump received a warm welcome, as onlookers took breaks from clearing muck out of their homes to wave to his motorcade. At the church, Trump thanked volunteers, signed hats, and asked about the extent of the damage.
Hillary Clinton has said little about the disaster, but on Friday she sent an email to her supporters asking that they donate to the Red Cross. In her note, she said she had spoken to the governor and hinted at why she has no immediate plans to visit: "My heart breaks for Louisiana, and right now, the relief effort can't afford any distractions," Clinton wrote. "The very best way this team can help is to make sure Louisianans have the resources they need."
Six days after torrential downpours dumped more than two feet of rain across Baton Rouge and surrounding parishes, water has been receding from many areas, although others are becoming flooded as it flows south, officials have said. The slow-moving storm damaged more than 40,000 homes, left thousands more without electricity and sent, at one point, more than 8,000 Louisiana residents into shelters. Some shelters were closed by Friday as people moved out, and some schools in Baton Rouge were set to reopen Monday.
Still, the governor has said a full recovery will take months. Whether Trump's visit contributed to that effort is up for debate. While Edwards has praised the federal government's response to the floods and the resources it has dedicated, he acknowledged that a relative lack of national media attention could hamper donations to the Red Cross and other charities. If nothing else, Trump draws attention. And so his few hours in Baton Rouge, though little more than a photo-op, could have had some modest value—whether the governor wanted him there or not.