Is Donald Trump Reversing His Stance on Immigration?
The Republican nominee is pledging to follow an approach that resembles President Obama's.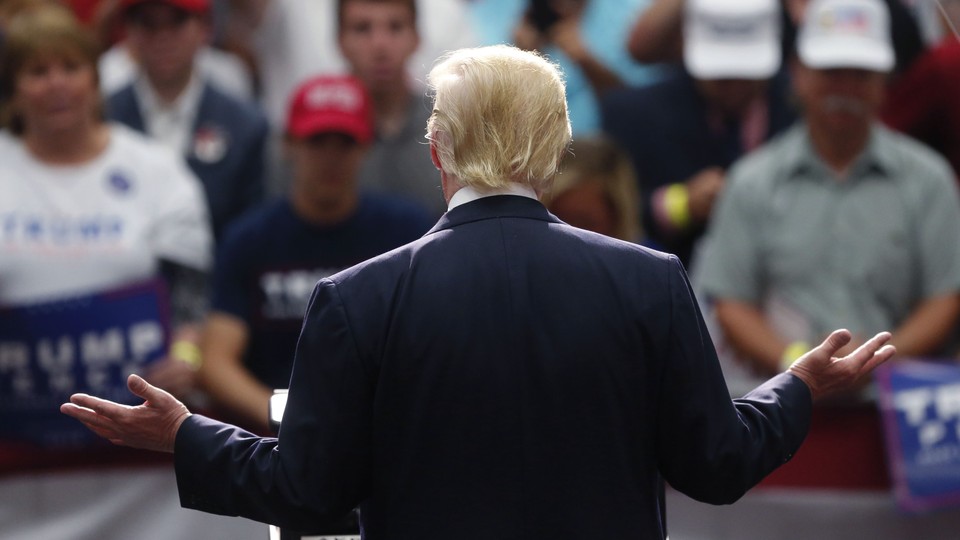 Donald Trump is stepping back from one of the main themes of his presidential campaign: a promise to crack down on illegal immigration. He is now pledging to pursue an immigration policy that resembles President Obama's.
On Monday night, Trump said in an interview on Fox News that "the first thing we're going to do if and when I win is we're going to get rid of all of the 'bad ones.'" As for the immigrant population as a whole, "we're going to go through the process," Trump said, adding, "What people don't know is that Obama got tremendous numbers of people out of the country. Bush, the same thing. Lots of people were brought out of the country with the existing laws. Well, I'm going to do the same thing."
The Fox interview follows a Saturday BuzzFeed report that during a "meeting with his newly announced Hispanic advisory council, Donald Trump suggested he is interested in figuring out a 'humane and efficient' manner to deal with immigrants in the country illegally, according to three sources." The Trump campaign denied that his plans had changed shortly after the account was published. "Mr. Trump said nothing today that he hasn't said many times before, including in his convention speech—enforce the laws, uphold the Constitution, be fair and humane while putting American workers first," said Steven Cheung, a Trump staffer.
But Trump surrogates have started hinting at a shift in recent days. On Sunday, when asked on CNN's State of the Union if Trump would continue to support the forced removal of millions of undocumented immigrants, Trump's newly minted campaign manager Kellyanne Conway said it was "to be determined." Trump, for his part, insisted on Monday that he was not "flip-flopping" on immigration.
Trump is correct that "Obama got tremendous numbers of people out of the country." The number of deportations that took place during the Obama administration far outpace those his predecessors, Bill Clinton and George W. Bush, according to data from the Department of Homeland Security. In 2014, 414,481 people were deported. Earlier this year, Democratic lawmakers criticized the administration following a series of deportation raids focused on migrants who were part of a surge of crossings at the border in 2014. In a letter to Obama, they called for Central American migrants to be considered refugees. U.S. officials argued that the aim of the operation was to discourage further border crossings.
However, both Bush and Obama's immigration enforcement was paired with an effort to get Congress to legalize the 11 million undocumented immigrants in the U.S., something Trump has derided as "amnesty."
Despite the prominence of immigration as an issue in the presidential campaign, the number of undocumented immigrants in the United has been declining since 2008. In 2014, for example, there were 10.9 million undocumented immigrants in the country—a drop from 12 million in 2008.
Trump set himself apart in the presidential primary for his hardline stance on immigration, particularly for his proposal to deport millions of undocumented immigrants at once. During a Republican debate late last year, Trump recalled an initiative by the Eisenhower administration dubbed Operation Wetback, a series of mass deportation which forcibly removed more than 1 million Mexican immigrants.
But after a turbulent few weeks, which included a campaign shakeup, Trump appears to be walking back his divisive rhetoric to some degree. These shifts are likely an attempt to appeal to minority voters who have largely flocked to Clinton. Trump has trailed behind Clinton in the polls among non-white voters. Trump's support among Hispanic voters is slightly below that of the previous GOP standard-bearer, Mitt Romney. In 2012, Romney only garnered 27 percent support among Hispanics, compared to Obama's 71 percent. Trump's support is at 24 percent among Hispanic registered voters.
Trump's new Hispanic Advisory Council for Trump seems to be an attempt to elevate Hispanic leaders within the campaign, but it's unclear whether these efforts can win over Latino voters. "I think that there are folks who have been anxious to see if he was going to 'pivot' or make reaching Hispanics a priority," said Mario Lopez, the president of the Hispanic Leadership Fund, referring to Hispanic conservatives. "I think there certainly are a group of folks eager to see what he's going to do." He added, however, that "there is at least some significant portion of Hispanic conservative community where he's already gone too far. He's not going to get them back."
The Republican National Committee is also deploying efforts to make inroads with minority voters. Earlier this month, for example, it began airing ads on U.S. foreign policy in English and Spanish.
The Clinton campaign chairman John Podesta released a response to Trump's immigration shift on Sunday, saying, "We believe the RNC official in the room, the campaign's statement after the meeting and the candidate himself that Donald Trump's immigration plan remains the same as it's always been: tear apart families and deport 16 million people from the United States."
And on the other side, the Trump campaign is airing ads attacking Clinton for her stance on immigration. "In Hillary Clinton's America, the system stays rigged against Americans: Syrian refugees flood in, illegal immigrants convicted of committing crimes get to stay, collecting social-security benefits, skipping the line, our border open, it's more of the same, but worse," the ad says. "Donald Trump's America is secure."
Such an ad seems to project an image of unwavering firmness on immigration. But while Trump was supposed to deliver an immigration speech on Thursday, it's now been postponed.