Donald Trump Plays Catch-Up
The Republican nominee lagged behind Hillary Clinton by just $10 million in July—the closest he has come to her fundraising totals yet.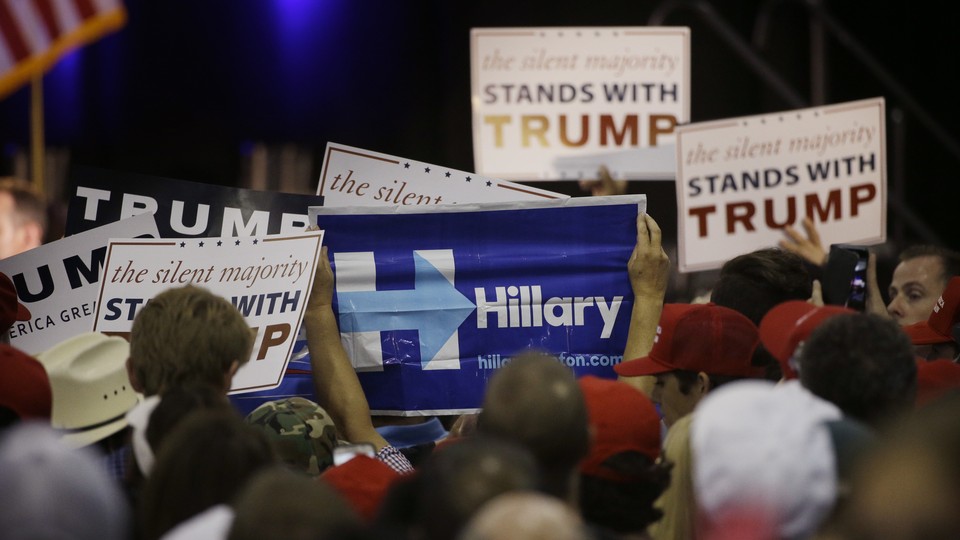 NEWS BRIEF Hillary Clinton had a successful fundraising month—and it appears, so did Donald Trump.
In a statement, Donald Trump's campaign said its digital and direct-mail operations, along with the Republican National Committee, brought in about $64 million in donations last month. The campaign and the RNC "hosted 20 fundraising events throughout the country for Trump Victory raising over $16 million." The total sum then was $80 million. "The results from this month show the enthusiastic movement the campaign has created since we started our online fundraising efforts in June," the campaign said.
Trump's fundraising haul this month is almost equal to Hillary Clinton's. Her campaign announced she had her "best fundraising month." Clinton raised $63 million in July and $26 million for the Democratic National Committee. The campaign attributed the uptick in donations in part to the Democratic National Convention:
[Hillary for America] also saw its best 24-hour period for online fundraising of the campaign with more than $8.7 million coming in online between 8 pm on Thursday, July 28th and 8 pm on Friday, July 29th as Clinton addressed the Democratic National Convention and officially accepted the Democratic nomination.
Altogether, the campaign's fundraising totaled nearly $90 million in July. Clinton will kick off August with $58 million in the bank.
Earlier this year, Trump lagged behind Clinton in fundraising. At the end of May, for example, Clinton's campaign reported having $42 million in her coffers, while Trump had $1.3 million. Trump remain undeterred, saying he'd be willing to spend his own money in the general election. For now, however, that might not be necessary.