Donald Trump's Attacks Divide Military Families
The Republican nominee has upset the VFW and a faction of its membership, and shows no inclination to apologize.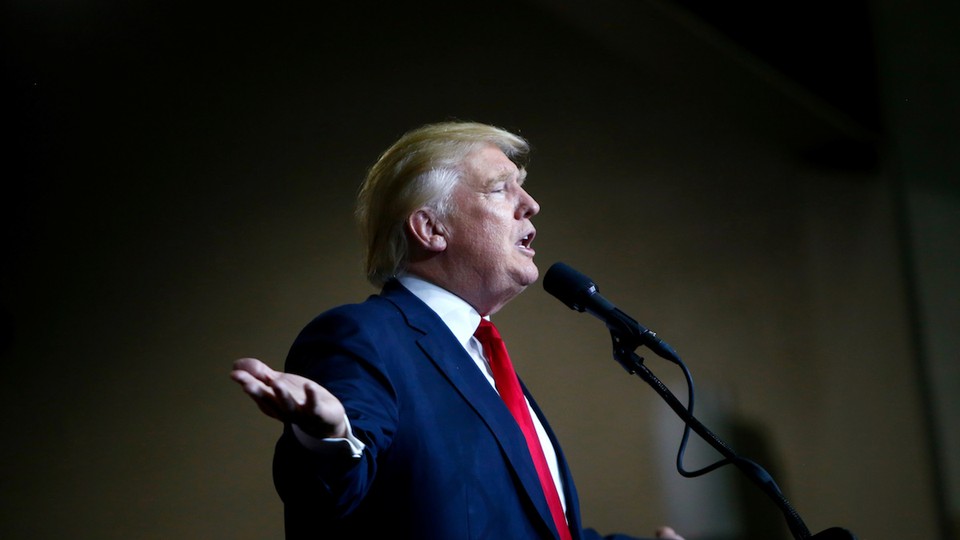 Members of the armed forces, veterans, and their kin are hugely important to Republicans. "Add up active-duty military, reserves, national guard, veterans, and their families—you'll find yourself somewhere north of 30 million people," John Noonan notes at National Review. "That's the second largest voting demographic in the country under Hispanics, and the only one that consistently votes Republican."
Donald Trump is roiling them anyway.
Even as the candidate campaigns on the dubious premise that he'll unite America, he has made a series of statements that predictably divide veterans and their families, even on subjects where there is no need to take any position whatsoever.
This began last summer, when Trump declared that decorated Vietnam veteran and torture survivor John McCain is not a war hero because he got captured. Earlier this spring, he declared that U.S. soldiers would perpetrate war crimes if he so ordered, drawing a sharp rebuke from current and former military commanders.
Most recently, Trump attacked the Khans, whose son died while serving in the U.S. Army in Iraq, because the grieving parents criticized Trump at the Democratic National Convention.
That final story has loomed large in the media for days. And although some Trump supporters say that the press doesn't matter—that their candidate's constituency just disregards all criticism from the MSM—a little digging on social media suggests that America's military subculture is deeply divided by the Republican nominee's recent behavior, with many defending him but many others expressing dismay or disgust.
National Review reported pointed rebukes from prominent veterans groups:
These groups, like the VFW and Gold Star Families, are vehemently apolitical and prefer to stay out of electoral frays. Trump's thin skin, thick head, and wide mouth have forced them off the bleachers and into the fight.
The statement from VFW national commander Brian Duffy, aimed at the organization's 1.7 million members, declared that "Trump has a history of lashing out after being attacked, but to ridicule a Gold Star Mother is out-of-bounds," adding that,  "election year or not, the VFW will not tolerate anyone berating a Gold Star family member for exercising his or her right of speech or expression … There are certain sacrosanct subjects that no amount of word-smithing can repair once crossed. Giving one's life to nation is the greatest sacrifice, followed closely by all Gold Star families, who have a right to make their voices heard."
This prompted a divisive debate on Facebook. Many members objected to the statement.
"VFW is supposed to be non-political," Monica Parrish Noland wrote on its Facebook page, echoing many. "If you want to express a political opinion, don't do it as a representative of the VFW … Hillary Clinton must never become President."
Kate McCabe declared that the VFW "just lost the support of this veteran's wife, veteran's daughter, granddaughter, niece, cousin! How ignorant are you!" She went on to ignorantly repeat prejudicial falsehoods about Khan's intentions, positing that Trump's election "is going to effect Khan's business and maybe his interests in increasing the Muslim population in this country not to assimilate, but to conquer!"
Yet many others cheered the VFW. Ken Russell, a veteran who sells real estate in Florida, declared, "Regardless your political flavor, THIS is the stance of a true Veteran and leader!"
William J. Payne, who served in the 81st Regional Support Command and U.S. Army Reserves, used the opportunity to remind VFW members of other Trump miscues:
Donald J. Trump, "Patriot," a "self made" man, had several student deferments before getting a medical deferment for "bad feet." Must have been because of those cheap shoes he had to wear growing up. In the words of John Fogarty, "I ain't no fortunate son." In other words he is exactly the "Sunshine Patriot" Thomas Paine was talking about... When his country called on him he shirked from his duty, and when he says that he backs our troops, during Vietnam he did so from way back in New York City, just like Jody.

But hey, Mr. Trump did spend time in an elite military school and that provided him with more military experience than most vets and he does know more about ISIS than the generals. And last time I looked he has two strapping adult sons, I guess spending a tour in the service never crossed their minds either, kinda unlike that non hero, loser, former POW John McCain and his family, where his two sons served. Let that be lost on no one, he called POWs losers. And now he is comparing the "sacrifices" that he has has to make in his business life to the sacrifice of Gold Star Parents.

Years ago he would have been booed by veterans but this year as he took the stage at the National VFW Convention my fellow Vets gave him a standing ovation. And I'm NOT advocating for Clinton either. Both choices are bad, when the best thing you can really truthfully say about a candidate is that they are not the other candidate, that's pretty bad.
Bobby Toothaker called the GOP frontrunner "out of bounds":
I am a Life Member, formerly served as an officer.

I am so proud of the VFW and Commander Duffy for the release of this statement. I agree this is out of bounds... Anyone that disrespects our Gold Star family members can be advised where the boundaries are. This isn't the first time Mr. Trump has stepped out of bounds. This is the first time the V has advised him where they are. Commander Duffy would do the same for any public figure who repeatedly disrespects our Veterans.
Lou Chiarella, a U.S. army veteran and Notre Dame graduate, wrote that he is unfit to lead:
I'm SO glad that the VFW publicly took a stand here for Gold Star families and against those who would denigrate their sacrifice for political ends. Of course, this is also the man who also that POWs like Senator John McCain were losers, and has absolutely no understanding of military service. Quite simply, Donald Trump is no friend of veterans and is completely unfit to be Commander in Chief. Our veterans deserve the best and our gold star families do not deserve the continued disgrace.
And Laurie Davies Emmer, a former combat medic who served in Iraq and Afghanistan, complained, "Those of us who served, had loved ones who served and still have loved ones serving cannot compare this type of sacrifice, to the sacrifices of building a billion dollar empire. Gold Star families sacrifices cannot and must not ever be compared to the sacrifices of building a billion dollar empire."
These aren't liberal journalists or elites in the GOP establishment complaining about Trump's statements. They're veterans or people with relatives who have served. Their Facebook accounts suggest that they are mostly white, many live in swing states, and almost all of them are friends on social media with other military voters.
They're showing up at campaign events, too.
At a rally for Mike Pence, the GOP ticket's vice-presidential candidate, a mom with a son currently serving asked about Donald Trump's disrespect for military families, only to be loudly booed by other attendees. There's video of the incident here.
"Trump will still likely win military voters," Noonan writes, "but he needs to over perform with them, because he pathetically underperforms with every other demographic save white males." With the press treating this story as an impetus to investigate how Trump avoided military service during Vietnam, and months to go until election day, it will be interesting to see how these voters ultimately treat a man who claimed bone spurs in youth and grew up to repeatedly shoot himself in the foot.