A 'Come to Jesus' Moment for the Trump Campaign
The Republican nominee's staffers and party officials will meet in Orlando during a turbulent month, Politico reports.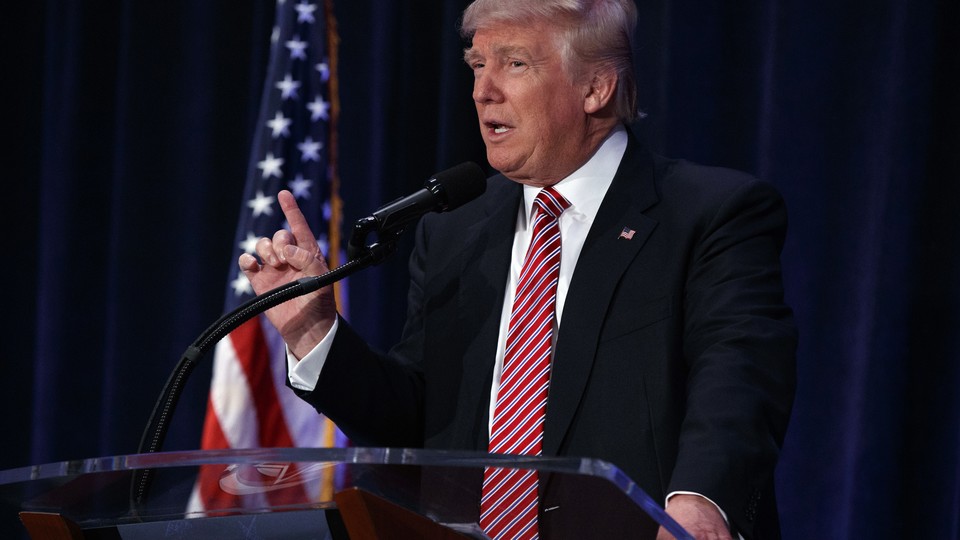 NEWS BRIEF When things seem out of hand, what do you do? You hold a meeting.
Donald Trump's campaign and Republican National Committee officials will be gathering in Orlando on Friday for an "emergency meeting," Politico reports. The meeting comes amid a turbulent few weeks for the Trump campaign, in which Trump attacked the parents of a fallen American soldier, seemingly incited violence against Hillary Clinton, and called Obama "the founder of ISIS."
In recent weeks, a steady trickle of Republicans have come to Clinton's side, and a number of Republicans have vented frustrations over the party's nominee. On Wednesday, the Clinton campaign also formally acknowledged anti-Trump Republicans in an effort dubbed Together for America.
Tensions continue to run high: More than 75 Republicans signed a letter calling on RNC chair Reince Priebus to divert money to down-ballot races, according to The Washington Post. The letter, as reported by the Post, cites a string of controversies as well as "a number of polls that show Trump losing ground to Clinton nationally." For their part, big GOP donors are already looking down the ballot, hoping to secure House and Senate races.
This is all familiar territory for Priebus. As Time put it: "When Donald Trump mucks things up, the first person to let him know is usually Republican Party boss Reince Priebus. Almost every day, Trump picks up his cellphone to find Priebus on the line, urging him to quash some feud or clarify an incendiary remark." Even so, it wasn't supposed to go like this. Last month, the Republican National Convention sought to ease concerns about a fractured party by making a concerted effort to show unity, with some establishment figures like House Speaker Paul Ryan in attendance, but in only a few short weeks, that image appears to be disintegrating.
The meeting on Friday will apparently seek to address these issues, although Karen Giorno, a senior adviser to the Trump campaign, told Politico it's a "typical meeting." More from the report:
The request for the Orlando Ritz Carlton meeting originated with Trump's campaign, according to a source familiar with the broad details, and is being viewed by RNC officials as a sign that the campaign has come to grips with the difficulty it is having in maintaining a message and running a ground game.

"They want to patch up a rift that just keeps unfolding," one source said. "They finally realize they need the RNC for their campaign because, let's face it, there is no campaign."
One source dubbed the gathering a "come to Jesus" meeting. Religion did bring Trump to Florida: On Thursday, he addressed a group of evangelical Christians. In his remarks, he suggested that the road to November looks a little bit tougher than it has in the past.