Donald Trump Plays Catch-Up
The Republican nominee is airing his first ads of the general election starting on Friday, according to media reports.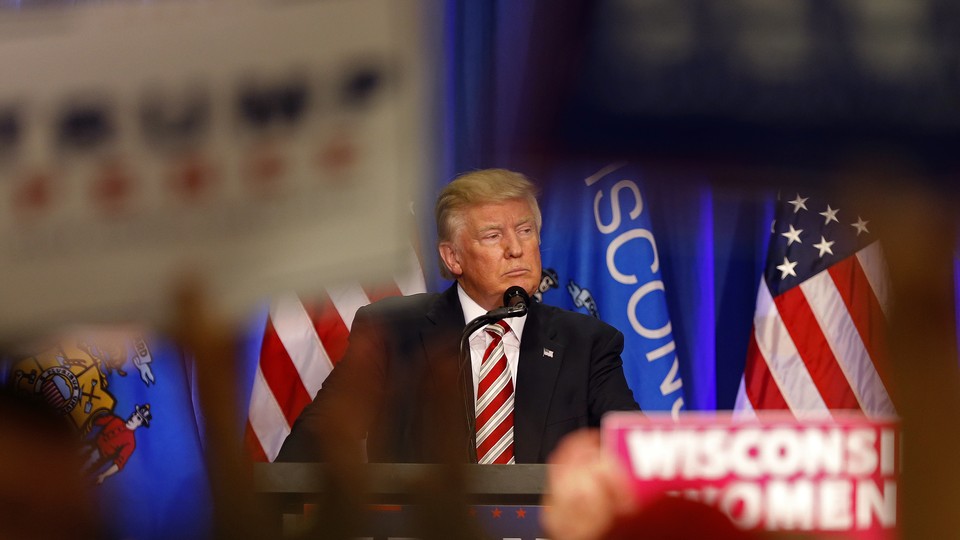 NEWS BRIEF Almost a month since the Republican national convention, Donald Trump is catching up in an area he has yet to wander into—ad spending.
Trump will air ads in Ohio, Pennsylvania, Florida, North Carolina, and Virginia, starting on Friday, according to media reports. The move marks Trump's first ads of the general election, which is shaping up to be a tough battle for the Republican nominee.
Clinton has jumped ahead in Ohio and Pennsylvania, while being tied in Florida, according to a Quinnipiac University poll conducted between late July and early August. It's a reversal from earlier this summer when Trump was slightly ahead in Florida and Pennsylvania. Clinton's lead in battleground states was also evident in a Washington Post poll that found Trump trailing behind in Virginia.
The Democratic nominee has far outspent Trump in advertising. Clinton's campaign has spent roughly $52 million, while Trump's campaign has spent $0, according to NBC News. Trump allies, however, have spent around $8 million, though the figure still pales to outside pro-Clinton groups that have spent $39 million. Such has been the case for some time now: A Los Angeles Times report from July noted that Clinton led Trump "15-to-1 in ad spending." Trump has been the Republican nominee for more than 100 days. Mitt Romney and outside groups, in comparison, spent $38 million by June 2012. Trump's campaign reported having $37 million cash on hand at the end of July.
The Trump campaign's ad purchase could also serve as a signal to Republicans he's taking the transition into the general election seriously. His campaign notified 50 members of Congress about the move in a conference call on Tuesday. According to The Wall Street Journal, "members were told the campaign would begin buying advertising more widely after Sept. 1." Not only is it a possible guarantee to Republicans that the campaign is taking shape, but also to donors who may be hesitant after a turbulent few weeks for the candidate.
The campaign has spent the last month embroiled in controversies, and the GOP has struggled to find unity. Republicans have called on the Republican National Committee to divert its fund to down-ballot races, while others have denounced the nominee and flocked to Hillary Clinton's side. On Wednesday, the campaign announced a change in leadership in what appears to be a reset ahead of November. "I believe we're adding some of the best talents in politics, with the experience and expertise needed to defeat Hillary Clinton in November and continue to share my message and vision to Make America Great Again," Trump said in a statement.
Trump has been in a similar position before. Late last year, Trump's camp announced it had purchased radio ads to roll out in Iowa, New Hampshire, and South Carolina. The ads touted Trump's outsider status as his lead began slipping against another outsider, Ben Carson. Still, the radio ads, "valued at $300,000," are a smaller sum when compared to television ads.
Back in November, when asked about his decision to buy radio ads in an interview  with Today, Trump insisted that he held a commanding lead and that he faced "heat because I haven't spent any money." Months later, Trump finds himself struggling to get ahead, this time with the White House at stake.