The Democrats Clean House
Three top officials are leaving the Democratic National Committee, after hackers made thousands of internal emails public.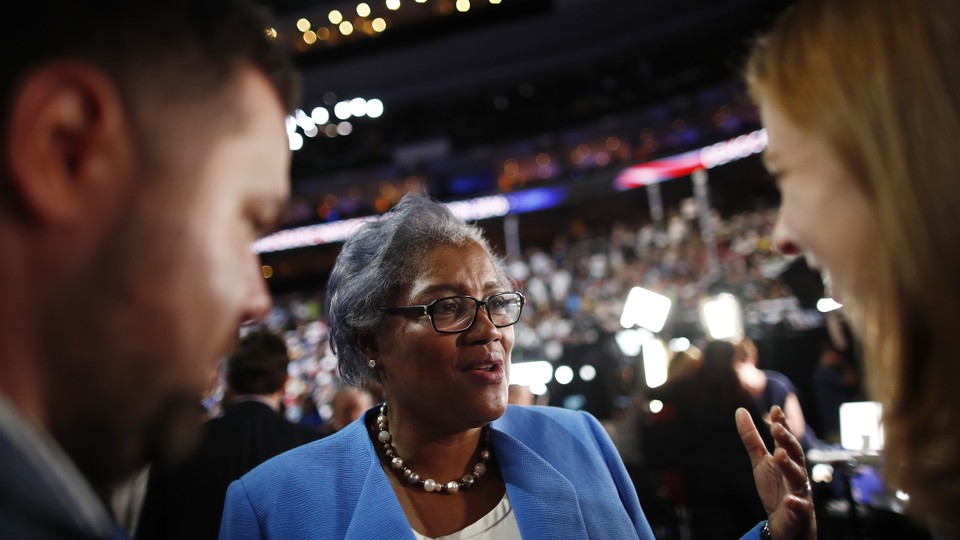 NEWS BRIEF The Democratic National Committee's email hack has claimed more victims. Just over one week since chairwoman Debbie Wasserman Schultz resigned her post, the organization announced Tuesday that three of its top staffers are leaving: CEO Amy Dacey, whose departure was reported earlier Tuesday by multiple news organizations; communications director Luis Miranda; and chief financial officer Brad Marshall.
In a mid-afternoon press release, the staff changes were framed as part of the committee's move "into the general election phase of the 2016 campaign." But that's certainly not all it is: The three officials had been in the spotlight in recent days for emails they'd sent during the Democratic primary, which were subsequently made public. Marshall, in particular, drew fire from Bernie Sanders supporters for suggesting the candidate's religious views be questioned. Dacey, who reportedly resigned, may have done so because the emails, and their disclosure, occurred on her watch.
"Thanks in part to the hard work of Amy, Luis, and Brad, the Democratic Party has adopted the most progressive platform in history, has put itself in financial position to win in November, and has begun the important work of investing in state party partnerships," interim DNC chair Donna Brazile said in the release. "I'm so grateful for their commitment to this cause, and I wish them continued success in the next chapter of their career." She also announced a general-election transition team.
U.S. intelligence officials strongly suspect the Russian government hacked the DNC, though the American government hasn't publicly charged the Kremlin with doing so. Somehow, staffers' emails made their way to Wikileaks, which published them before the Democratic National Convention began last week. The big problem with their correspondence? The emails seemed to confirm Sanders supporters' suspicions that the DNC opposed his candidacy. After the Wikileaks release, Schultz resigned and the Democratic Congressional Campaign Committee discovered its system had been compromised, too.
CNN has more on the internal strife at the committee's headquarters:
The committee is looking to clean house in the wake of leaked emails that appeared to show the committee favoring Clinton over Bernie Sanders during the primary. …

The changes at the DNC come as the Clinton campaign is moving to take greater control of party headquarters in Washington and in states across the country.

Democrats are also trying to get ahead of the disclosure of more emails and internal documents from hacked computer systems, fearful of more embarrassing revelations.
And there could be additional departures to come: "Other senior aides have been expecting the axe to fall on them, too," Politico reported Tuesday, "and there's been a chill around the offices just off Capitol Hill as staffers wait for more resignations or firings."