The Clinton Campaign's Condemnation of Trump's Staff Moves
The Democratic nominee's team says it expects more divisiveness with a Breitbart News executive now in leadership.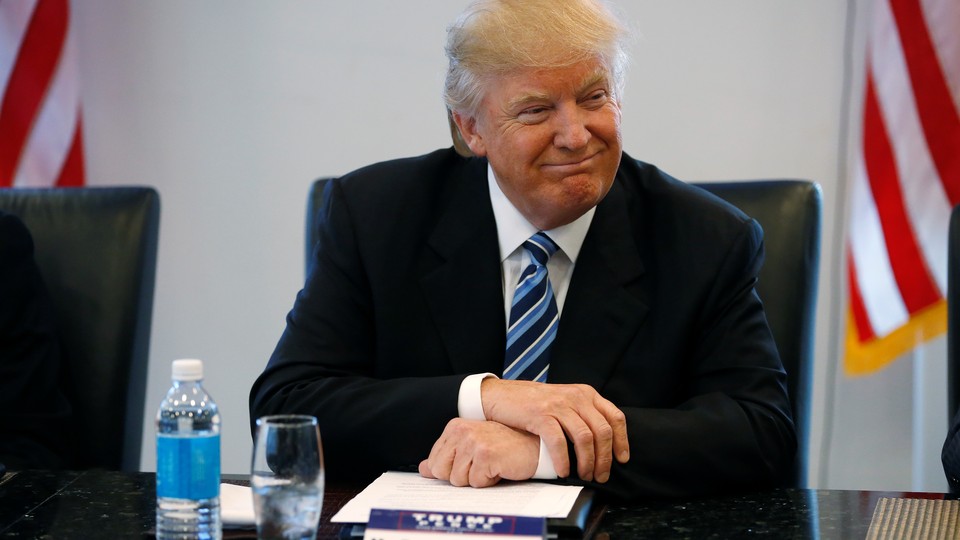 NEWS BRIEF By the Clinton campaign's guess, the notion of a Donald Trump pivot is absolutely, unequivocally dead. Their evidence? Trump's appointment of Stephen Bannon, the executive chairman of the conservative website Breitbart News, as his campaign's new CEO.
"After several failed attempts to pivot into a more serious and presidential mode, Donald Trump has decided to double-down on his most small, nasty, and divisive instincts by turning his campaign over to someone who's best known for running a so-called news site," Robby Mook, Clinton's campaign manager, told reporters on a press call Wednesday. He accused Breitbart of peddling in racism, Islamophobia, and anti-Semitism. With Bannon now in leadership, the GOP establishment's quest to "clean" Trump up is over, Mook suggested, and the candidate has "won the fight to let Trump be Trump."
Bannon's appointment wasn't the only hierarchal shift the Trump campaign announced Wednesday, after news of forthcoming changes broke overnight. Kellyanne Conway, a professional pollster and Trump adviser, had been promoted to campaign manager.
This reshuffling will change, for the second time, which staffers have Trump's ear as the general election continues. Campaign chairman Paul Manafort, who will stay in his position, had taken over from Corey Lewandowski after he was fired in June. But Manafort won't have the same authority he once did: According to anonymous aides who spoke with The Washington Post, Wednesday's changes leave Manafort with a "diminished" role, "due to Trump's unhappiness and restlessness in recent weeks over his drop in the polls and reports over lagging organization in several key states." Manafort's political consulting for pro-Russian forces has also come under scrutiny in the past week.
Since the Republican National Convention last month, Trump's campaign has been marred with controversy despite intermittent attempts by the Republican nominee to focus on policy, and the candidate's critics see Bannon's appointment as a move in the wrong direction. The Clinton campaign, for their part, has tried to capitalize on Trump's mistakes in recent weeks—launching social-media offensives and organizing press calls to highlight his latest contentious move.
In recent days, the Clinton campaign has responded to claims by Fox News's Sean Hannity and Trump himself that their candidate has a serious health problem—a once-fringe conspiracy theory that's been pushed for months by Breitbart. During Wednesday's call, Mook said he expects the Trump campaign to now "double-down" on promoting such conspiracy theories.
Mook reserved most of his ire for Bannon, and didn't mention Conway's promotion during his opening remarks to reporters. Conway—a longtime pollster who specializes in helping male Republican candidates attract female voters—cuts a much less controversial figure than Bannon, and is thus more difficult to vilify. She is a recognizable face to cable-news devotees, and she hasn't always been in Trump's corner, leading a Ted Cruz-aligned super PAC during the Republican primary.
But responding to a question on Conway from a reporter, Mook said she's in "very good company" with Trump's newly shuffled team, alleging she "has a record of the same kind of divisive politics as the rest of the people that he has brought in." (Former Fox News chairman Roger Ailes, who recently resigned over sexual-harassment allegations, is reportedly also serving as a Trump adviser.) As the Post noted this week, Conway's past remarks on rape and feminism have raised eyebrows. "I think it's only going to get tougher for him to appeal to women voters going forward," Mook said. "And I don't think she's going to do anything to help that."
Bannon, a former Wall Street banker, is more of an outsider than Conway. As such, he could present more of an opportunity for the Clinton campaign. If Bannon indeed inspires Trump to double-down on controversial rhetoric, the Clinton team will have plenty of chances to continue condemning them both.