How Hillary Clinton Is Using Her Taxes as a Political Weapon
The Democratic nominee released her 2015 returns, knowing full well Donald Trump isn't willing to reveal his.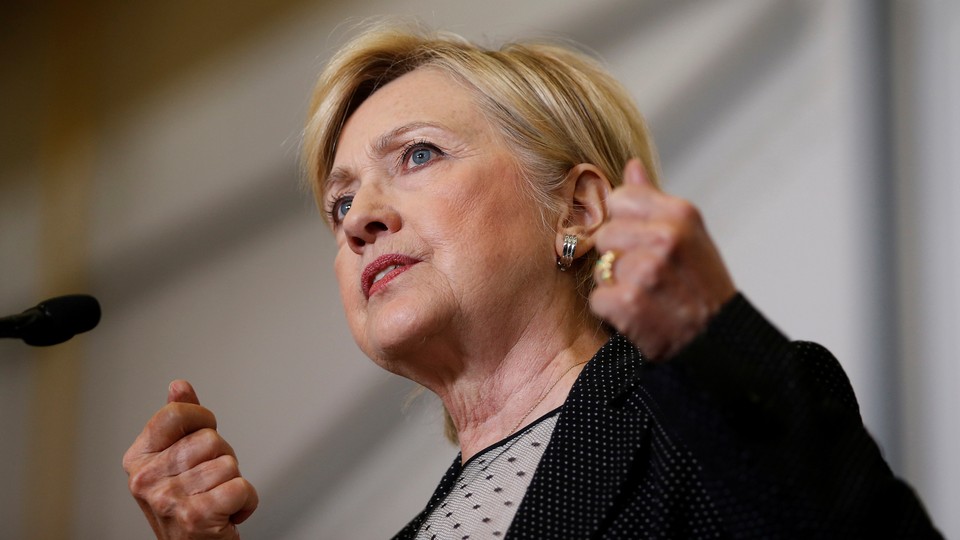 Hillary Clinton's release of her latest tax return is an act of political provocation. The Clintons have unveiled their tax documents before—their returns back to 1977 are public—so Friday's disclosure of the 2015 numbers wasn't particularly novel. But the campaign's timing is deliberate: Donald Trump, who refuses to release his own returns, is having an especially bad couple of weeks on the campaign trail, giving the Clinton camp an opportunity to apply more pressure at a vulnerable moment.
Clinton's intentions were clear in the campaign's release Friday: Her team posted the documents on the campaign's website with a title hitting Trump ("Hillary Clinton, Tim Kaine release tax returns while Donald Trump defies decades-old tradition of disclosure") and posted a video quoting conservatives pushing Trump to disclose his returns. "For the last 30 or 40 years, every candidate for president has released their tax returns, and I think Donald Trump should as well," Senate majority leader and Trump endorser Mitch McConnell says in a clip. It also quotes Trump himself, from a 2012 interview about former candidate Mitt Romney's returns: "If you didn't see the tax returns, you would think there is almost, like, something wrong. What's wrong?" The "something wrong" with Trump's own returns could be anything, his critics allege: that he doesn't make that much money; that he hasn't donated much to charity, despite his claims of generosity; that his businesses could link him with unsavory actors, though CNN recently debunked a claim his returns could reveal ties to Russian oligarchs; or that he hasn't paid very much in taxes at all—something he's hinted at in the past.
Based on their 2015 returns, the Clintons don't have that last problem, which may be partially why they feel comfortable using them as a political weapon. "They earn a lot of income and they paid a lot of taxes, that's the way the system is supposed to work," William Gale, a co-director of the Urban-Brookings Tax Policy Center in Washington, D.C., told me. And it is a lot of income: In 2015, the Clintons made roughly $10.6 million—down from $28 million in 2014—and paid more than $3 million in taxes, for an effective federal income tax rate of more than 30 percent. (The campaign calculated a rate of 34.2 percent. But CNN reports it's 30.6 percent without including their self-employment taxes—and that's the figure tax experts would typically use.) Nevertheless: "The headline here is they paid over 30 percent of their income in [income] taxes," Gale said. "There's no middle-income family that pays 31 percent of their income in income taxes."
The returns reveal where the Clintons' money came from last year, most of which Hillary Clinton spent on the trail after kicking off her campaign in April 2015. The Democratic nominee made roughly $3 million off her books—the latest of which is 2014's Hard Choices—and more than $1.4 million in speaking fees. Her husband made money in a similar fashion: about $29,000 from his books, about $5.25 million from speaking engagements, and more than $1.5 million in consulting fees. Together, the Clintons donated a little over $1 million to charity, the bulk of which went to their family's Clinton Foundation. Her running mate, Tim Kaine, and his wife, Anne Holton, reported over $300,000 in income.
The way the Clintons made their money last year translates to their high tax rate, Gale said: They are "paying a much higher rate than, say, Mitt Romney did in 2012 or Warren Buffett does, because those people's income is all in the form of capital gains." Capital gains are generally taxed at a lower rate. Romney, the former Republican presidential nominee, took in $13.69 million in 2011 and paid $1.9 million in taxes, The Washington Post reported in 2012. His effective tax rate: just 14.1 percent. Monica Prasad, a Northwestern University sociologist who focuses on taxes, noted in an email that the Clintons' rate may be higher, too, because "she's not taking advantage of all the deductions and exemptions that other high earners take advantage of."
The release of candidate tax returns has been a campaign ritual for decades. With Clinton's 2015 returns now public, the political pressure on Trump to reveal his own is sure to increase, as her team intended. Romney, a multimillionaire many times over, took months of heat in 2012 for not disclosing his latest returns; Democrats accused him of being overly secretive, similar to the way they've accused Trump. "I just have to say, given the challenges that America faces—23 million people out of work, Iran about to become nuclear, one out of six Americans in poverty—the fascination with taxes I've paid I find to be very small-minded compared to the broad issues that we face," Romney said in August 2012, a month before releasing his 2011 documents. Romney is now among those questioning Trump's decision to withhold his taxes.
Trump, for his part, has argued that "there's nothing to learn from" his returns. He's cited an ongoing audit of finances as reason to hold them back, though Bloomberg reports the Internal Revenue Service isn't preventing their release—and former President Richard Nixon revealed his while under audit in 1973. His campaign chairman, Paul Manafort, told The Huffington Post in May that Trump's documents are too dense to be made public: "His tax returns are incredibly complicated. I wouldn't understand them, so how are the American people going to?"
Hillary Clinton hasn't gotten off scot-free when it comes to her income either. In the presidential primary, she faced significant criticism from rival Bernie Sanders and his supporters for giving expensive speeches to Wall Street banks, trade associations and other organizations after her tenure as secretary of state. Though some fees went directly to the Clinton Foundation—like $300,000 she made from a 2014 speech at the University of California, Los Angeles—she took in more than $10 million from speaking engagements in 2014. Her critics also question whether those speeches compromise her policy agenda, and make her beholden to special interests. Her 2015 documents don't break down where she spoke, and the campaign didn't release a list either, as they did for her 2013 speeches.
Clinton's return can also combat detractors' claims that she's evasive and prone to secrecy, some of which were born of her use of a private email system while serving as secretary of state. Trump will have to reckon in the next 90 days whether it's worth the trouble to keep putting off his own release. He's given the public at least one clue as to what they contain: "I fight like hell to pay as little as possible for two reasons," Trump told CBS News in August 2015, noting that he had "no major problem" at the time with releasing his returns. One: Businessmen are "supposed" to fight like hell. And two: Because "I hate the way our government spends our taxes." For Trump's critics, his views on taxes are beside the point.