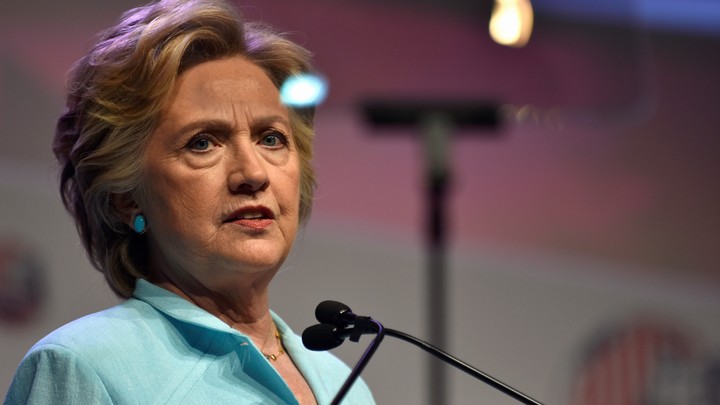 Hillary Clinton has pledged for months to pass comprehensive immigration reform within the first 100 days of taking office. In fact, she's pledged that for years—The Washington Post noted recently that she promised new laws during her 2008 campaign against Barack Obama.
But at a conference of black and Latino journalists on Friday, Clinton explained in more detail how she expects to get it done. She's often avoided addressing the press en masse, but made an exception to reach blocs of voters she needs to win the presidency.
Clinton's reform plan starts with a Democratic takeover in November that will "send a clear message to our Republican friends that it's time for them to quit standing in the way of immigration reform." She predicts Democrats have a "good chance" to take back the Senate and gain seats in the House, even if the party doesn't win the chamber. Once they've done so, her efforts would be centered on applying political pressure to members of Congress—something she feels was lacking during a previous immigration-reform effort in 2010—and prioritizing the issue in the Senate.  
"I will need people across our country to make it clear to their elected representatives that they are going to be held accountable for how they are going to act on immigration reform," said Clinton, who promises to push for a path to citizenship. "I've already talked to some of my former colleagues in the Senate. This will be fast-tracked. We already know it can pass the Senate because it happened a few years ago. And if we then put enough pressure on the House," forcing them to adopt what the Senate passes, "I think the outcome will be very different this time."
Clinton's explanation came in response to a question from Telemundo's Lori Montenegro, one of several journalists who questioned the former secretary of state Friday during a conference of the National Association of Black Journalists and the National Association of Hispanic Journalists. It was the closest thing to a press conference Clinton has participated in since last year; she's faced criticism, including from Donald Trump, for not holding pressers.
In her question, Montenegro referred to some Latino voters' concerns that Democrats take advantage of their votes and don't follow through on the community's priorities. It's an accusation that's been levied by some black voters as well—particularly those who criticize her support of her husband's 1994 crime bill. To win in November, Clinton will need black and Latino voters, who were critical members of the election-winning Obama coalition, to turn out for her.
The Clinton campaign has increasingly emphasized the experiences of black and Latino voters, and has presented the candidate as a champion of policies like ending police violence and reforming immigration. The strategy was obvious at the Democratic National Convention last week, where activists like the Mothers of the Movement—women who've lost children in encounters with police or through gun violence, and who've campaigned on Clinton's behalf for months—and Astrid Silva, who works in the immigrant community, gave emotional speeches. Former Attorney General Eric Holder said in his DNC speech that Clinton "has talked about systemic racism in ways no one else has."
Clinton's appearance Friday also gave journalists a chance to press her on one of her chief weaknesses: voter distrust, exacerbated by her use of a private email system while she was secretary of state. Earlier this week, she said—inaccurately—that the FBI director called her public statements about her handling of classified material as "truthful." On Friday, Clinton said she had "short-circuited" the director's comments. "I was pointing out in both of those instances that Director Comey had said that my answers in my FBI interview were truthful. That's really the bottom line here," Clinton said. "I have said, during the interview and in many other occasions over the past months, that what I told the FBI, which he said was truthful, is consistent with what I have said publicly." Comey said at a July congressional hearing that "we have no basis to conclude she lied to the FBI."
Clinton began her remarks by focusing on the economy and how blacks and Latinos have had difficulty recovering from the recent recession. She promised a "comprehensive new commitment" to those communities by investing in jobs programs and supporting their small businesses. Addressing the racist and sexist tenor of Trump's campaign, she suggested that his supporters, who are also struggling economically, deserve empathy. "We have to reject and stand up against the appeals to the kind of bigotry and the use of bluster and bullying that we see coming from Trump's campaign," Clinton said. "But let's not forget the real economic challenges that too many Americans of all backgrounds are facing today."
We want to hear what you think about this article. Submit a letter to the editor or write to letters@theatlantic.com.