How the Political Revolution Failed Tim Canova
Bernie Sanders never showed up, and former staffers at Our Revolution believe the organization's 501(c)(4) status hurt Debbie Wasserman Schultz's primary challenger.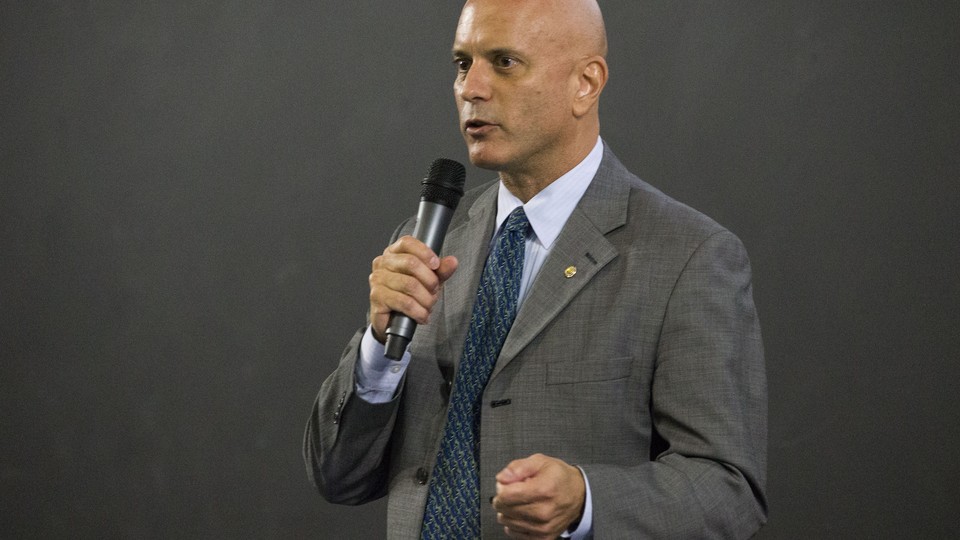 The political revolution has let Tim Canova down. Bernie Sanders hasn't shown up to campaign for his chosen primary challenger to Debbie Wasserman Schultz, the former chair of the Democratic National Committee. Heading into a Florida Democratic primary on Tuesday, Canova is behind by double digits in recent polling and looks likely to lose the race.
But that's only part of the story. Former staffers at Our Revolution, the organization created to act as a successor to the Sanders campaign, believe the group did not do as much as it should have to help Canova in his bid to defeat the veteran Florida congresswoman.
A number of staffers who resigned from Our Revolution in protest over how it has been run say the organization's 501(c)(4) status made it impossible to coordinate strategy with the Canova campaign, leaving the campaign worse off as a result. At least some departing staffers believe the organization should be set up under a different legal structure so that it can coordinate with candidates it endorses in the future and do more to help them win.
"I would absolutely say the prohibition on coordinating hurt the Canova campaign," said Paul Schaffer, the former data and analytics director for Our Revolution. "We have an enormous core of dedicated volunteers. But when Our Revolution was set up as a 501(c)(4), that prevented us from mobilizing that big pool of Bernie supporters to work jointly with the campaign to get out the vote."
Former Our Revolution staffers emphasize that they don't fault Sanders for the way the organization has been managed. (Sanders has clarified that he will not be controlling or directing the organization.) Instead, many staffers who resigned blame Jeff Weaver, Sanders's former campaign manager who was recently brought in to run Our Revolution, for the decision to operate the organization as a 501(c)(4).
The set-up appears to have caused organizational challenges and legal headaches. According to former volunteer engagement manager Ceci Hall, since Our Revolution wasn't able to coordinate voter contact efforts with the campaign, a task that involved directing volunteers to call voters and encourage them to support the Canova campaign and get out to vote, some voters ended up receiving calls from both the campaign and Our Revolution.
At one point, according to Hall, the Canova campaign even notified Our Revolution that people had started to complain that they were receiving what amounted to duplicate calls, and requested that the organization stop its calls. Our Revolution decided to stop phone banking as a result. "That was really frustrating," she said. "We were trying, but our help wasn't as effective as it could have been because we weren't able to coordinate directly." When asked if his campaign notified Our Revolution to let them know that there were duplicate calls, and asked them to stop, Canova said in an e-mail: "Yes, I believe we contacted Our Rev[olution] about the duplicate calls and got them to stop."
It's possible that in an attempt to avoid coordination, the campaign and Our Revolution actually ended up violating campaign finance law. "I think this is evidence of coordination," Larry Noble, the general counsel for the Campaign Legal Center, said after hearing that description of events. Noble noted that "it's a bit trickier" to judge whether an agreement not to do something would count as coordination, but added "at the very least, the information justifies an investigation into what was actually said."
"I don't believe any rules were violated at this point," Jeff Weaver said in an interview, though he noted that he "can't attest to anything they did or didn't do before I came on board here." Weaver said one reason he had been brought in to help manage the organization was "to make sure things were done completely by the books here," saying "there was less appreciation of that by people who were then here, who are no longer here."
"As far as I know, any discussions that anyone in my campaign had with anyone in Senator Sanders' campaign occurred before anyone was informed that there was a new entity with a 501(c)(4) status by the name of Our Revolution," Canova said in an e-mail.
Legal scrutiny and controversy over mass resignations at the organization overshadowed its public launch last week. It looks like the growing pains aren't over yet.
There's a lot more at stake than the Florida primary race. When Sanders started winding down his presidential campaign, he called on supporters to "start running for school boards, city councils, county commissions, state legislatures and governorships." First-time candidates are likely to need more help running a campaign than veteran politicians. The question now is whether Sanders, Our Revolution, and his supporters will be able to give candidates inspired by that call to action what they need to win.
Our Revolution will have difficulty harnessing the potential of Sanders' grassroots movement if it can't effectively deploy volunteers and other recruits to work for campaigns or provide direct support to a new wave of candidates who have never run for office. If the organization fails to live up to the standards set by the insurgent presidential campaign, Sanders supporters are sure to be disappointed.
There are several reasons why 501(c)(4) status seems ill-suited for Our Revolution. 501(c)(4)s are a type of non-profit organization that can accept unlimited amounts of money without disclosing donors—a set up that could put the group at odds with the way Sanders raised money during the presidential election by shunning wealthy donors and relying on small-dollar donations. 501(c)(4)s also cannot engage in political activity as their primary purpose. According to Noble of the Campaign Legal Center, a 501(c)(4) such as Our Revolution would not be permitted to coordinate directly with campaigns it is supporting. That could make it harder for Our Revolution to help progressive candidates win elections.
Former staffers say the way the group has been set up to operate isn't what they signed up for."I thought the goal would be to take what we had done on the campaign, and ​continue to do that,​ but helping many candidates instead of just one," Schaffer said. "How can you do that effectively if you can't even talk to the campaigns?"
Other progressive advocacy groups that endorse and support candidates have opted to operate as traditional political action committees, in part because of the strategic value of coordinating with campaigns.
"It's vital to be able to work directly with candidates, to know what their internal strategy is and to contribute to it," said Stephanie Taylor, a co-founder of the Progressive Change Campaign Committee, which runs a political action committee that endorses and helps progressive candidates. "Starting up a campaign is like setting up and running a small business in twelve to eighteen months. It can be daunting, especially if you've never done it before. But since we can talk to the campaigns, we're able to come in and help out with that process."
Taylor believes there's a useful role for Our Revolution, and added that the PCCC has expressed an interest and willingness in collaborating with the group toward a common goal of electing progressive candidates.
Canova certainly sounds like a candidate who has been let down. He has publicly lamented the fact that Sanders hasn't campaigned for him, despite hinting that he might. "The rule against me and my campaign having contact with Our Revolution and Senator Sanders did indeed make it more difficult to work with the group, and perhaps impeded our efforts to solicit assistance for my campaign," Canova said when asked specifically about the organization. He added: "We were in the middle of selecting dates for Senator Sanders to campaign for me in South Florida when the 501(c)(4) status of Our Revolution prevented any meaningful communication, and the plans went nowhere."
Still, there are are plenty of ways that Sanders, his supporters, and Our Revolution, have helped the Canova campaign. Sanders risked backlash from the political establishment when he endorsed Wasserman Schultz's challenger in the midst of his own campaign, but did it anyway. The endorsement upped Canova's name recognition, and won him credibility with supporters of the senator.
Sanders, and Our Revolution, have also helped bring in a significant amount of money to support Canova's primary bid. Sanders and his allies sent out e-mail solicitations asking for money on behalf of Canova during the presidential primary election, and afterward in a message sent out by by Our Revolution.
Even so, Wasserman Schultz appears to be on the verge of victory. The Florida congresswoman who resigned from the DNC in disgrace after an email leak showed her privately insulting the Sanders campaign is widely disliked in the Democratic Party, but she has many advantages in her district. One is institutional: High-ranking-ranking Democrats have showed up in Florida to praise Wasserman Schultz ahead of her primary. Another has to do with demographics: The Washington Post reported in May that the "Miami area district just doesn't seem to be made up of the kinds of voters who want to stick it to the Democratic establishment."
Weaver said he hopes Canova wins, adding that "he's shown there's a tremendous amount of discomfort with Representative Wasserman Schultz, both in terms of her handling of matters at the DNC as well as some of the positions she's taken." Weaver called Sanders's efforts to help Canova "incredible," though he conceded "you're obviously not going to win every race."
He defended Our Revolution's 501(c)(4) status. "We're not just involved in federal campaigns. We are involved in ballot initiatives, educational activities, a whole host of activities, and this is just the most appropriate vehicle for doing that in my view," he said. Grassroots organizing will be "a critical, and indispensable part of any strategy to transform this country," Weaver said, though "there are other modern tools of campaigning, including television, which also play an important role." He added that Our Revolution "will have a policy to disclose larger donations" and that "we may in fact establish an affiliated PAC [political action committee]" at some point in the future.
Trying to unseat Wasserman Shultz was always going to be difficult. It's also virtually impossible to boil down a political loss, or a win for that matter, to a single factor. Still, if Canova loses, that could be an early warning sign that Sanders' revolution will take far more than raising money and endorsing candidates. Canova doesn't seem to hold anything against Sanders, though. "I'm not trying to fault him," he told me in an interview last week. "He's a human being, and he's probably trying to gather himself together before his next big expenditure of energy."
The political revolution after the end of the Sanders campaign is just getting started, and a lot could change. Our Revolution is also just one part of it. There are plenty of Sanders supporters who want to carry on the work of keeping the movement alive, regardless of what happens to the organization. Our Revolution could end up as one group in a constellation of organizations created to take up the mantle of the Sanders campaign.
Yet the organization still stands as the most visible symbol of the future of the revolution, apart from the senator himself. If it is deemed a failure, that could prove demoralizing for Sanders supporters. The organization will have to navigate more challenges ahead. As it does, Sanders supporters will have to decide whether they will stand by Our Revolution, and the senator, as this next chapter of the political revolution unfolds in all its imperfection.